My little "15 minute warm-up" I usually do, this morning was this little sketch of my character...Which some might guess if they've seen the Warcraft news... I got the 6 month ban. xD It's a huge thing for WoW right now to have so many bans.
The irony is, in the last two months when they caught everyone for botting, all I did was use the bot a couple times to mill large stacks of herbs for me so I didn't have to sit there pressing the freaking button 50 thousand times! Haha (Which now they announced they were fixing with the ability to mass mill so...) I kind of never thought in a million years someone would think, "That dude was milling for 10 minutes straight. He must be a BOT". Makes me wish I'd done more with it to at least farm some of the achievements or something so that I could feel like I got something for my punishment. But so is life. It's just a game.

Unfortunately, the vast majority of the bans are for people like me that barely even touched it. I thought it was cool and played with it, but I'd never thought to actually use the BOT for much, because I didn't want to risk it being noticeable. Unfortunately, that's not how they caught people. They caught everyone by scanning their computers to see if you used the program, so they actually have no idea who used it for what. It's just a, "Did you touch the program? Banned." Which is probably why it's only 6 months. There's no way to know and it would be stupid of them to perma-ban that many people who barely even did anything. If I hold anything against them (or call them genius for from a business standpoint) it's that they waited to hand this out until awhile after the WoW tokens had been released. I mean, if any people farmed on their BOT at all, they probably already bought game time with gold, cause they could afford it. So now Blizz has all that money even if those people can't play for 6 months. I know I already have game time through next year, even if mine has nothing to do with the BOT. I'm just an Auction House stock market player and love my TradeSkillMaster.



-
Though now I might as well share my public thoughts on my BOTing past:
I actually played with the BOT back in the day to solve the problem of lack of time, yet commitment to my guild, especially since they were on a dead realm that they couldn't even come close to finding a healers that could do my numbers. I used it to heal trash in raids between bosses, so I could draw and work in the other window. It couldn't heal worth a flip. It used mana like crap and never knew when to pre-HOT...so...it was good for trash basically. (And even then I knew certain packs I would have to help) But that's what I needed. Extra time to work. I rarely DPSed luckily, because I could out DPS the bot easily. (Maybe just because I was good at DOT snapshotting?) It beat my dps on my alt DK, but...I just chalked it up to being a shitty DK.



*6th month edit* Even more wished I'd used the bot for farming achievements or something to feel my punishment was justified after coming back, as they took all the gold off the accounts they banned, because it COULD have been gotten through botting. I was a bit pissed at the time, since I'd accrued about a million gold, never through botting, just from playing the AH. And besides, actual botters who make money and expected to eventually get banned don't keep it on the characters. They keep it in banks. I had 2 storage banks, both of which still had their gold that was unfortunately like nothing, as I didn't store gold in the guild bank. But had I gone by the idea of botting for money I would have and would still have all of it. In fact most of the actual gold farming botters started botting again and had sitting alts in the guild waiting to recover the gold. So really, I still used a bot, but it's kinda painful to lose a million gold and 6 months of game time just because you milled herbs automatically, which they then finally introduced as a feature immediately after you were banned for it.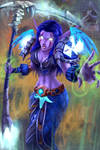 Image details
Image size
600x640px 128.1 KB