Элона Амаова (now Élona Hamaova)
Lire la version française >>>

Elona Hamaova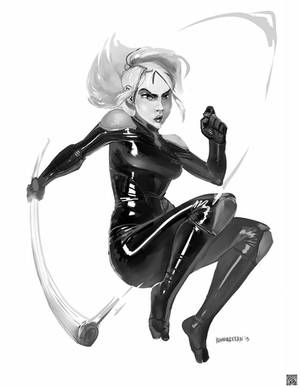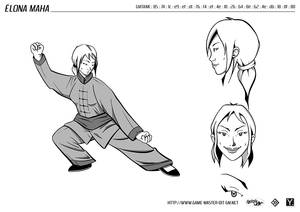 "Élona in action" by :iconkennoarkkan: // Concept Art by www.steevenlabeau.net
Cela fait des décennies que la Base recrute des agents russophones, vu l'importance du secteur militaire en Russie (et même si la Base y recrutait 0,1% de ses agents chaque année [quelques dizaines d'agents], personne ne s'en apercevrait). Élona peut être considérée comme l'une des meilleurs de la précédente décennie : Une subtile association de courage et de rigueur mais surtout une grande flexibilité.
Elle ne semble pourtant pas bénéficier d'une renommé considérable, sans doute à cause de son manque d'intérêt pour les mondanités. L'intégration complète des soldats étrangers n'est pas toujours facile, mais la Base offre tout de même des opportunités qu'il est d
The Base recruited Russian-speaking agents for decades, given the importance of the military in Russia (and even if the base recruited 0.1% of its soldiers every year [a few dozens of agents], nobody would notice). Élona can be considered as one of the best of the last decade : A subtle combination of courage and discipline but above all a great flexibility.
However she doesn't seem to benefit from a considerable renowned, probably because of her lack of interest in the social life of the community. While the full integration of foreign soldiers isn't always easy, the base still offers opportunities that are difficult to refuse. Gain the sympathy of other agents is totally accessory... Most of the time.
They say she is in the "Top 10%" of agent that can adapt to any situations, because her spatial and motor abilities are beyond stunning. Even with an intensive training to deal with height situations, including with VR simulations, most agents won't develop such an instinct. To compete with her, you must necessarily have the same natural abilities.
Physically, Élona appears as athletic as the other women on the team, but in reality she surpasses everyone in terms of speed and endurance (except for Aritz). In general, her moves are precise and noiseless : It is said that when one hears Élona make some noise when she walks, there is obviously a problem.
With her outstanding abilities, it's quite surprising to see her in such a team. But when looking at her career, we can see that sometimes she does the job in an unconventional way. Which raises some critics, despite her excellent record : The Base doesn't like people who take too much liberty with its rules.
☆ Realistic Skin Tones :
humanae.tumblr.com/post/121590…
/
humanae.tumblr.com/post/130327…

Hair : Natural light blonde

Eyes : Blue

Make-up : Neutral most of the time with light pink colored lips. She can put some copper eye shadow for special occasions

Age (approx) : 25 / 30

Height (approx) : Nearly 180cm
When she decide to talk, she use proper or casual language.
She's described as a good looking girl with a Russian accent (because it hasn't completely disappeared). Her hair is more blonde than Raya.
Despite her impressive experience, she could be only two or three years older than Glatz. Knowing that the Base recruited her 7 years ago when she was already 20, we can imagine she's just under 30.
Work :
Élona is often sent to run reconnaissance on the front when the team doesn't have enough information about a place, or when it's impossible to pinpoint a target accurately. Her role is to collect any information that could prevent a failure (it's a heavy responsibility). Her legendary discretion allows her to have several roles during a mission, but that skill allows above all to calmly analyze the collected informations (without the enemy suspecting its presence).
In environments that are very difficult to infiltrate without being noticed, she can carry drones or serve as a relay to the pilot (in places where the signal drops ). Drones are quite limited when they must try to escape.
But her greatest talent is certainly her ability to transmit her knowledge to others. Rookies like Ryo and Raya now have a second coach in addition to Glatz, which is a real advantage for the smooth running of the team.
Her integration in the MX SQUAD is a great opportunity to make it an important team (if everyone points towards that goal), for Élona it's an opportunity to act according to her principles once and for all.
Downside : Before they get remarkable victories, the freedom of the members of the MX will often be criticized. But Glatz will continue to believe that this "freedom" is essential for their work and for themselves.
In this picture she wears a GEKKO SUIT : That full-body armor can make the agents of the Base almost invincible, provided they know how to use it. Those who use it to its full potential acquire more than a super-armor, which in some cases would slow down the movements of the user.
Élona's agility requires that she dedicates more time to optimize the settings of her Gekko Suit. After a long learning phase (mandatory for anyone who wear it), the Gekko Suit can understand the intentions of its user and allows him to move or jump faster and higher, in an "almost" natural way.
Personality :
Nicknamed "Floe Fox" by former teammates, Élona was spontaneously considered "cold as ice" by people who who never actually worked with her (that preconceived idea says a lot about the baseness of the Base). Her great self-control often impresses members of other teams, but those who decide to approach her realize that she's actually quite nice.
Relatively little is known about Élona's origins, but it seems she has decided to cut ties with her life "before the Base", for not having to choose who her loyalty should loyalty go to (a dilemma that could weaken her). She knows that since this radical decision, it is no longer welcome in his country : The "betrayal" of the best isn't forgiven so easily.
Even though she feels some nostalgia when she visits Russian-speaking regions, she doesn't hesitate to say that in the end the Base gives her more freedom. As long as she will do her job, she will enjoy all these benefits : A privilege most "normal soldiers" will never benefit.
Most agents who don't have MONEY or POWER as primary motivations are often criticized, but those who try to follow a "Zen" path are often overlooked. Apart from the internal social network of the Base, there is no place where people who share ideas like these can meet.
There may be a deliberate intention to isolate them when it is strongly believed that those who are less easy to control, are potentially more prone to become "enemy within". A total misconception because her personal motivations have always been compatible with the motivations of the Base. But nobody can't deny that she isn't attached to the consumer society in no way... Maybe it's a sign.
That attitude is perhaps a sign that she is already planning her life "after the Base", and a way to regain her body and soul. That state of mind is the reason why she will quickly become Gami's friend, who is not afraid to assert her ideas (perhaps because she comes from the outside).
☆ Trivia :
Élona learned to play the guitar for seven years, but very few people know it (the Base is not really a place for artists). Apparently Glatz discovered her during an informal concert. When he offered her to join the MX SQUAD, she really needed to meet with less conformist people.
By saying "We have art in order not to die of the truth" ("The Will to Power", Nietzsche) she proves her desire to remain positive, whatever the circumstances : An idea that could make Aritz a little less pessimistic.

Outside of the action scenes, might be more difficult to develop the character of Élona, in contrast to Anissa or Raya : At first glance, it's hard to know what Élona thinks, so she may seem a little less warm. The "Artifact" project he will allow you to know a little more about her, in a little less dangerous situations : Since she must meet very high standards, she must find ways to relax while continuing to train. That's where we will get an idea of her inner strength that allows her to resist all that pressure.
Art by