Base began manufacturing its own cars early after the emergence of some very sophisticated monitoring systems, that are nearly impossible to outsmart. With enough logistics, an agent can completely change the look of his car (the modification can be made into the box of a truck). This can be useful if the vehicle should look like most vehicles in the area, or if someone must be able to locate it quickly.
When
Divergent Microfactories
designed rolling chassis using 3D printed elements, the goal was to drastically reduce the energy consumption of a vehicle. The idea of using a biogas engine quickly emerged as its benefits surpassed by far all other types of engine.
This particular idea encouraged the designers of the Base to heavily invest in biogas : For the mobility of its agents, but also for its own energy needs.
BEFORE :
Originally, the cars of the Base were buggies with a rather futuristic design... But after careful consideration, they became buggies with a normal body. In this case, discretion is not an option : It is therefore out of the question to use buggies with futuristic designs, that would enable any enemies to find out who are the members of the Base.
The concept of Divergent Microfactories including all aspects of vehicle customization, it's not really necessary to specify how engineers of the Base design cars adapted to any situations. About how things are organized : Again we must understand that given the financial resources of the organization, it's also possible to improve all these processes to gain a decisive advantage against the enemy.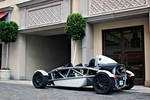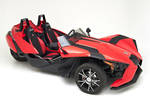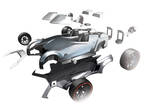 More cars in the GM Bazar folder