Lire la version française >>>

Aritz Fornao
Aritz est souvent considéré comme un solitaire par ceux qui ne le connaissent pas bien : Un solitaire qui se prend trop au sérieux. Et sa tendance à vérifier plusieurs fois les détails d'une opération, n'arrange pas les chose. Mais ce que les gens ne savent pas, c'est que Aritz prend énormément de plaisir à réaliser un "travail parfait" (car pour lui c'est une sorte de défi permanent).
Au fil du temps, il a accepté cette image car il sait qu'au final il sera toujours seul face à ses responsabilité. Même si son amertume vis à vis de la Base montre bien qu'il n'accepte pas totalement sa situation. Avec son statut de "création obscure de la Base", il sait qu'il a peu de chance de profiter en toute liberté de ces avantages.
Face à toutes ces contraintes, on comprend qu'il s'interroge sur ses capacités à trouver le bonheu
Aritz is often regarded as a loner by those who do not know him very well : A loner who takes things too seriously. And his habit to check several times the details of an operation doesn't help much. But what people ignore is that he really actually enjoy doing a "perfect job" (because for him it's some kind of permanent test).
Over time, he adopted this mindset because he knows that in the end he will always have to face his responsibilities alone. Although his bitterness against the Base shows that he doesn't fully accept his situation. With his status of "troublesome creation of the Base", he knows that he has little chance to freely enjoy the benefits of Base.
In front of all these constraints, we can understand that he questions his ability to find happiness, even for a short time. This very pessimistic opinion is often hard to understand for the few people who try to understand him.

Skin color :
#CF996A
and
#C7855A
(for Ryo, Glatz et Aritz, their skin colors range from
humanae.tumblr.com/post/130086…
and
humanae.tumblr.com/post/674865…
)

Hair : Brown

Eyes : Brown

Age (approx) : 25 / 30

Height (approx) : 180cm / 190cm
He has a rather casual fashion style, and use proper or casual language (like the rest of the team).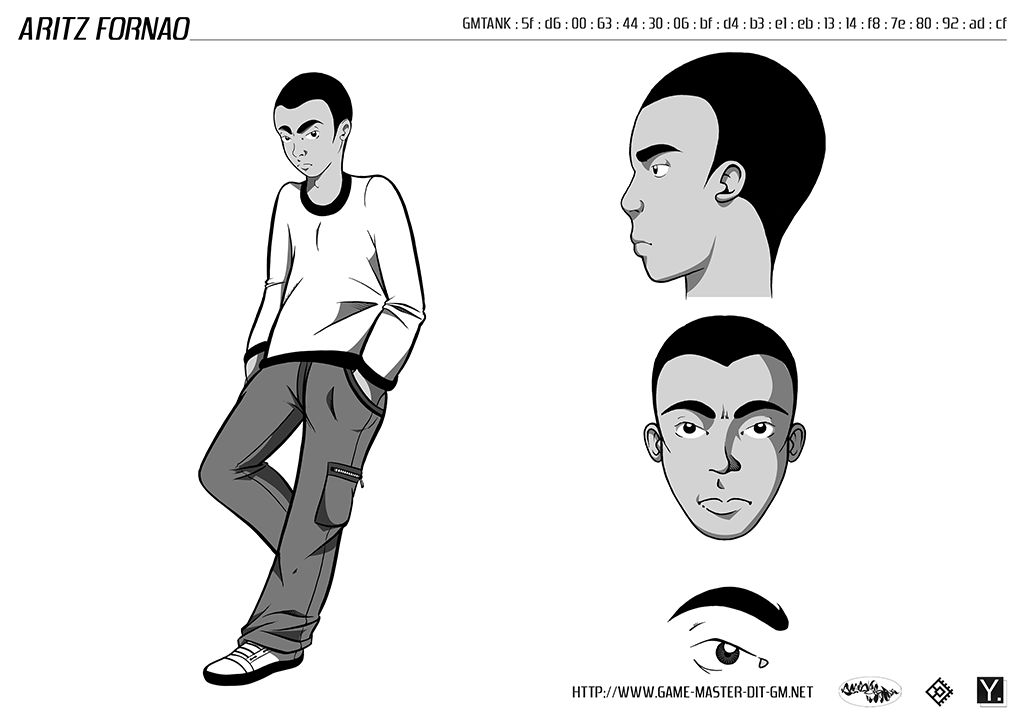 (Concept Art by
www.steevenlabeau.net
)
Work :
Aritz often assists Glatz on a tactical level, because it has a real talent to read the strategy of the enemy. His intuitions often turn to be right even in front of unexpected situations. He's a quick thinker, and his reflexes appear as swift as those of Elona. But unfortunately, that dreadful instinct awakens only in difficult situations.
The Glatz / Aritz pair works well, because they often personify the roles of the good cop and the bad cop. Those who know him know that he doesn't let any weakness pass through and respect his seriousness. This is also why the team always listen to him, on the rare occasions he shares his experience.
He met Glatz during a previous battle where they both showed initiative and inventiveness (albeit erratically). After that victory, Aritz could have become the commandant of several dozen soldiers, if he hadn't declined the offer by pointing the lack of efficiency of that kind of organization. That insubordination cost him to be now under the orders of Glatz Mile (promoted commandant of a team that still has everything to prove).
Note : Aritz's refusal is understandable when you consider his performance. Since he doesn't really know the most he can ask his teammates, he finds the possibility of managing soldiers that are "more limited than him" unbearable.
Being able to get good results, doesn't mean being able to get the best results. So unless someone find out a "magic" solution, he has no reason to expect from his teammates to do the impossible when they obviously won't be able to.
The mystery surrounding his "superhuman abilities" favors the craziest rumors : Some people say he is a cyborg, others explain that his unsociable character is the result of a memory erasure. All suspect that Aritz is a creation of the Base, but this is probably the only point where they are not wrong.
Personality :
Despite his outstanding abilities, Aritz stands out from other members of the team by his lack of commitment to long term projects. Unlike Glatz who is familiar with unrealistic goals, which will challenge his determination, Aritz is more the type to wait for the right moment to act (it is true that he has some cleverness).
His seriousness and loyalty look diametrically opposed to his lack of initiative. Because no one can doubt his loyalty towards the Base... Even if by placing him under the command of Glatz, it tries to make him understand that an agent of his rank should be more reckless (for now without success).
Aritz often say that "Unfortunately, we are made of the same stuff that dreams are made of" (parodying Shakespeare), because in his opinion the Base is exactly the place where his dreams of freedom are impossible to realize (and believe otherwise is an illusion). Those who think they can free themselves from the influence of the Base are simply afraid to see the reality in front : They will never be totally free.
Seeing things lucidly, the agent of the Base understands that he's just like a mule running behind a carrot on a stick, and he's therefore more likely to find happiness if he stops chasing it.
What could make him change his mind ? Not much... Retirement maybe

The Base offers so many opportunities, an agent almost never have time to get bored. Once set free from certain obligations (and from danger), Aritz could certainly become a very creative person.
But is that really possible ?
Art by