أنيسة لاتينية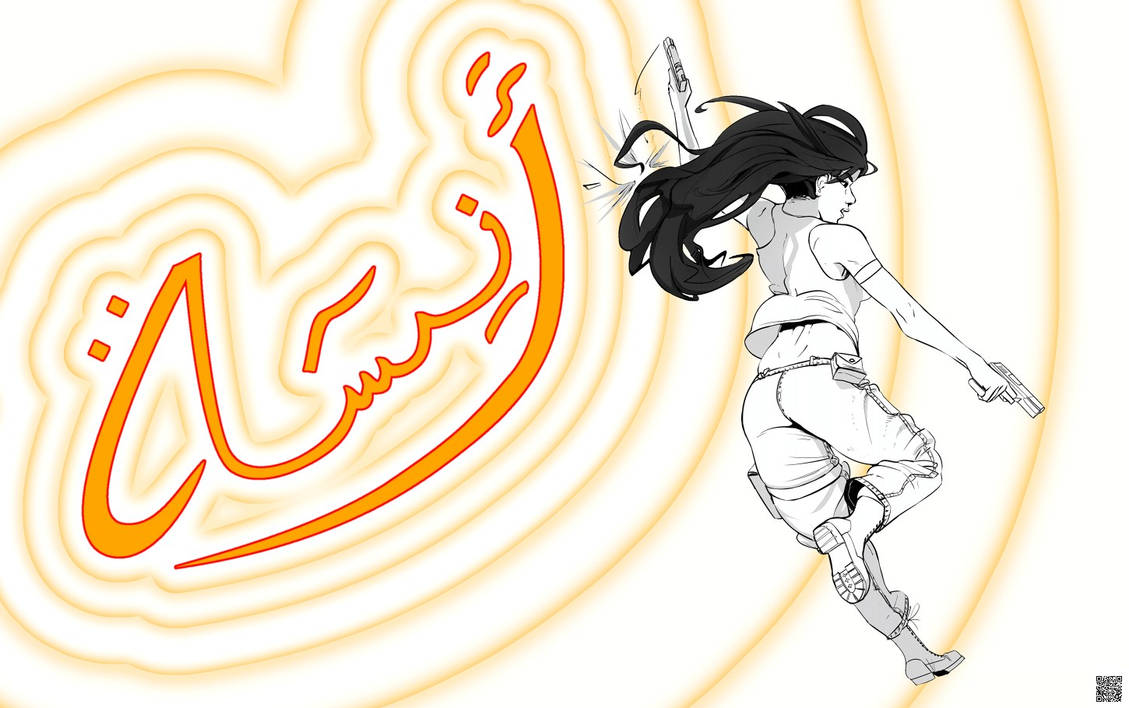 Lire la version française >>>

Anissa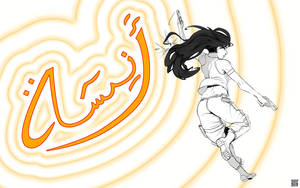 ‪‬ أنيسة لاتينية ‪
Anissa est la preuve vivante que la Base est une société de mercenaires atypique, où certains peuvent hériter du prestige de leurs parents. Contrairement à Glatz et Aritz qui vivent à la Base depuis leur naissance (et n'ont pas d'échappatoire), Anissa a eu l'opportunité de la rejoindre parce que ses parents travaillent pour la Base depuis un certain temps (notamment dans les pays arabes). Si les "héritiers" intègrent plus facilement la Base, le travail et le talent restent les meilleurs moyens de progresser au sein de l'organisation.


Couleur de peau : #E0A979 and #F6CCA5 (mais qui dans une version réaliste ressemblerait plus à http://humanae.tumblr.com/post/69994174754 et http://humanae.tumblr.com/post/141783123829)


Cheveux : Bruns brillants #4
Anissa is a living proof that the Base is an uncommon mercenary society, where some agents may inherit the prestige of their parents. Unlike Glatz and Aritz who live in the Base since their birth (and have no escape), Anissa had the opportunity to join it because her parents work for the Base for quite some time (mostly in Arab countries). If the scions can integrate the Base more easily, work and talent are the best ways to advance within the organization.

Skin color :
#E0A979
and
#F6CCA5
(but a more realistic version would look like
humanae.tumblr.com/post/699941…
and
humanae.tumblr.com/post/141783…
)

Hair : Glossy brown
#4F3322
with
balayage
#77502A

Eyes : Light brown

Make-up : Dark red for the lips, "cat eyes" most of the time (ready for Extravaganza any time)

Age (approx) : 25 / 30

Height (approx) : Nearly 180cm
She use proper or casual language (like the rest of the team).
If we had to describe her voice, we could say it is very similar from that of the singer
Anggun
. This is just a suggestion to better visualize the character of Anissa (nothing more), because any detailed explanation of that choice might reveal some elements of the story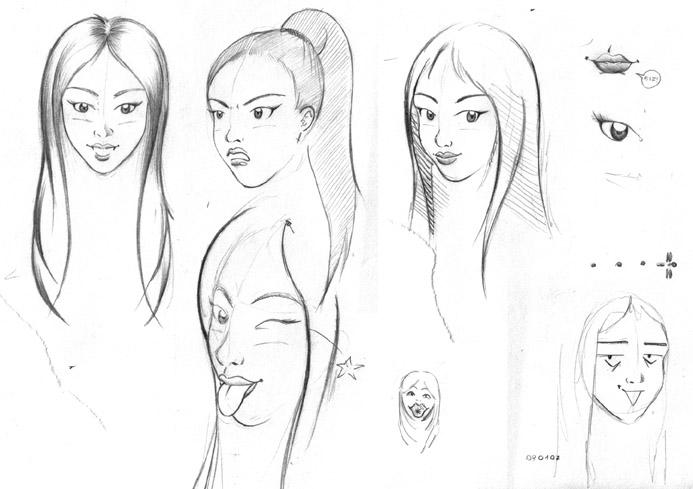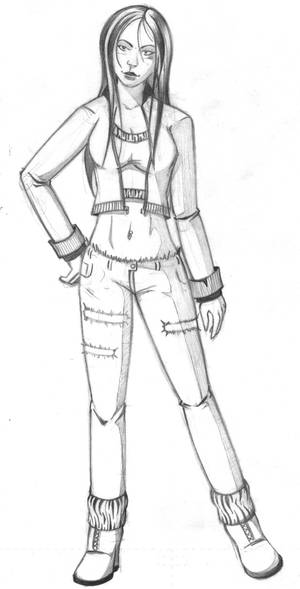 (Original Concept Art by
www.steevenlabeau.net
)
Background :
Initially meant to integrate the "business" branch operating in Southeast Asia (specifically in Singapore), she decided to join the "action" branch afterward. Having always attended the best schools, we can assume she has voluntarily obtained average results at university, in order not to follow the family tradition.
On her arrival 5 years ago, the activity of the "action" branch was already declining : Now that everyone can do "One Shot Kill" (OSK), snipers have fewer opportunities to become "heroes". It's only recently that she had the opportunity to prove her talent and began to build a solid reputation. But her parents often blame her for her choice, because according to them her career has stagnated for years.
Each and everyone describe her as a beautiful Asian girl with a slightly tanned skin. His innate sense of style has made her quite popular (I'm rich, I'm sexy and I know it), but also bring much jealousy. People who don't know her often stop at this apparent superficiality : An image that might persist, because as many agents as Base, she prefers to not expose her real self.
The suspicion of other agents mainly occurs when she reveals her bossy side, because she knows what she wants and more importantly what she doesn't want. Her teammates and friends don't necessarily find her intimidating, but that point of view isn't necessarily shared by others.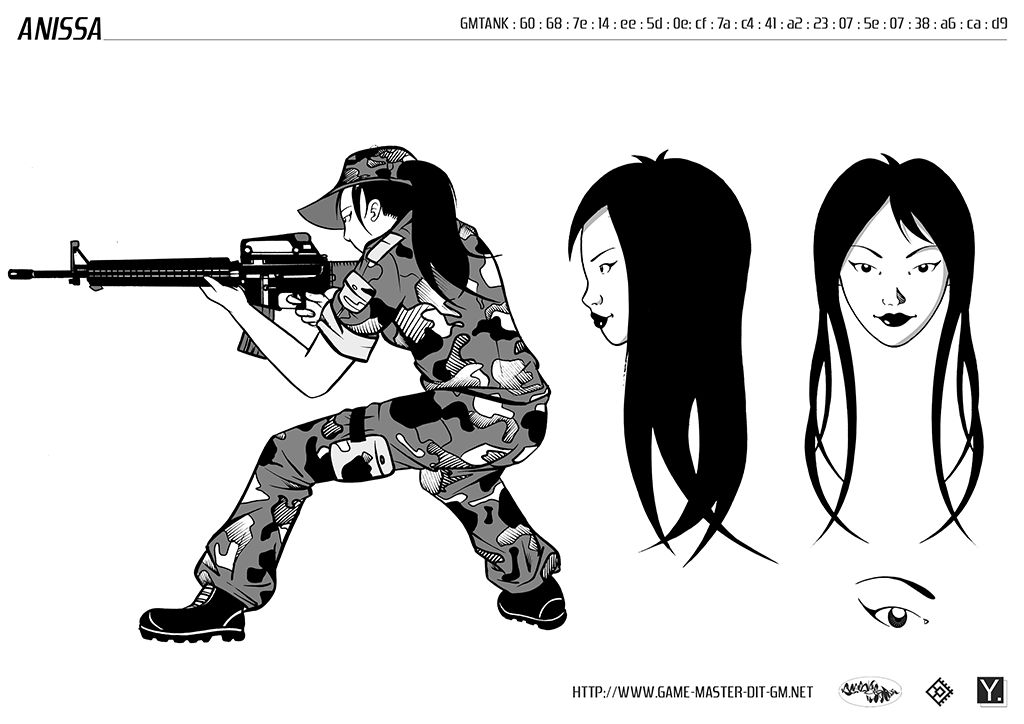 (Concept Art by
www.steevenlabeau.net
)



This "Maiko Yukiko" design will be used later during an undercover mission.



Before 2010, the concepts art of Game Master were in black, white and gray. The idea of giving her a golden skin tone came out after seeing these wonderful pictures :
www.flickr.com/photos/thierryh…
The color of the desert is sometimes difficult to understand (compared to the color of her "realistic version"), but with a little practice the artists will master it.
In the fist time, the team will mainly uses M800 assault rifles
sta.sh/27r5bu5z61k
(
TrackingPoint
), during raids requiring significant firepower. It should nevertheless be noted that the goal isn't to eliminate dozens of enemies who don't even know that the Base exists : The objective is usually to capture targets that will allow to crackdown an entire network.
Rifle experts are surprised that she still uses a weapon similar to a M4/FN15 rifle... When that concept art was made, the M800 didn't even exist and a weapon with a similar shape like the
FN SCAR
wasn't very popular, so the design of her assault rifle has been chosen at random.
☆ Trivia :
الوحدة خير من جليس السوء
She often use the saying : "Being alone is better than being with someone bad."
It is generally expected that agents fully dedicate themselves to the mission, but sometimes the mission deviates from what they believe is right. And it become difficult to keep a balance between their obligations and what they really want... Because the Base rarely shows where freedom spaces are, as small as they they. By applying this kind of guideline, it is much easier for her to avoid such a situation.
Though, as she doesn't seem to be ready to give up some advantages of Base, the system will probably keep some control over her. It is unlikely that it applies the same inflexible vision as Elona ou Aritz (now totally detached).
Art by