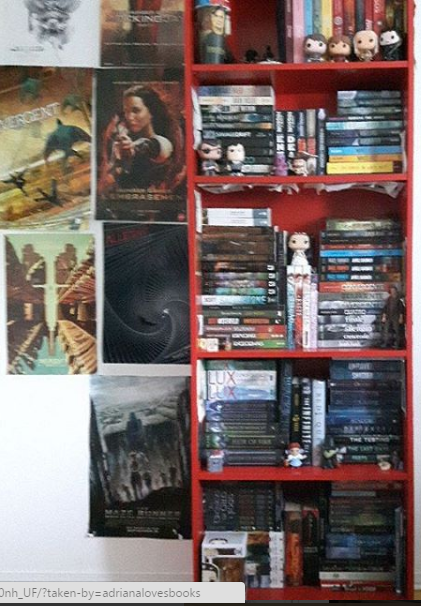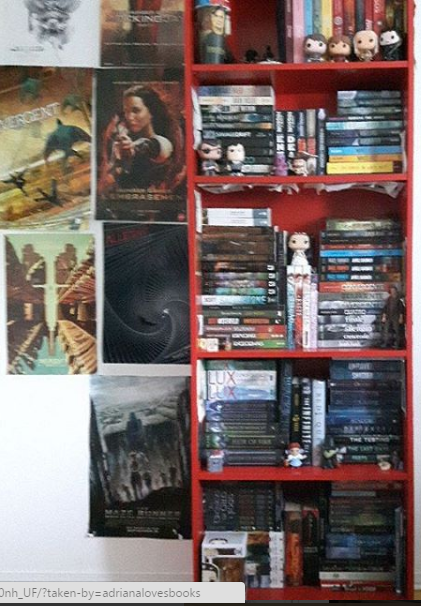 Watch
today 24\06\2016 i reorganized my bookshelves and my dolls and cleaned my room, this is a overview of my bookshelf now that is organzied.. u can see my posters on the wall, this is what my bookshelf looks like now.. i have portuguese books and english books.. my bookshelf is organized in different types.. sizes, heights, read and not read, english and pt, genre.

hmmmm, 2 questions


1) do you have a kindle nook or at least an amazon account?

2) do you like madness (with a side of gore... not extremely much, but its noticeable)
Reply

i have a kindle, and i have an amazon account, but my kindle is not registered on amazon.. but i can still have ebooks, i have a ton on my kindle that i uploaded yesterday from amazon and pc ..it was hard to do it tho xD
gore yeah i dont mind, i like horror stuff, madness i never read a book about madness or psychological stuff.. but why u ask?
Reply

(Cheshire smile) okay, its a book I came across about a year or two ago: they are on their 6th book now, (I'm still reading #3 I think)
but I think you will like it
here's the link to the first book on amazon
www.amazon.com/Insanity-Camero…
Reply

ahh i know these books, i mean i dont know what they are about, i just know the cover..

i wont get it bc its not free, i usually just get my ebooks for free, and i also rarely read ebook..bc i prefer physical books

so are these books good so far?
Reply

yeah, I got that... when I got the first one I think either I was free month or I tried premium or something, not sure.... but after reading the first one ... definetly worth it


WARNING IM SPOILING A BIT


Alice is in the modern world, but stuck in an asylum because she was framed for killing a bus full of kids (which included her bf ) and she was the only survivor


the wonderlandians were locked away when alice was a child... that is, the original alice, but somehow they have slipped through... some don't know who they really are (though it might be obvious who they were in wonderland)..... others do, but go on with these semi-dull lives (trust me when I say, with two... its far from dull) and the rest have become serial killers.... but one of these said killars (a Mr. Pillar) has discovered that someone else from wonderland ... someone far more dangerous than himself.... so he makes a deal with the police that he will stop this killer, only if he and Alice are released to do so, and would return each night back to their cells


that pretty much sums it up without spoiling it seriously...


but there is one last thing I will say... we will be able to figure out who Mr. Pillar is right from the get go, but he hasn't said who he was in wonderland yet in the books


and right now I have to transfer my books from my parents amazon account to my new one... we are able to do that right?
Reply

from amazon accounts im not sure if u can transfer the ebooks, but u can transfer the ebooks your your pc and or kindle.. but dont ask me how.. bc i have a hard tiem figuring out how to do it when it wad for me..:C still not sure how to do it, i just clicked everywhere xD
Reply

kindle books... I mean when I had to get a new kindle, it asked what I wanted to keep and what I didn't want.... but If I have to buy certain books back, I'm fine with it... its just going to have to be one or two a month though



pre-orderd the pokemon moon game.... still have to get a console though
Reply