Still looking to sell some of my watercolor paintings!  If interested, you can just note me or email me at paramonimus@gmail.com !
$18 shipped total for these! (two small 2.5x3.5 inch watercolor cards):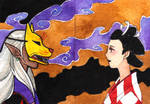 And $35 shipped each for these two!  (4x6 inch watercolor paintings.)  Paypal only.  Willing to negotiate the price if you buy more than one!