The SenshiStock USB drives are in and available for purchase!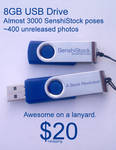 Here's what you need to know:
This is a USB drive with lots of images on it! Everything from the start of the account until Shoot 26 (the bright blue sheet)

The drives say "SenshiStock" on one side and "A Stock Revolution" on the other side; they come with a lanyard.

Payment can be made online via PayPal or through regular mail by Money Order.

The drives are $20 ea. This does not include shipping. Shipping & tracking for the USA will be $5; First Class International shipping is $7 but does not include insurance or tracking. (Note: USPS increased their rates in Jan 2014)
The stats on the drive currently are:
3.83 GB of stock (but this is an 8GB drive so you will have some additional space!)
About 2,900 stock photos
Includes everything in the gallery from shoots 21-26 (shoot 26 is the one with the bright blue sheet and tan bodysuit)
Includes about all the as-of-yet unreleased stock images from shoots 21-26
It does not include any stock taken after shoot 26 (such as: the Jade collab images, and any stock taken in Dec 2012/Jan 2013). Some parts of these later shoots will be sold through SenshiStock.com as advance download packs, the rest will be posted to the gallery at a later time.
About 240 of the stock images are male (they are all in the gallery already)
The stock is organized by shoot except for the packs. Some of the packs are in their own folders, some are mixed into the shoots. This is just the easiest way for me to load the drives, you can rearrange as is most useful to you.
HOW TO ORDER
You can order this drive from my new site,
Senshistock.com
!
If you would like to order via Money Order please send me a note.

Thanks so much for the encouragement and support. I really hope these drives will be awesome super useful to all of you who have expressed interest in them.
If you have any questions, feel free to ask!


Will you ever do a second usb with newer poses on it? I notice its been a long time since this first came out.