Hello everyone!!! 
 Welcome to: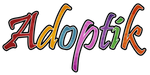 This is an adoptable group, here we are so that adoptables get their place in the world, and that each one find his adopter and live happily for the rest of their lives.
 

 This group focuses on 2 things:

 The first is to give a place to the adoptable creators, who give their creations for adoption, each one according to their different criteria

 The second is that those who are dedicated to acquire adoptables, it is easier to find them

 If you are an adoptable maker, or just want to acquire an adoptable, this is your place !!!
 Here are some things to get to know the group better:
We are here to help you




Is someone stealing art?

Click Here
art thieves