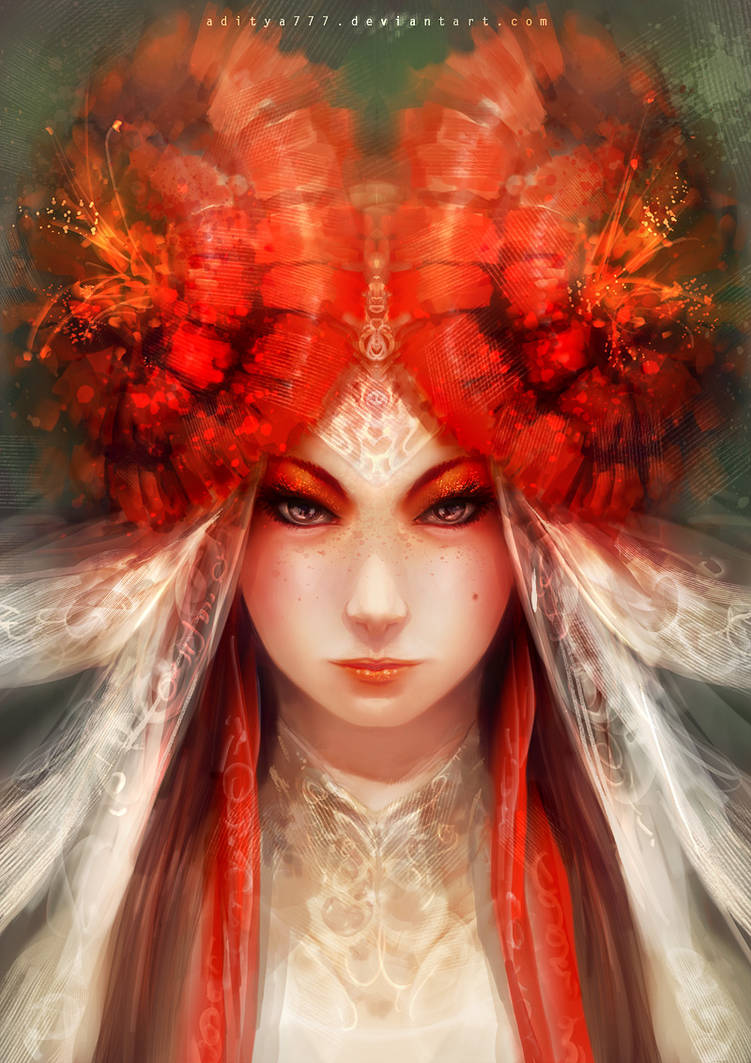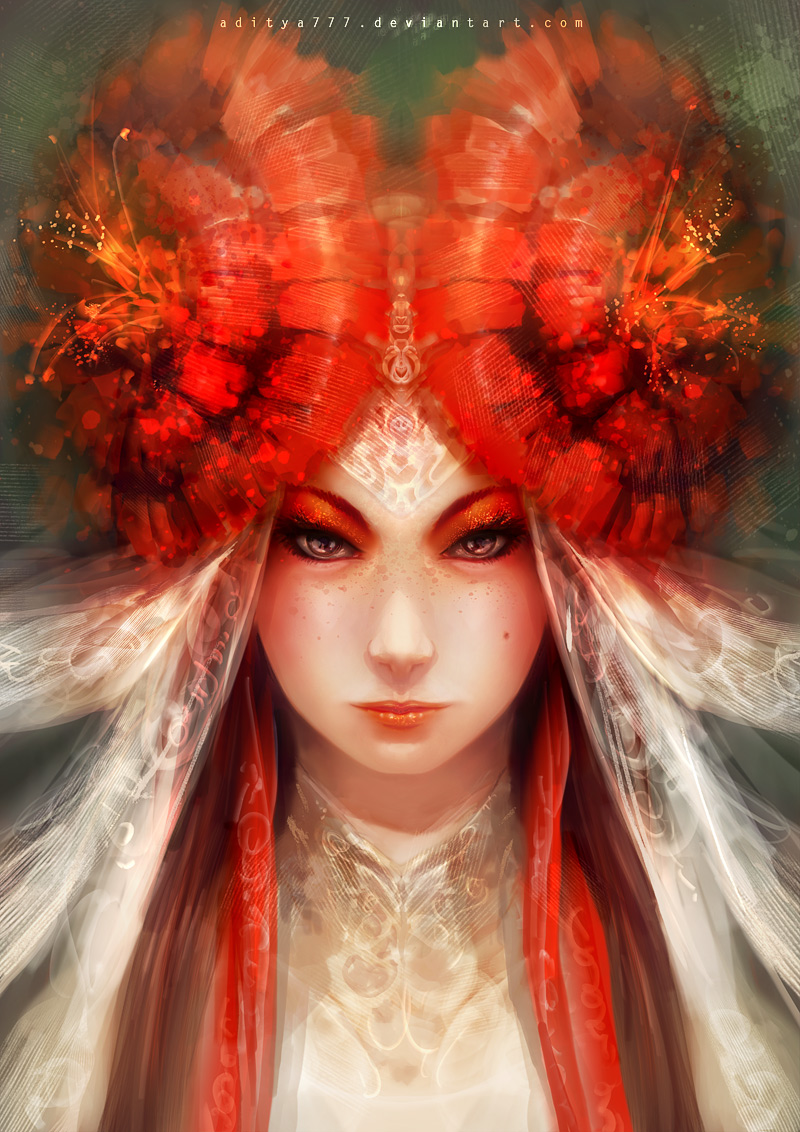 still need more practice..

photoshop cs + wacom tablet, single layer, no reference, 3 hours +coffee

Inspired by a song: Some Other Time >
[link]
steps:
Thanks for looking

You find yourself in the middle of a strange room resembling that of a royal throne room covered in a creamy warm white color throughout. A silken path on the floor leads through the narrow, yet large room toward a vast staircase that ends with an elegant and ordinate throne, adorned with countless roses and many other red flowers upon its white gold surface. Towering statues of mighty nights and soldiers line the walls and overlook and elegantly reflective floor that almost appear as if there's a parallel world beneath the reflection. The very expanse appears as if no one has treaded within it in many, many years, yet at the same time its magnificence and splendor has been maintained within by an unknown hand. You move about the vast room with feelings of both unease and amazement for all that is depicted before you. A bright, cleansing light floods throughout the chamber that almost seems to warm your entire body, mind and spirit as you recline in its glow. Suddenly, you notice something silently wisp through the silent and still air of the throne room. In your hand rest the crimson petal of a rose. Confused by this sight, you then search about to see where they had come from, but find nothing. At that very moment, another petal is seen falling, then another and another...until they appear to be floating throughout the room. As you move forward the room, you see something before you that is the source of the rose petal shower. A woman descends from the staircase and looks upon you through her cascade of petals. Her skin shares the same creamy white splendor as the room she resides. Her imperial clothing drifts forth like running water over a gentle stream while her razor sharp eyes gaze forth upon you. The burning crimson shades of red hair, articulately adorned with two red flowers, move about her and completely override all of your senses until you feel enveloped under a crimson stream of her elegant and exquisite appearance. Truly, few things in this world carry such majesty and grandeur, and you are amazed to find a being that encompasses and embodies that very element.
Flower
, created by the talented *aditya777, continues his works of the female form and grace and manages to go even further in his dedication to his artistic skill by generating a piece like none he's ever done.
To begin with, I have to applaud the artist for their use of detailing in the woman's physical depictions and general body detail. From the beautiful tones emulated on her skin, the freckles dotted above her nose and even the reflectivity of her eyes and the mascara above them that glows brightly as the sun, everything simply seems to draw in the viewer's imagination and does not fail to let go one minute. Her clothing appears silken and almost angelic in appearance, making the viewer feel as if they are floating throughout a calming air that seems to generate from the image itself. The main color in this design is crimson and white and not often does this manage to actually entice one as it does here. The white is a representation of purity and innocent grace, immediately contrasted by the red, which is symbolic of bold passion and love...perhaps even blood. This could perhaps show that even though the elegance and purity of this queen has been stained by the heat of battle or the use of a threat or dire punishment to all who oppose her. This is even magnified through the atmosphere one feels when looking at this piece and can feel the tenseness and judgment that shines through this woman's eyes in this piece. A definite plus in both compositional and atmospheric depth and re-vamps exactly what one would expect from this artist's work.
However, with the excellence of the design really coming into focus, there are a few things that are holding it back from what it could be. One thing that could be tried is perhaps a full-body shot in this particular piece. While the traditional portrait appearance does work on certain levels, there could be a bit more depth to the piece by depicting the entire form of the female subject, thereby expanding upon her character profile and even using this very shot next to it to exemplify her facial tone and intensity to the viewer from the full body shot. Another thought would be to generally expand on the landscape or background area about her as that would do wonders for the general aesthetics within the piece and its overall composition. Actually using the image of flowing petals about the woman would create an even more powerful depiction of the character as well as create that much needed dramatic edge to her presence in the piece. Even the lighting could be intensified about her in a darker background and foreground element. So many variable that could be implemented here that could really draw out all the potential beauty and substance that this piece has to offer.
Flower
is one of those rare pieces that you come across that does and contains more locked behind its brushstrokes. Like a lone flower in an empty garden, this piece truly shines forth on many different dimensions and layers behind both its compositional elements as well as its general use of artistic aesthetics and design. The facial detailing really brings out so very much in this piece and will leave you locked in its perfectly depicted gaze, the atmosphere will generate a tenseness that few other pieces can. However, there is still so much more that could be done for this piece that the possibilities are almost staggering at this point. Regardless of the various nitpicks made in this critique, this takes very little from the overall compositional structure and style that easily shines forth. Congratulations on this piece Aditya, and here's to many more pieces carry just as much, if not more beauty as this one!

The Artist thought this was FAIR
90 out of 98 deviants thought this was fair.