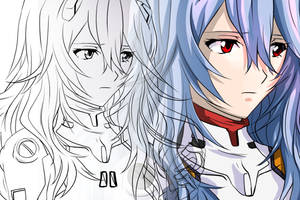 Lineart and HQ
Get access to early sketches of upcoming artwork , clean lineart and High-Res JPEG files.
---

ROBOTECH pin-up fo' Wildstorm
Description
An illo that Joe Wight and I did for ROBOTECH, back during the brief period when Wildstorm had the license. I did the line art for the characters, and Joe knocked himself out with a fine job of painting the Veritech from scratch. (When you're collaborating with Joe, you'd have to be out of your mind NOT to leave all the hardware depiction to him.)

Yep, that's a remarkably broad-shouldered Rick/ Hikaru with Minmei, NOT Chun Li, as some clue-challenged folks have assumed. Dunno why, but the idea of a brawny-looking Rick (which is wildly at odds with Mikimoto's slender wisp of an original design, of course) amused me to no end.

Yeah, the resolution kinda sucks, but this is the only version of the piece I could find.
Image size
486x756px 82.23 KB