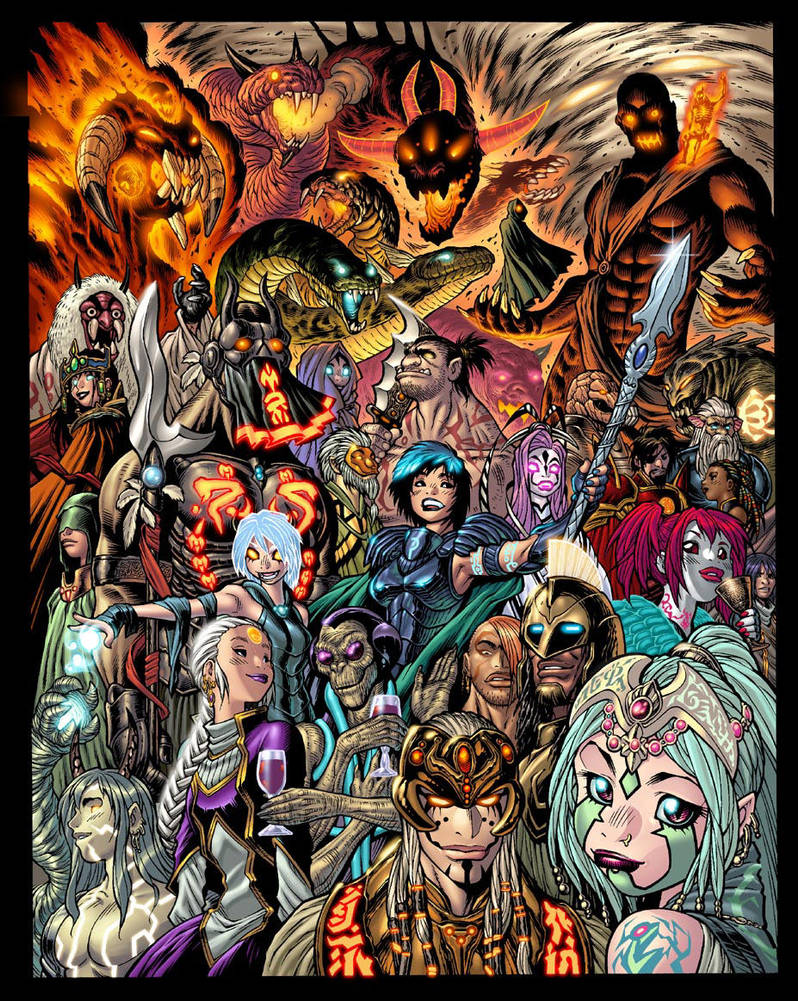 Watch
The final colors for a cover illustration I did for White Wolf's RPG EXALTED... Specifically, the cover to (deep breath) THE BOOKS OF SORCERY, VOLUME IV: THE ROLL OF GLORIOUS DIVINITY I.
Fine color Photoshoppery by Lee Duhig of Guru eFX (colorists of LIVEWIRES, IRON MAN: HYPERVELOCITY, DIRTY PAIR: SIM HELL REMASTERED, and scads o' other stuff o' mine); shockingly, his head did not, in fact, explode upon seeing how many bazillion characters he'd have to color!
Line art by yours truly, which you can see in B&W at:
[link]
You can see the initial rough for the piece at:
[link]
...and the finished pencils at:
[link]
Back circa 2000, Ryan Kinnaird and I did another cover for EXALTED, which you can see at:
[link]
After looking back (with disapproval) at the previous cover's lackluster number of characters, I decided to seriously increase the "crowd scene" aspect of the new cover... as you can see. Note, however, that a few characters from the earlier "GAMES OF DIVINITY" cover made it onto this one.
Also, White Wolf is running a contest regarding this new cover; stay tuned, as I'll eventually announce more details in a journal entry.