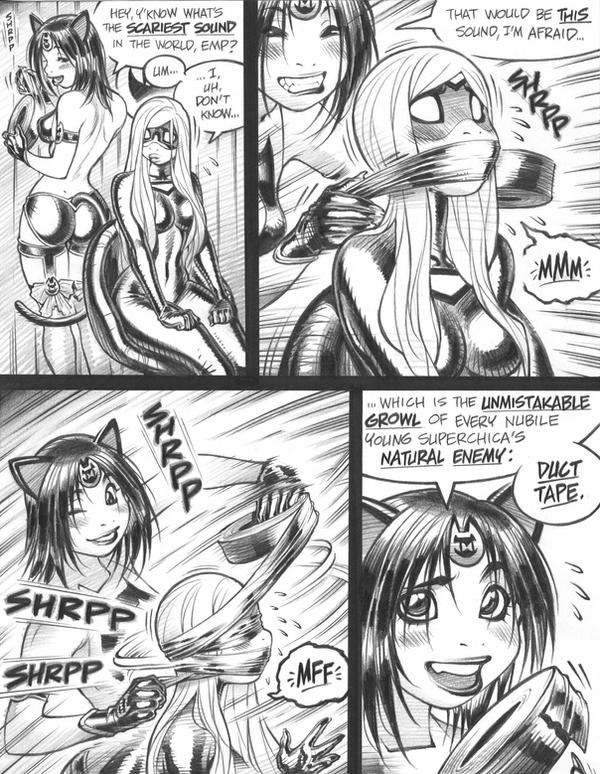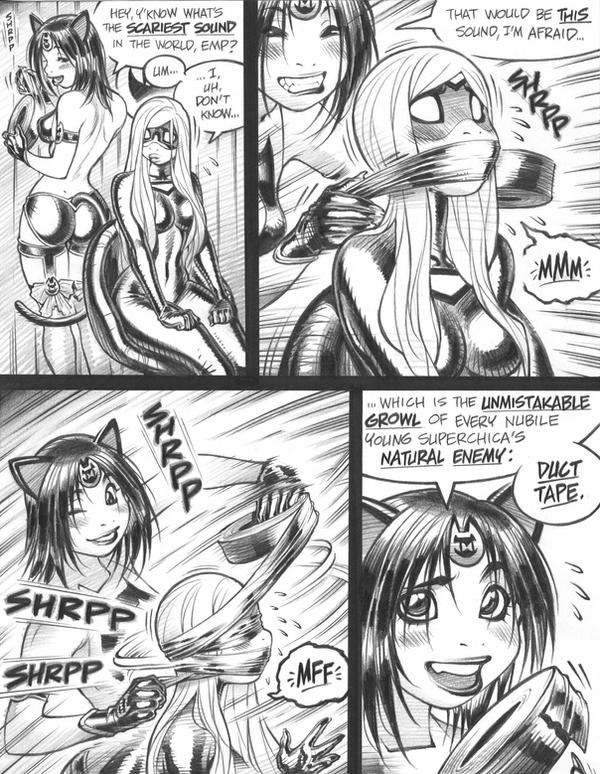 Watch
Here's another chapter-break/ title-page illo from EMPOWERED vol. 5, the latest installment of my ongoing "sexy superhero comedy" published by Dark Horse Comics, now on sale at a retailer near you!
This time, here's a page from the story "The Powaaaah of the Duct Side*", wherein our heroine Empowered's innocent appearance on a webcast talk show hosted by the rather-less-than-trustworthy "Ocelotina" goes very, very wrong indeed. For the uninitiated, Ocelotina
[link]
is a faux "cape" who has blatantly ripped off long-suffering Emp's dire reputation as a "sexy, bondage-prone superheroine" and leveraged it into a spectacularly crass moneymaking venture, complete with suspiciously titillating videos supposedly warning superheroines of the dangers of various bondage media... In this case, duct tape.
Admittedly, stumbling into this situation may make Emp seem naïve at best and a trifle dense at worst, but the idea here is, "good girl" that she happens to be, our heroine is ill-prepared to cope with someone as narcissistic, self-absorbed and wholly ignorant of the concepts of "common decency" or " personal boundaries" as Ocelotina. Later on in the story, we even see that Ocelotina genuinely likes and (kinda/ sorta) respects Emp, to the point that she sings the praises of Emp's tragically unpublicized heroism from vol. 4, and even tries to enlists her in some profitable activities...
Anyhoo, just thought I'd post this page to reassure the oft-worried DiD aficionados out there that, yes, Emp does still wind up in some "damsel in distress" situations in EMPOWERED vol. 5.** In truth, she winds up in some EXTREMELY distressing situations by the end of the book as hell breaks loose, but that's all about disaster and death and mayhem and emotional outbursts rather than anything involving DiD imagery (uh, for the most part). Near the end of the volume, though, I do make an wild, flailing attempt to justify this story's tape-related shenanigans by having duct tape's well-known utility turn out to be a minor plot point.
Note that, in future volumes, it's gonna get more and more problematic for our increasingly competent heroine to wind up in situations like this***... which, in fact, is why I added Ocelotina to the book in the first case. If necessary, you might see an Ocelotina "comic within the comic" to deliver the (distressed) goods for whatever portion of the readership that DiD fans still comprise. (Plus, this would add a whole 'nother level of "meta" to the book, which amuses me to no end.)
You can see a wee preview of EMPOWERED 5 here:
[link]
...and more pages from the same story accompany an interview I just did for Comic Book Resources:
[link]
You can order EMPOWERED 5 online at Dark Horse's retail website at:
[link]
or at Amazon.com:
[link]
Keep in mind, though, that while Dark Horse's site has the book in stock, bookstores--including Amazon-- may not get it in stock for some time yet. (Comics retailers, including online sites like TFAW, often get EMPOWERED volumes well before the bookstores do.)
Note that both sites have links for ordering previous EMPOWERED volumes, as well; or, you can quite possibly find these volumes on the shelves of of your friendly neighborhood comics retailer or bookstore, though not at MY local Barnes & Noble, annoyingly enough... And if they don't carry the books, just ask said retailer to order 'em for you; believe me, they'd be happy to take your money.
*This title should be pronounced as if delivered by James Earl Jones, as you might guess.
**Oddly enough, I just discovered this vaguely DiD-relevant phrase while browsing through DeviantART's Help menus: "Don't forget, restraints can bring out the creativity in you!"
***Then again, Wonder Woman's been winding up in situations like this for over seven frickin' decades, now...