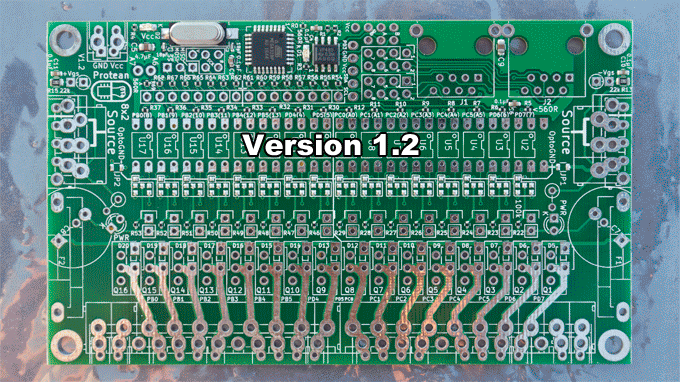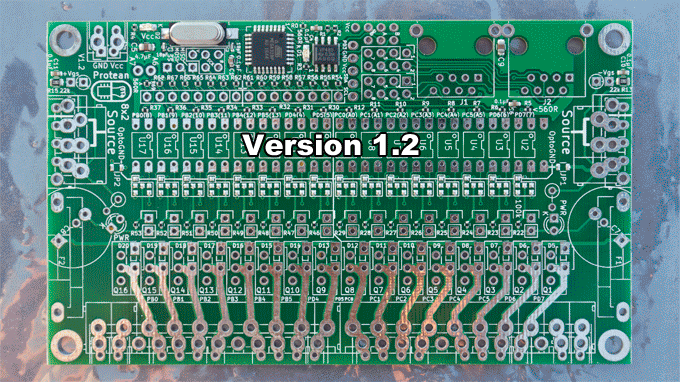 Watch
Protean 8x2: Affordable & Arduino Programmable Multichannel Power Control!

www.kickstarter.com/projects/9…
This is the project I've been working on the last several months. It actually began as a way to ease DIY pinball, but I've designed it in such a way that anyone can configure it in a way that best fits their specific needs, up to 16 N or P channel MOSFETs, or a half N and P channel 8x8 FET matrix. I plan to use it for a fair bit more than just pinball though, but now I don't have to worry about finding logic-level FETs or using a separate microcontroller board. Plus it supports multiple connectors so you can just grab what's convenient or plan ahead for what best works for you!

Any feedback would be a great help!


Dam, wish I had known about it (I don't get online as much with my new job)
would of liked to get 2 or four of these.

Good job at lining up the holes for multiple connectors.
Reply

You missed it?

I thought I had contacted you. ... If that isn't a testimony to my terrible marketing skills, I don't know what is.

But dude, they're still available on Tindie:
www.tindie.com/products/adamlh…
, (while supplies lasts of course until I find an alternate way of producing something just about as versatile without any manufacturing assembly). I've sold 7, have 8 left for sale, 2 were sent out as a promotional, and I'm keeping 3. There's also a price break at a quantity of 4. I'll also have a game/hour counter/clock board kit available with four 7-segment digits and 5 buttons/1 opto using an ATtiny84.

Reply

Dave Jones put you on mailing today. Took me a moment to realize why the name was so familiar!
Reply

Heheh.

I'll have to try my luck next time around. Hopefully I can make some fair improvements before trying again.

Thank you for the notice! I would've seen it eventually, but it's encouraging that you noticed all the same!

Reply

I watched the video and saw all your work.
The one thing that took me by surprise was the five-by-seven matrix.
It turns out you made my dreams come true!

Reply

Wow

Reply

Only reason I ever got into Arduinos was for MIDI projects and potential MIDI controller building, but the button types that I prefer for music equipment was too expensive.
Reply

Bummer.

You didn't want to use any other button? How many did you need?
Reply

Well, it would mostly be used as a launchpad, even-sized grid. I could have gone cheap with little tactile switches or arcade buttons, but that would neither be efficient to use for that, or aesthetically pleasing. My main goal was to create my own midi devices for music production or use, for cheaper than store-bought devices, but it turns out, for the type of buttons I wanted, I'd probably have spent as much as a new device in a store, minus the certainty of how long it would last. At that point I'd have been paying for the luxury of having known I made it.

My personal preferences were 4x4 or 8x8. I found 2x2 and 4x4 sections of the correct type of button, which I could chain together, but then it would require the PCB and, if I wanted it to look nice, the extra faceplate to go with it. All of which are sold separately, stupid... but building your own stuff isn't cheap, I suppose. It also goes outside the tutorials I've viewed (I don't know as much as I'd like about circuitry) and would require more changes in Arduino code, and with my limited knowledge of the API, it adds extra strain to it.

Honestly, even if I did have the money to get all the parts, I wouldn't know how to use the specific parts I found to fit the project. In any case, I have a MIDI keyboard now, which can double as a launchpad if I set it to be in my DAW, which is all that matters I suppose, just not as mobile or pretty.
Reply

Probably not interested now, but I figured I'd share nonetheless

:
shanteacontrols.wordpress.com/
"
OpenDeck is a platform suited both for prototyping and developing custom MIDI controllers compatible with any MIDI software on any OS.
"
Reply

That's on the pricey side for me, personally, but it looks like a promising lead on the future of efficient DIY digital instrument. The information, even without me actually doing it, is always fun and nice to have to future reference.
Reply

Ahh, I hear ya. That makes sense though. It's not always more economically efficient to build things oneself. Glad you got a working solution though.

Reply

That's cool, any chance you wrote up a schematic diagram of it?
Would love to see it

(if willing of course)
Reply