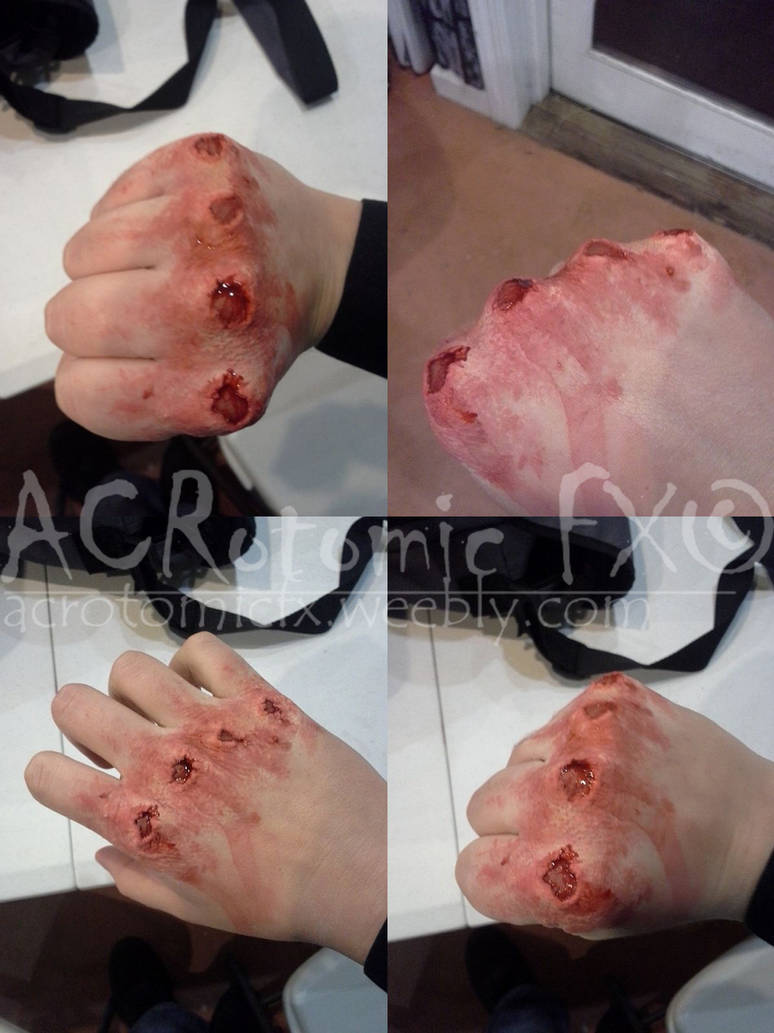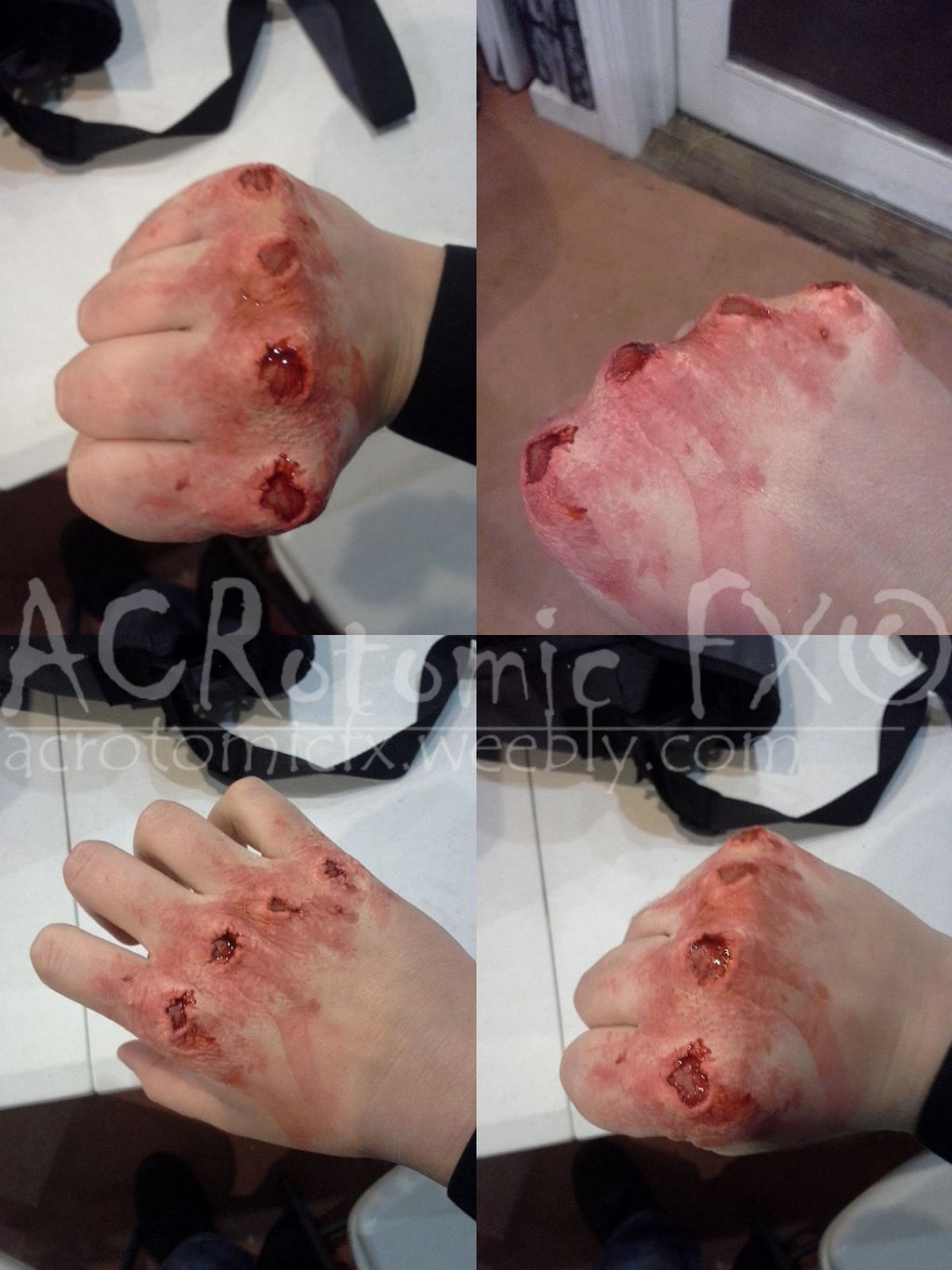 Watch
I got together with my good friend
LIL-CUTE-KITTEN
last night and played around with my makeup. I've been wanting to try busted knuckles for a while, so this is what I came up with (also it seems I never actually use blood in my makeup, so I figured I should give it a shot for once).
See
acrotomicfx.weebly.com
for more

As one who has actually had this injury, it's worth asking yourself what story you are trying to tell with this prosthetic. Are these busted knuckles supposed to have arisen from fighting? If so, they aren't working. When you fight, punching, the damage is concentrated on the first two knuckles: the tip of the first knuckle and the inside edge towards the first knuckle on the second. Additional damage will tend to expand those focus points, ripping skin and dispersing blood liberally around the one-inch square covering the first two knuckles. Injury will occur to the third and fourth fingers, but this tends to focus, next on the outside edge of the fourth knuckle (from glancing blows). The third knuckle usually goes relatively unscathed.

So you should reduce considerably the effect on the third and fourth knuckles, move the second knuckle's damage to the left and the fourth knuckle's damage to the right. Blood smear should go down the fingers more than it goes back along the top of the hand, and should focus between the first and second fingers. Also don't neglect the thumb's second joint, which also tends to take a battering from glancing strikes.
Reply

Thanks very much for your well-thought-out response! I actually learned most of this when I originally posted the picture months ago (was just playing around with makeup to test it out), but it's always good to get a reminder every now and then. I've been meaning to go back and re-do this makeup, just haven't had the time lately. Hopefully, I'll have a lot more makeups posted nearer the end of the year - feel free to critique those, too!

Reply

Thankfully, I've not suffered any of your other injury prosthetics. I spent some time building up the calluses so as not to suffer this one any more, either!

Reply

XD And I just dropped by your page and literally squealed with delight. I'll definitely be keeping an eye on those minis of yours.
Reply

Aw, thanks. I've just got the miniatures from Corvus Belli's new Operation Icestorm boxed set. Wonderful miniatures that will be occupying my lunch hours for a few weeks to come, yet, but I'll post finished pics when they're all done.
Reply

Haha, well that's good!

Reply

That turned out incredibly well. The wetness inside the wounds looks perfect.
Reply

This is really cool. Did you use latex? Or wax? Or what did you use? Love how realistic it looks.
Reply

It's just using latex with tissue. And thank you very much.

Incidentally, I just picked up my first can of wax & I'm REALLY looking forward to playing with it.
Reply

That's pretty darn convincing. It would certainly fool me!
Reply

Looking good! I want to try this one day

Reply