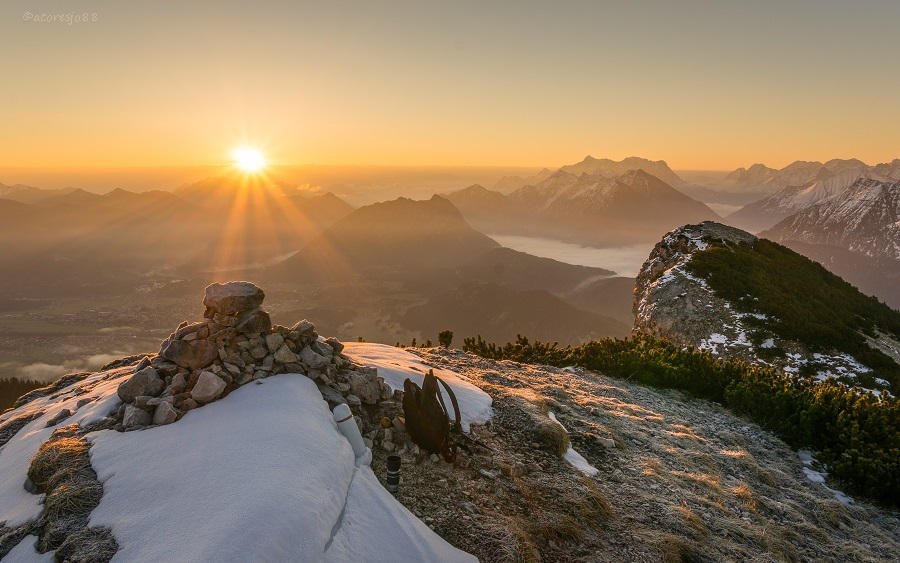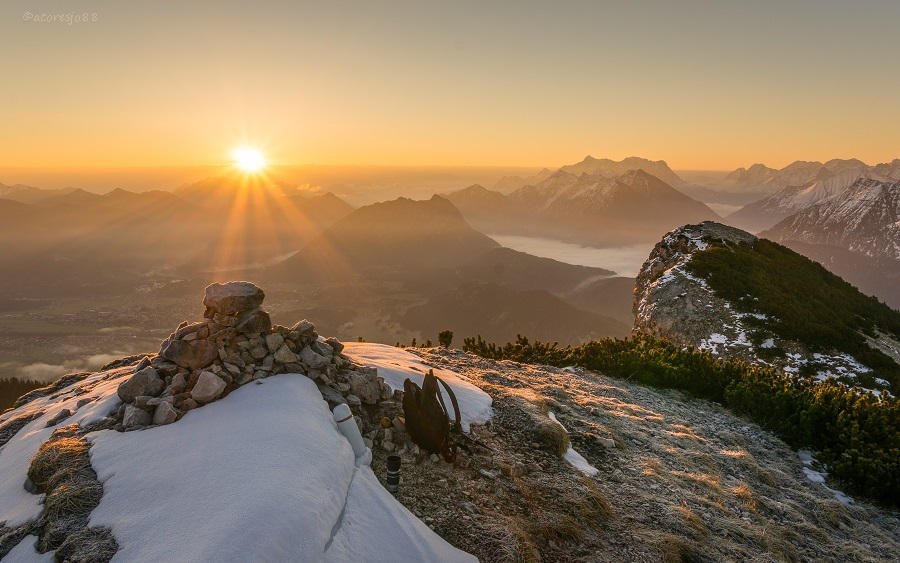 Watch
My alarm rang at 3 am, but it was worth getting up early for being on top of the mountain at sunrise

Taken on Gaichtspitze mountain (1,986 m) in Tyrol, Austria.
Featured:
fav.me/d7kat9d
Featured:
getwatchers.deviantart.com/gal…
Featured:
fav.me/d7l5cpf
Featured:
fav.me/d8t184d
Love this piece of yours. Incredibly detailed, so I'm guessing you used pretty good equipment for it. What I most enjoy in it is by far the color scheme. Not only is it very balanced but striking in the way the orange of the sunset meets the greenery of the bushes. The only thing that could be better was if the sun was located right in the middle of the photograph, that way the layout of it would have been a little better. I finish my critique by saying you did a fantastic job with this one, really knocked it out of the park.
The Artist thought this was FAIR
2 out of 2 deviants thought this was fair.
First let me just say that I don't know the second thing about photography, so this critique is coming from someone who appreciates the art of photography rather than practices it.

This is incredible. Unlike the previous critic, I actually think the sun's placement in this photograph is perfect, and that a rising sun at the centre would have been generic, typical, and not nearly as breathtaking. I also absolutely love the fact that you decided to leave your backpack in the picture. Somehow, it gives it a more personal touch- gives the impression that this stunning place has been graced by a human presence, an element that is lacking in a lot of nature photographs. I don't know why the backpack makes such a huge difference to me; it just does!

The composition of the picture is near perfect. Everything from the blurry line of the horizon to the detail of the snow's texture is visible, balancing out the lights and the darks and giving a sense of uniqueness to this piece. The snow, the mist, and the greenery, juxtaposed with the hardness of the rocks, gives a highly organic feel to the image; it doesn't feel overdone or polished. The sun, I feel, has to be the hero of the picture, and you've captured it at just the right time- the pile of rocks at the mountain top look beautiful silhouetted agains the orange light.

That's all really, I have nothing negative to say about this image. Great work!
The Artist thought this was FAIR
1 out of 1 deviants thought this was fair.