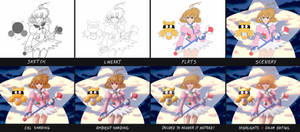 Yomi's Step by Step Pics + WIPs!
Thank you for stopping by! 😁 Feel free to subscribe to check out the process behind my art and get a Portfolio Review (+ Tips to improve your art!) as a welcome gift at the cost of a modest monthly donation! 🚀✨
---

Portrait Painting Tutorial
Description
Hope you find this useful!
BTW, here's the eye tutorial if anyone's interested...
[link]
Image size
1000x7642px 848.91 KB