[EDIT: CLOSED OFF APPLICATIONS]


Its been what, months since I opened my first guest artists slots, now its finally time to do this again~
I love seeing what designs other people come up with!
I'd love to give more chances and opportunities especially for those who didn't have a chance to be guest artist the first time
(though if you entered the first time you can still apply~)
Also you should read everything carefully, since I've hidden a keyword on here and you
must
add it somewhere in your comment when applying for guest artist slot, otherwise I won't approve your application until the keyword is included.
DUE DATE:
APRIL 14TH 2019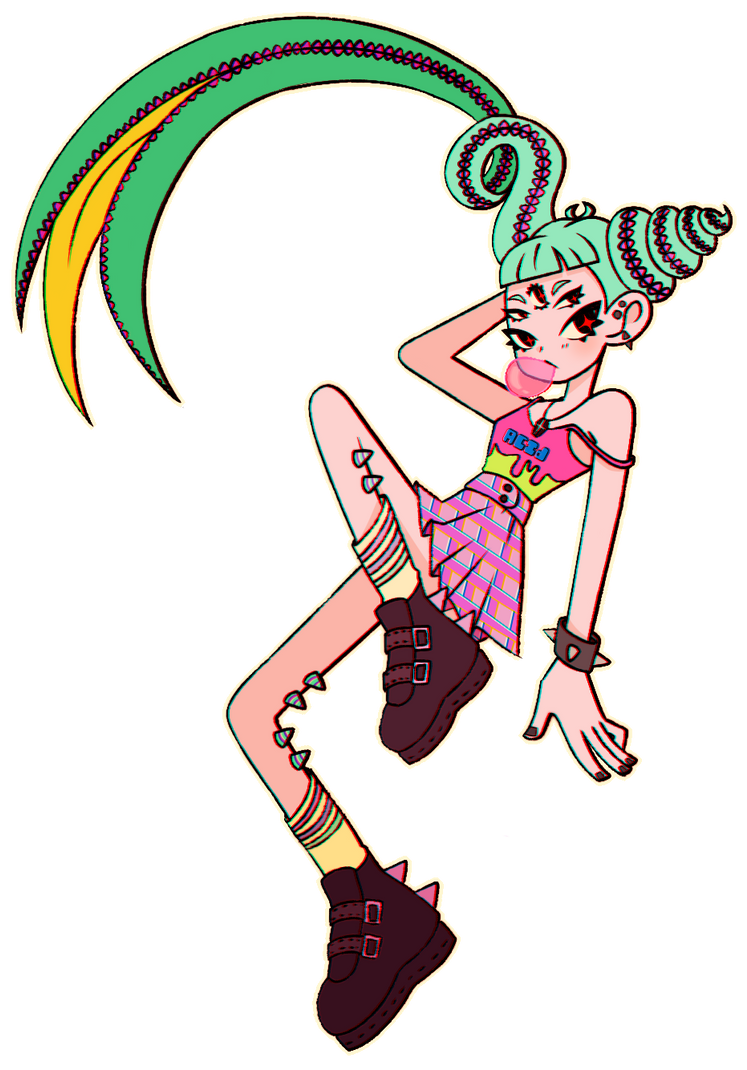 YOUR PROFITS:

you keep 85% of the earnings (while I get 15% from each adopt that gets sold!)

You get 1 free MYO (common/uncommon/rare/legendary traits) slot
(you can trade/raffle/gift it away, but you are
not allowed
to sell it!)

your adoptables must be posted to my CS group
Spiritus-Oris
(you are free to post your adoptables to other adoptable based groups etc)



I can send you seperate .png files of the trait images (ask me if you need it~)
RULES:

will accept the adoptable design(s) that used the traits from the trait lists
(which means you can use as many traits as you like for them~
common/uncommon/rare/legendary are allowed!
)

Admin traits are not allowed; only admins of the Spiritus-Oris group can use them for adopts and customs


you can make 1 adopt or a batch (up to you how many adopts you wish to do when it comes to batch)

Your guest artist slot will expire; which means you are not allowed to make any more after the expire date!


earnings will be split (once you sell an adoptable, I will get 15%
you can tell the buyer to send my profits to me directly, or you send it to me yourself~)

you must mention me as the owner of the CS Spiritus Oris in the description

name yourself as the guest artists for my closed species (either in the title/description, or both~)
HOW TO BECOME GUEST ARTIST?

comment filling out the form~

must tell me how many adopts you plan on making

when accepted, you can already start on the design(s) (note me any time if you have any questions ; v ; <3 )

once you finished your design(s), please show it to me first so I can approve it~



For your adopt(s) design approval you can:
- note me directly on dA
- note
Spiritus-Oris
group
- use spiritus oris discord (can also dm me on discord directly)

once accepted you are free to post it on deviantArt

the prices can be set however you want

it can be points/paypal adoptables or combination of both

prices can either be set or auctions

once all of that is done you automatically get 1 free UNLIMITED MYO slot (you must show me the design for approval before uploading!)
FORM:

dA username:

example of adopts:

amount of adopts you plan on doing:

price range: (you can change the prices when designs are finished, I just want to get an idea~)

payment method: (points/paypal or both)

Is this your first time being a guest artist of my species?

other questions, things I need to know:
TRAITS/HISTORY/FAQ:

Spiritus Oris history/info


FAQ [CS Spiritus Oris]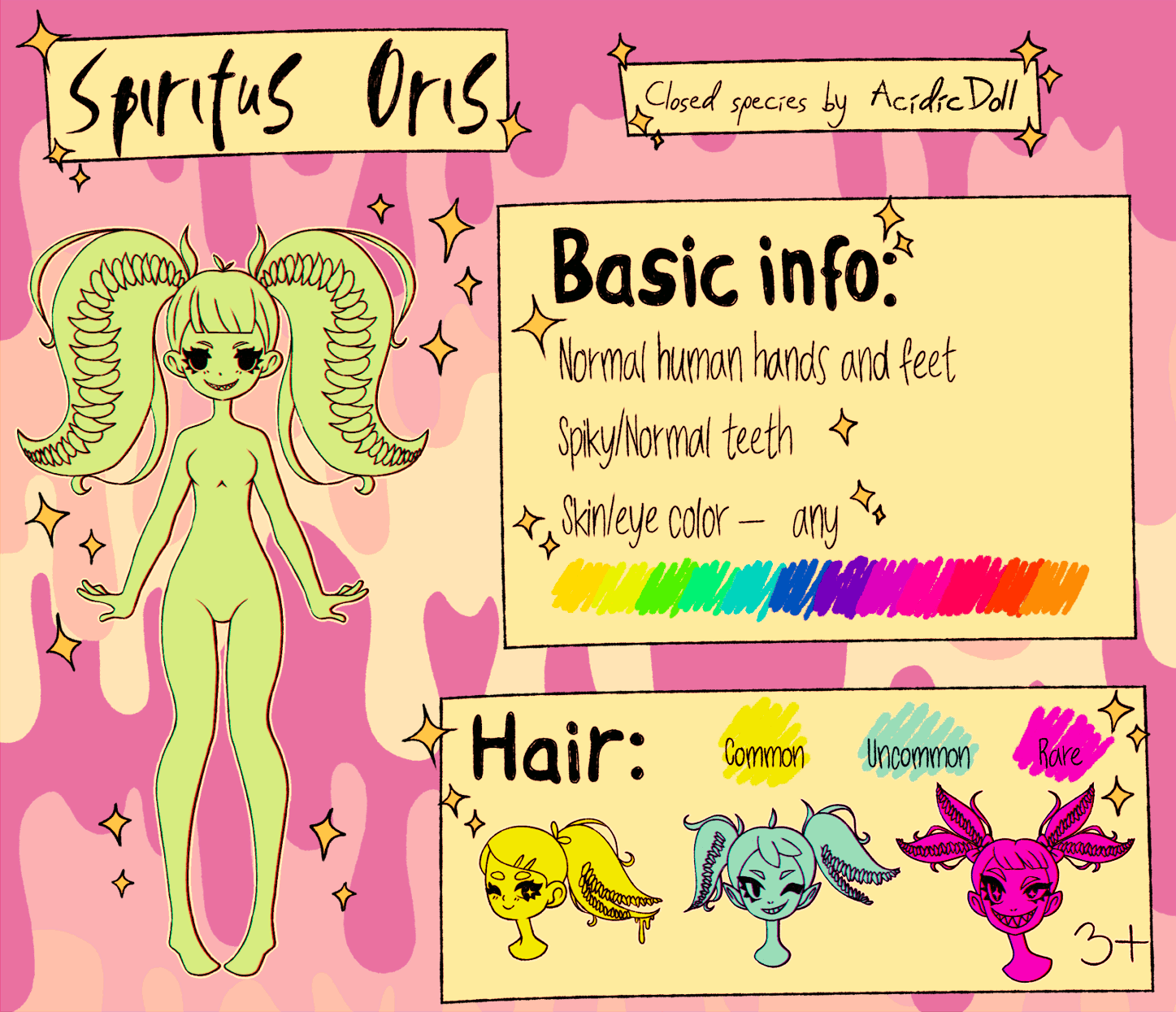 you must include keyword '
wysp
' when filling out the form so then I know you read everything~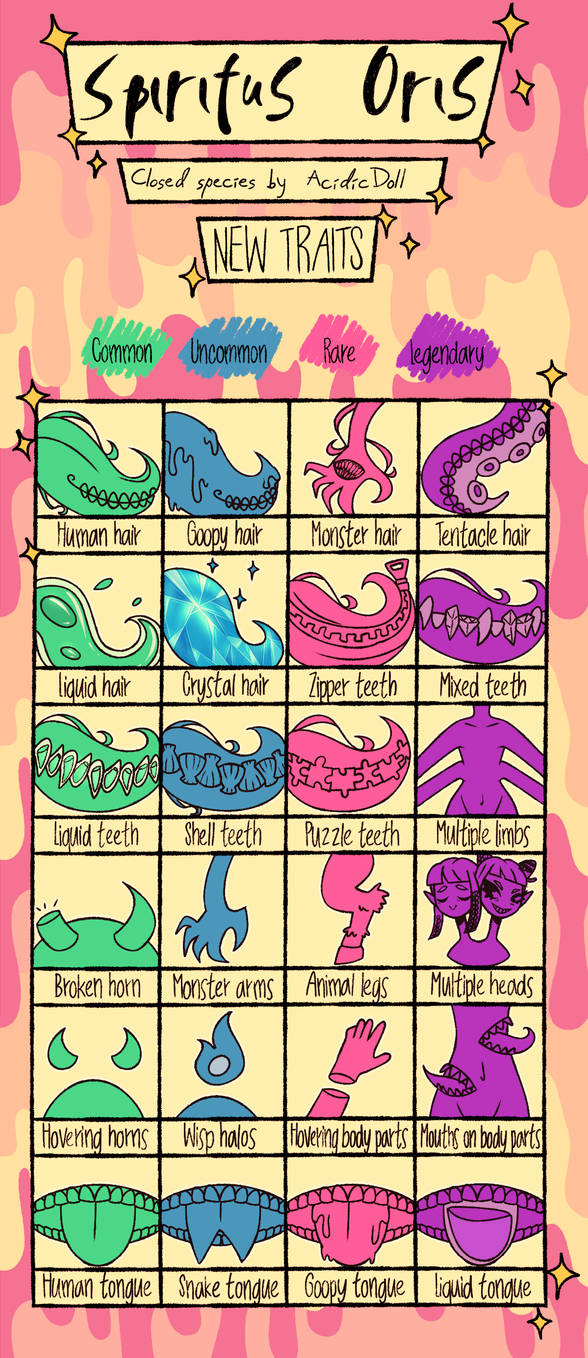 Thanks so much for reading, any questions? Please comment below~