Traditional Art Week
Pinterest has a reputation for being the site for mommy-and-me projects and crafty DIY adventures. For the artist, however, Pinterest is a trove of
resources and inspiration
if you know where to look.
Here are 5 of the main things I use pinterest for. I hope they bring you some "pinspiration" of your own. Use ctrl-click to open the links in another window and save the tab for later!
All art featured is from your fellow deviants!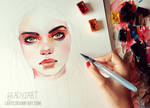 Tutorials and Art Learning
If you're like me, when it comes to art you're always looking to learn new tricks! These three boards have a wide selection of tutorials and instructions for a wide range of materials!
Deviantart's Artist Toolbox
Jenthestrawberry's Collection of Tutorials
How To Draw Tutorials
---


Figure Drawing
Nothing beats drawing from a life model. However, most people don't have regular access to live models. Before pinterest finding images or photos to draw from was taxing, because a google search for "nude model" doesn't get the exact sort of images that I like to draw from!
These boards that I follow might give you a good starting point!
Figure Drawing
Art-Figure Drawing/Painting
Figure Drawing Reference
Human Anatomy Reference.
---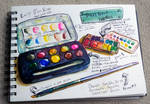 Art Journal and Sketchbook
I wish I worked in my sketchbook every single day. Sometimes the hardest thing is to just find a place to start! I keep a board of sketchbook pages as well as follow a few more, so that whenever I'm struck with blank page syndrome, I always have some images to prompt me.
Art Journals, Sketchbooks and Travelogs
Art Journal Ideas
Art Journals, Smash Books, Diaries
---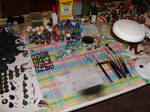 Workspaces and Field Kits
Seeing the tools and workspaces that other artists use always fascinates me! These three boards are dedicated to just that!
Watercolor Field Kits
Art Studios
Art Workspaces
---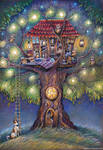 Beautiful Images for Inspiration
Just looking for something beautiful to brighten your day? Follow these boards to make sure your pinterest feed has something beautiful in it every day!
Daily Deviations on Pinterest
Fine Art Paintings
Pinterest's Explore Fine Art
Deviantart Traditional Art
How do you use pinterest? Is there a board you love that I didn't share? Link it below so we can all enjoy!