For anyone that had played the new Spyro Reignited trilogy, you may recognize this animation, heh. I loved the new idle animation they added to it, so I did one heavily based on it: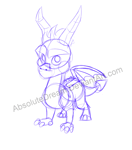 I'm thinking I may open a couple of YCH (Your Character Here) of this animation in the near future. I'll probably do one more example first.
Anyway, I wanted a chance to animate my own characters again.
---------
Program used: ToonBoom Harmony
--------
Character belongs to me
-------

Hey, if you're able, and would like to keep track/be a part of my next big animation, support me on
Patreon
. ^^
Image details
Image size
500x500px 1.83 MB