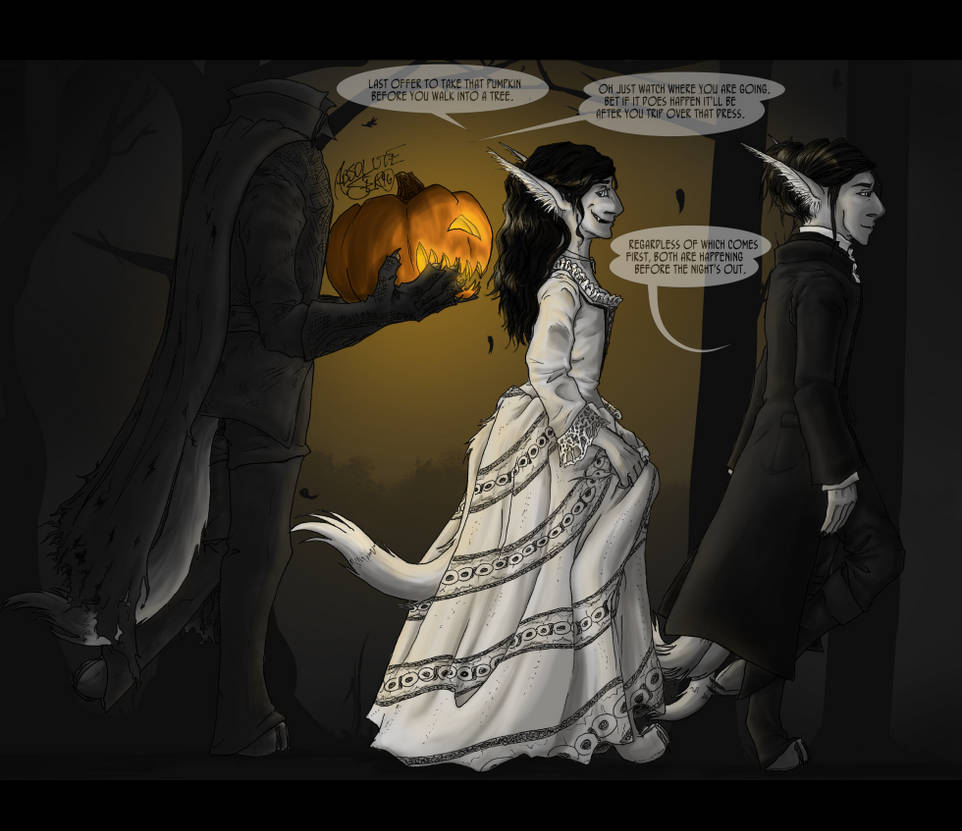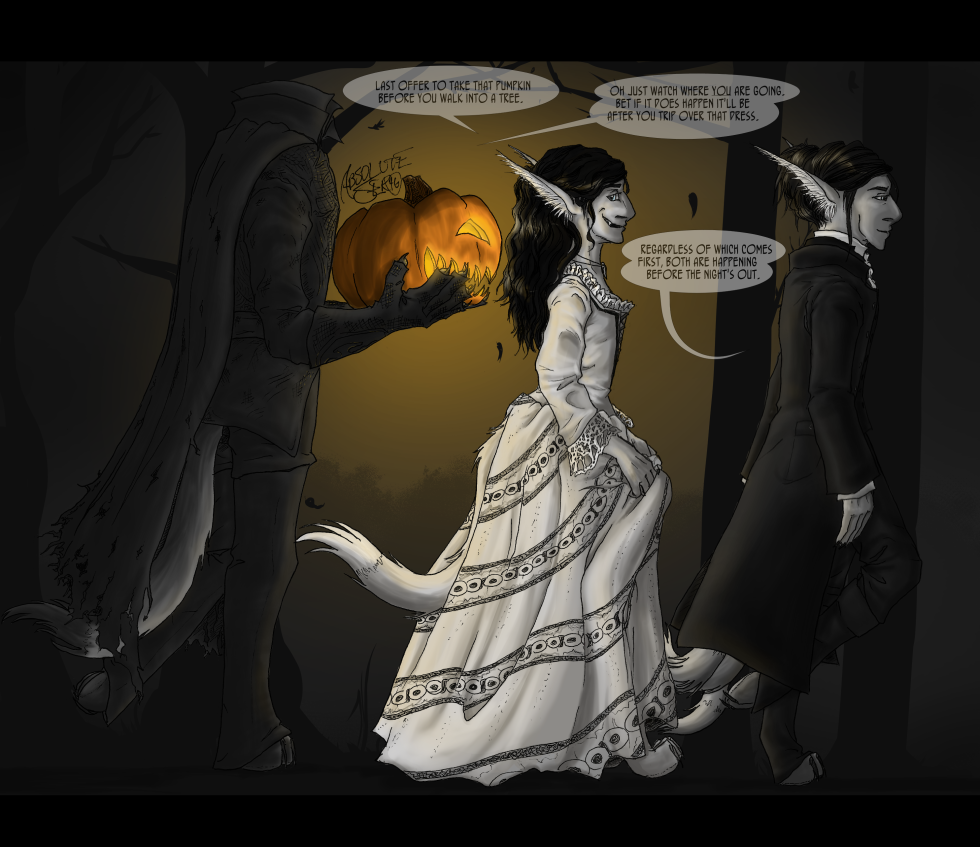 Watch
I'm with Lilac here; both are likely to happen.
Though honestly in Azrael's case, better he walks into a tree than burns himself on the pumpkin candle and spends the night in a clinic. *shot*
Left-to-right: Azrael, Kira, Lilac!
[For newcomers it should be noted that they are not all grey, it is just monochromatic to fit the theme I was aiming for with this illustration!]
... And if you recognized all three costumes for what movie they reference and not just Azrael's, cookies to you!


I actually imagine that Kira and Azrael both wanted to be the Headless Horseman, and that Azrael may have lucked out in the coin toss deciding it. Not sure if he would have been forced into the dress by Kira (at least once just so she could see him in it) or just dressed up as little Masbath..
I haven't been doing Inktober but I HAVE seen so-so many of them around, so this is all traditionally inked with the colours/touch-ups done in CSP EX. It's something.

I enjoyed doing this even though a few details are nagging at me now. Especially this: kitsune tails are just a tad longer than their legs, so their tails all look too short here. Their tails are always raised above the ground despite the length (unless they're extremely fatigued/unconscious) and moving slightly. ... I blame the costumes even if it
was
my oversight. *dies*
--
10-12 hours, inked traditionally. Colours done in CSP.
Kira, Azrael, and Lilac are all my own.
The costume designs however are from Tims Burtons' Sleepy Hollow. (
en.wikipedia.org/wiki/Sleepy_H…
)
The designs belong to that movie/its makers.

Wow, Lilac actually looks good in a suit! O.o
You can tell my priorities are weird when Azrael's rocking that headless costume and Kira's got a nice dress there.

Reply

I enjoyed Lilac's turnout as well, though to be fair I think that suit would look good on most people. I may not drawn Victorian-esque fashion much but it does tend to get props from me.
Heh.. Azrael and Kira both wanted to be the Horseman, but both realize that would be silly. Kira is a little more at-ease in the dress here than modern ones because there's lots of fabric. Cumbersome, but not revealing. Although I think one thing she winced at was the corset-y effect/neckline of the dress.
67.media.tumblr.com/tumblr_lst…
... I shoulda drawn her at more of an angle to show it, heeee.

Reply