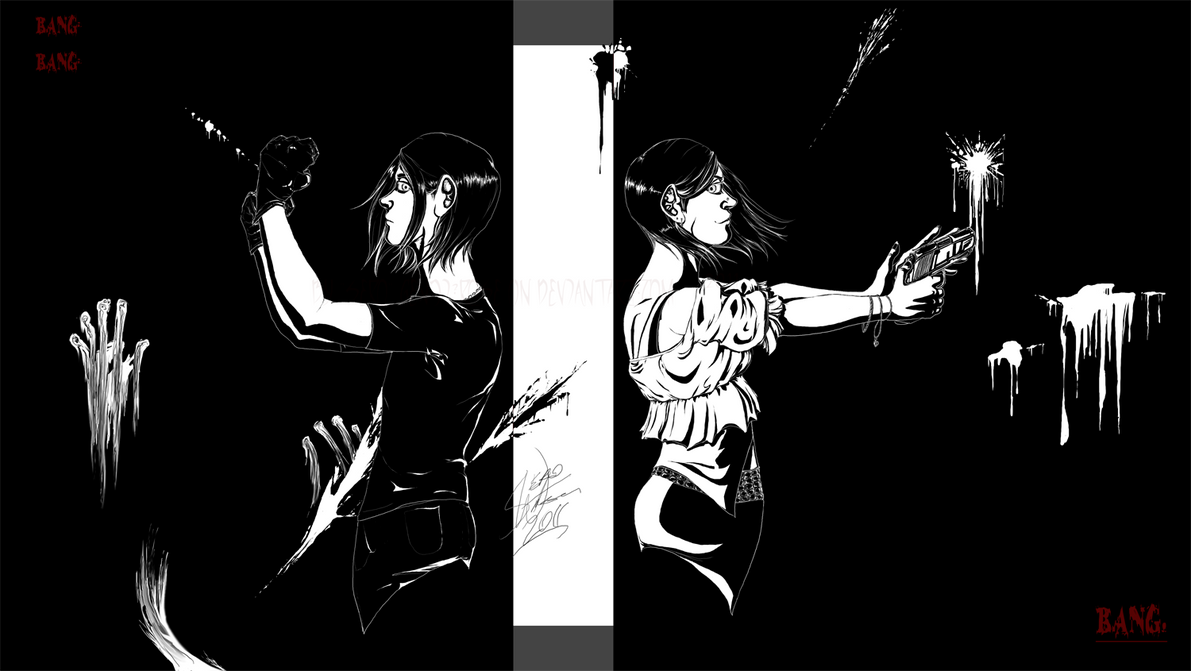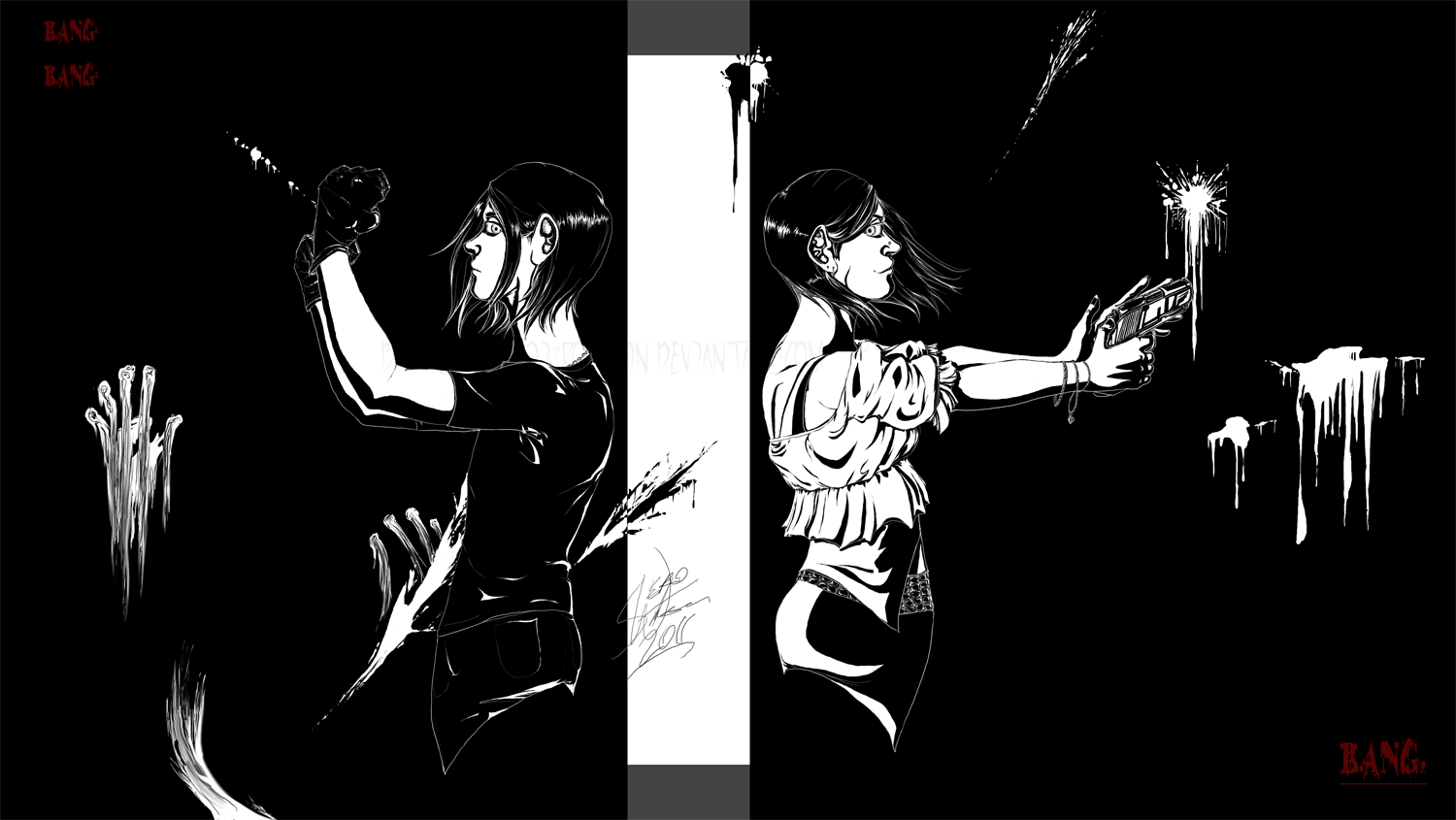 Watch
[ ...promo artwork for the comic " Dark's Watch " ... ]
The Fairfield twins - Adrian on the left, his sister Carmen on the right.
I wanted to do more official/realistic artwork of the twins, who take increasingly important roles throughout Dark's Watch. If I think of a better title, I'll change it, but it felt more fitting than a cliche title I could have slapped on this. The twins mirror certain qualities in each other, and are completely different in other aspects, but either way.. they are a force to be respected/fear (depending on who you are) when they team up.
Originally, the spatters and smears in the background were red.. I changed them at the very last minute to see if I could have a picture's graphics all done in B+W. (Usually I always cave and make some small element color; I only colorized the font so that it would stand out easier against the image.) Works, or doesn't work..?
Random trivia for the twins: their grandfather originally hailed from Spain, and married an American woman. Because the twins' father heavily assimilated with American culture, they have next to nothing to do with Spanish traditions. Adrian, Maria, and Marcos can speak Spanish, however.
Also, the main Fairfield family (the twins, their father, and sister) all have strikingly light blue eyes.
Drawn while listening to: "You Shot Me Down" (
[link]
)
Also, this is the gun I used as ref for Carmen:
[link]
--
Unintentionally, this ended up being a convenient wallpaper size for anyone with a widescreen monitor; feel free to use it as such if it strikes your fancy. (:
Also,
the lineart for this picture can be viewed and downloaded here!
(You must be a deviantART member to see/download.. sorry about that. ): )
--
Time estimate: 12+ hours
(I lost count.. OTL)
Sketched by hand; all lines/color done in CS2.
Carmen and Adrian Fairfield,
Dark's Watch
and
this image
are the intellectual property of "Sero" Genji-Rose; this picture may only be altered or submitted elsewhere with *genji-rose's permission.

..... Whoa.
*looks at the lineart* *looks back at the pic*
WHOA.
I must say, this is really nicely done. You've always been detailed, but here, the attention to the shadow details of the folds, hair, etc seems to be
amplified.
Looks like something straight out of a mafia-movie title cover. Hnng. Envy.

Reply

I felt pretty obligated to be very nitpicky about shadows here, since they basically define everything. Carmen's shirt I spent forever re-checking the lineart for so that the shadows would look right (and that nothing would basically disappear).. glad it ended up working out. XD I just remember now that because I was trying to ensure they looked pretty similar, they got even more attention than usual while I was working on the lighting.
TL;DR:: Thank you.


Reply
Those spatters and smears are amazing, how do you do it? O.o
Very intense picture, I'm glad you decided to make it all B/W, I think it looks great

Reply

It took a while, but because this picture's so large I just zoomed in and did each smear/spatter by hand. I used reference for the handprints/smears. *has a macabre love of drawing blood*

Awesome to hear, thank you.. it was defintely something different for me. ^^
Reply