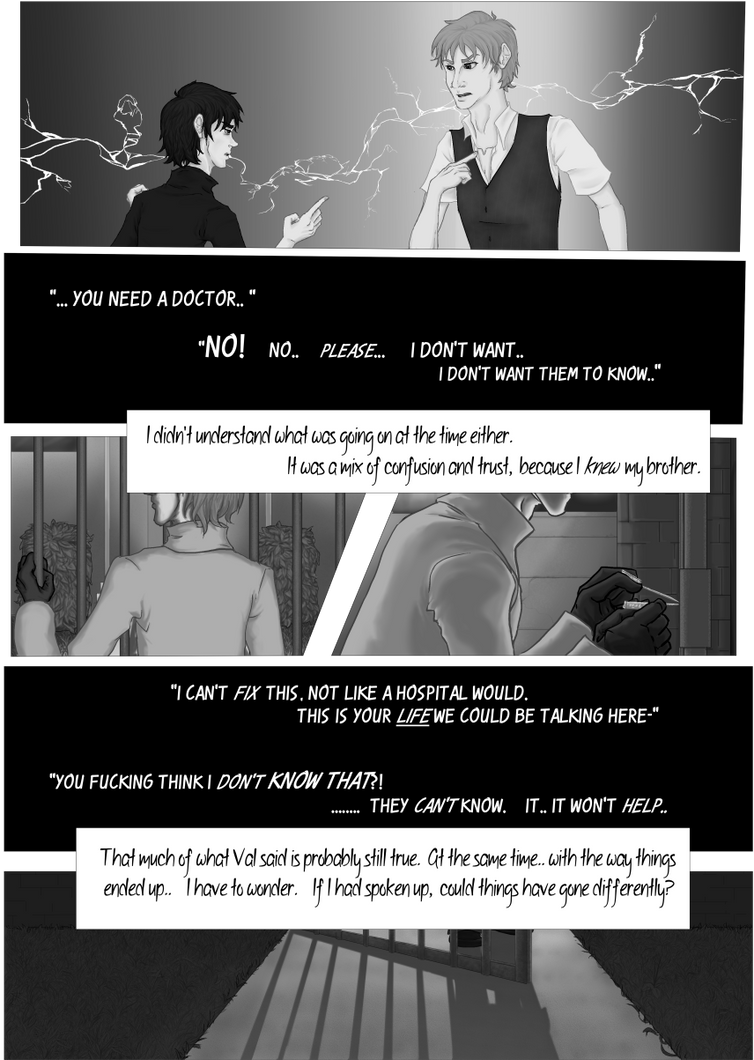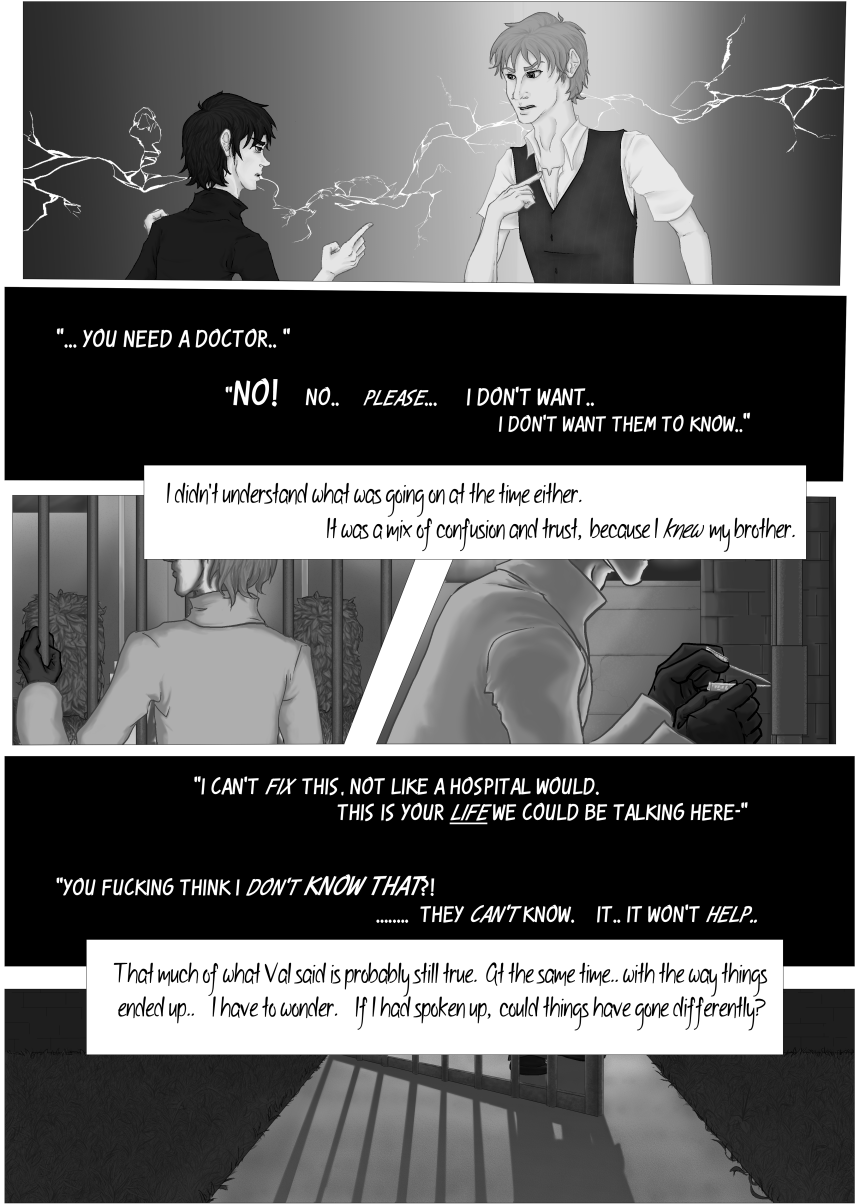 Watch
Dark's WatchPROLOGUE - 1
||

||
Next Page >
This is it. This is the first page of my first brain-child brought to life,
Dark's Watch
..
From the gallery description (will be updated with a better version later)...
"Bad luck happens to everyone - the Rivers get more than their fair share of it. Val Rivers would have to say they get too much of it.

The frightening accidents and 'coincidences' begin drawing family, new friends, and even enemies into the unseen net. Contending with high school, Val succeeds in splitting hairs with a powerful student head who's determined to see Val's comeuppance. Meanwhile he doggedly tries to evade a few students who know more than he'd wish about what seems to follow his family around.
And pulling delicate strings around Val is his older brother, Lory, who more than believes what Val does about their family's fortune. While faithful to his family - and especially Val - Lory's knowledge greatly exceeds that which he chooses to confide.. and alludes to his presence being more deeply entrenched with the truth than he'll let his brother know.

Bitter truths are exposed.
Loyalties are tested.
Nightmares seem to come alive.

And another clock ticks backwards as Val's senior year ebs on.. "
--
--

There is mature content throughout the story.
Not always, but the tale has many subjects, and I warn readers from this first page - you may find it uncomfortable. I give Dark's Watch a 16A+ rating in general, for mature individuals only. I am not kid-friendly, and this comic may have its moments where it is.. but it's not any more child-friendly than I am.

Yes it will be in colour.
Doing the grayscale here was harder than colour, TBH.


It might update 1-2 times a month.
I have to work, and my job can be draining in more ways than one. And each page is going to be something I'm happy to submit, NOT a work I will half-ass to meet a deadline. Having done deadlines before, I know how my art can suffer if a time-crunch prioritizes finishing over quality. That's not what I want, and I want to do this comic on my terms, not the whims of others.
That said, if I start improving, more pages will come in time..

Eventually it will have its own website.
Until I'm accustomed to just doing pages AND have the time/skill to make a website (or rather repair the one I started) it will go here. Only one or two scenes in the story do I consider fully needing to be posted off of deviantART.

The characters and story are my own.
I've invested literal years of work into this project, and I will protect it with the love I developed it with. If you ever want to do fan-art, I would love to see it.. but thievery of my work will be called-out as it should be.

Formats will differ as I find the page versions I'm happy with.
So there may be inconsistencies until I decide 'this is what I'm gonna use'. I'm hoping to be fairly settled on the specifics soon. I lack technical skill with comic pages so.. I'm learning as I go.
--
I'm doing this story because I want to see it made, but if even a handful of people enjoy it.. huzzah!

The story of Dark's Watch and its characters are the creative work of S "SERO" Dachuk.

Oh yays it begins!

Lookin' good so far, even with grayscale, it's obvious that the break-in scene is taking place at night.
Also, weird thing for me to mention, but... I really, really, really like that last panel, particularly its shadow effect there. I can't put my finger on it but it feels so appropriately used for that panel there.
Reply

Actually.. it's.. more like early morning - there is actually more of the background showing a bit of light on the horizon in the lockpicking panel. However that part's hidden beneath the monologue-y type panel. >_>
The good thing is that by drawing backgrounds despite some parts being hidden under other panels.. I can move the panels without having a blank spot! *flops*
Thankfully the time of day isn't as important as it could be, though details of time
passing
may be evident in a couple pages.

That last panel was a pain in the arse, and heavy shadows like that aren't fun. But I was sorta happy that it somewhat resembled a shadow too XD;
Reply
ooooh I'm definitely intrigued! I look forward to more pages

Reply

Thank you - this project has been my brain-child for a while, I look forward to getting more pages out as I can.

Reply