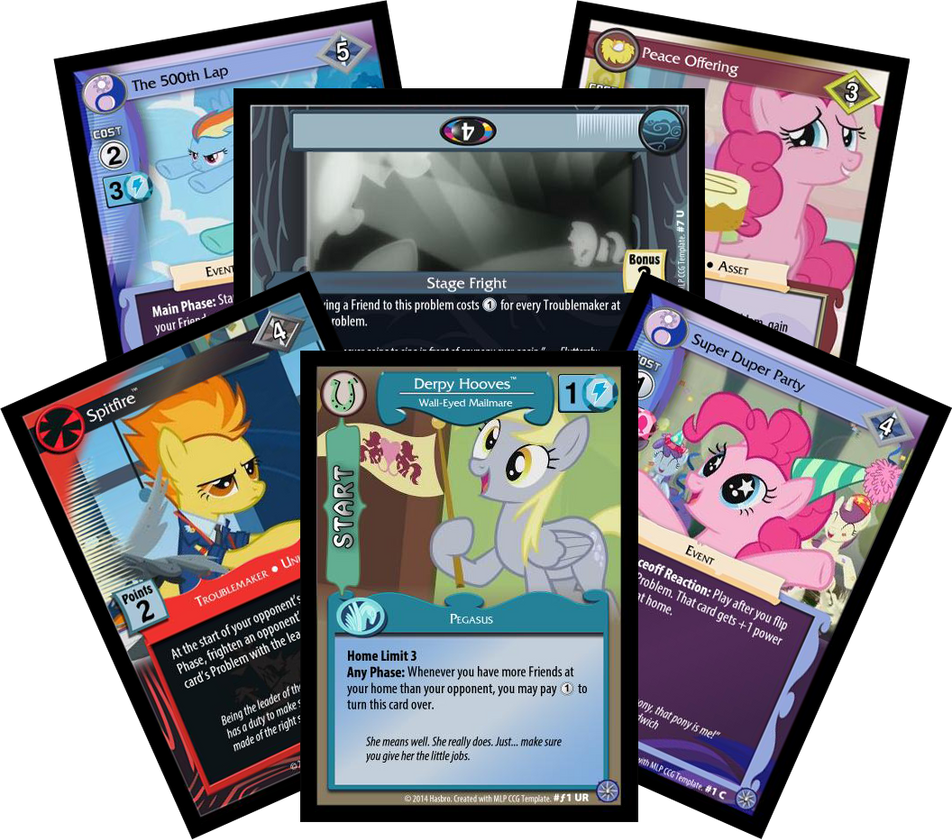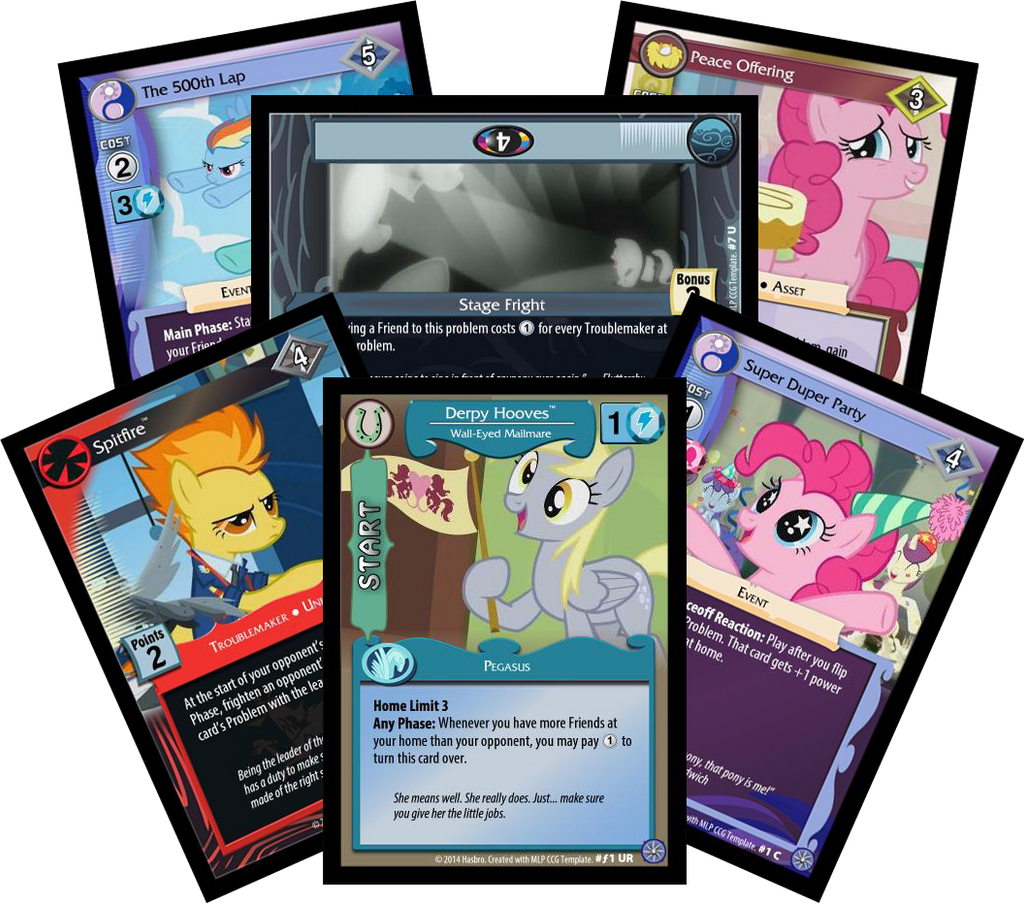 Watch
Update: An extended art card style has been made. Get the link below in the "Template Add-Ons section".
Here it is! After weeks of work and months of planning, the template is finally seeing its initial release!
This is the card creation template for Magic Set Editor that adds the ability to create cards for the My Little Pony card game. Not only can you create your very own custom cards, you can even go further and create entire sets. Got an idea for a Batpony-themed card set? How about a brilliant new mechanic surrounding the mysteries of the Everfree? With this template, you no longer need to have master-level Photoshop cut-and-paste skills to create your own cards!
For people who are new to Magic Set Editor, I've written up a How-To document that will walk you through everything you need to know in order to get started making the next Canterlot Nights. Links to that are below in the links section.
As powerful as Magic Set Editor is, I do realize that it does have some limitations. With that in mind, I am also going to release the vector resources that I made for this template. That way, if you want to go crazy with the card design going above and beyond what Magic Set Editor is possibly able to do, you don't need to bend over backwards to get your cards to look exactly how you want them to look.
This is an initial release that I have been unable to get a satisfactory amount of feedback on, so there may be some bugs or issues that slipped past me. If you find any of these issues, please let me know about them so I can fix them. Additionally, if you have an idea that would benefit the template, let me know of that as well!
Keep in mind that this card creator is for making custom cards for enjoyment purposes. This is not for printing proxies or for creating hacks-y copies of official cards. Don't try taking any cards made with these resources into official MLP CCG tournaments or functions. It will not end well for you.*UPDATE*
I got some reports that the installer is giving out some issues when running, saying that it doesn't have access to create certain directories. I'm not sure what's causing this, but it does seem like if you keep clicking "Yes" when it asks if you want it to try again, it does eventually work. I'm going to ask some people on the MSE forum about this issue, but in the meantime I'm going to include a link to download the template files in zip format. You can install them manually by going to the folder where you installed Magic Set Editor and extracting the files into the "data" folder.
Links:
Template File Installer (0.9.4)
Template File Zip Archive (0.9.4)
Required Fonts
How-To Doc
Vector Resources
Template Add-Ons
MLP CCG Extended Art Style
- by
torrentails
MSE MLP CCG Fixed Text v0.7.1
- by
torrentails
Update History:
0.9
Initial Release
0.9.2
Hotfix
Corrected automatic numbering for Boosted side Mane Character cards
Added Colored Power to the "Insert Symbol" menu
Corrected the bullet size in the race field
0.9.3
Style Update
Added the "Elements" card style ("Glamorized", ref)
Tweaked initial settings for the OCTGN exporter to show the latest game version by default (untested)
0.9.4
Size Correction
Corrected card resolution to closer match that of the actual cards.
Future Plans:
Extended Art card styles (
ref
)
Original Full Art card styles
Additional original card colors (Secondary Mane 6?)
Disclaimer: This template is intended for custom card creation only. This template and cards made with this template are neither endorsed by, nor affiliated with, Hasbro, Enterplay, or any of their subsidiaries. This template is not intended for the creation of proxies. All graphical resources distributed with this template have been hand-made. No resources have been ripped, copied, or otherwise taken from official MLP CCG sources. MLP is the intellectual property of Hasbro. MLP CCG is the licensed property of Enterplay.