Welcome to the first edition of
Skin Deep
, a feature series that aims to go beyond the Daily Deviations and showcase more fine customization works.
ipholio
and myself,
abhimanyughoshal
, have been scouring the
Skins & Themes
and
Icons
galleries to bring you some real fancy treats! Check 'em out!
:thumb41931722:
Alysseum Miranda Skin by
Febernovo
A little gloss, some wicked colours, and a whole lotta style make this skin a treat to use!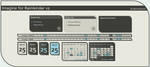 Imagine for Rainlendar v2 by
Benijamino
This fabulous Rainlendar theme uses a colour scheme reminescent of
heylove
's awesome Area04 theme. Put 'em both together for twice the goodness!
:thumb42184389:
Deviant Art for w900 BBT2006 by
EnzuDes1gn
If you've got a serious DA fetish, show it off on your phone with this wonderful theme for SE W900s!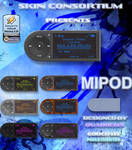 MIPOD by
Skin-Consortium
The great skinning group's clever take on the ever-popular iPod, for WA5!

Em3lent Styler Toolbar by
SteRawlinson
A must for all Styler fans! Big 'pressy' buttons and some neat texture on this one!
Icons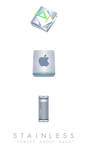 Stainless by
panoramix-
Here's one of the cleanest icon sets you'll find on deviantART. If you're looking for a smooth set of icons to match that oh-so-sleek desktop, look no further.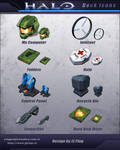 HALO Dock Icons by
JJ-Ying
This is one amazing set of icons. For all the countless Halo fans out there, let these finely detailed icons take a test run on your desktop. I promise you won't want to change your icons back!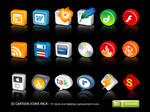 3D Cartoon Icons Pack by
deleket
What can I say?
deleket
is one of deviantART's foremost up and coming iconists. He has already proven himself with his smooth style, and this particular icon set is nothing less than perfect.
iVista PNG's by
gakuseisean
The iVista icons are a cross of smooth and classic styles. Whenever I find myself wanting to switch up my desktop icons, somehow I always sway towards these particular icons. So check these out, but be warned, they're pretty addictive!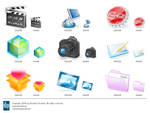 Grzanka's Icons by
voogee
This is a slick little set of nine various icons. Talk about eye candy...I guarantee you guys will love these.
Thanks for checking out this edition of Skin Deep! We hope you enjoyed it. We'd love some feedback, and also suggestions on how to improve this series. If you would like to recommend any deviation from the
Skins & Themes
or
Icons
galleries, please note either
ipholio
or
abhimanyughoshal
. Till next time!