Tagged by runandwine :T

RULES:
1. Post these rules.
2. Post 8 facts about your character.
3. Tag 8 other characters.
4. Post their names along with their creators' avatars.
(You can tag back if you'd like, just with a different character).

Luis Martin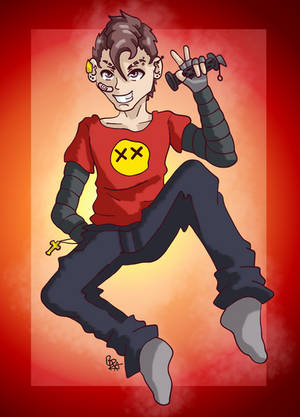 1- Luis was born in an underground human settlement in Quebec, Canada and lived there until he was 8 years old, he can speak fluently in both English and French.
2- After being lost above ground he was found and rescued by sirens, he was taken to Midway City (the main siren city that floats in the pacific ocean) where he was raised by the Siren Queen, he lived there for another 8 years until he was 16 years old.
3- While on Midway, he found out that he had a talent for Chemistry, despite being so young he helped out many of the Chemists working on major projects, however he was generally kept away from the important stuff due to his affinity for explosives.
4- He has ADHD, Dyslexia and Poor eyesight, all have gone un-diagnosed, he just lives with these things without any idea that he has these ailments. (in short, he can't read very well and he can never sit still)
5- In the Story he is 17 years old and very unlikely to live to be 18, due to so much exposure to the irradiated surface, he has developed terminal cancer.
6- He can interact with the infected demons because he is the only known human to be immune to the demon virus.
7- he is very small and weak, very underweight and short, but that is not to underestimate him, he uses his small size to his advantage, being very fast and nimble, not to mention the large bag full of explosives he carries around with him. ;D
8- Luis left Midway to travel and see the world before he died, but also to find a medical doctor that may have been able to help him extend his life a little, however along the way he got swept away into an adventure, the excitement being something he couldn't pass up as this is his last chance to do something really meaningful and to be remembered as a hero, a big dream yes but his only chance left to go for it.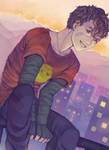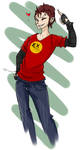 <da:thumb id="428213632"/>