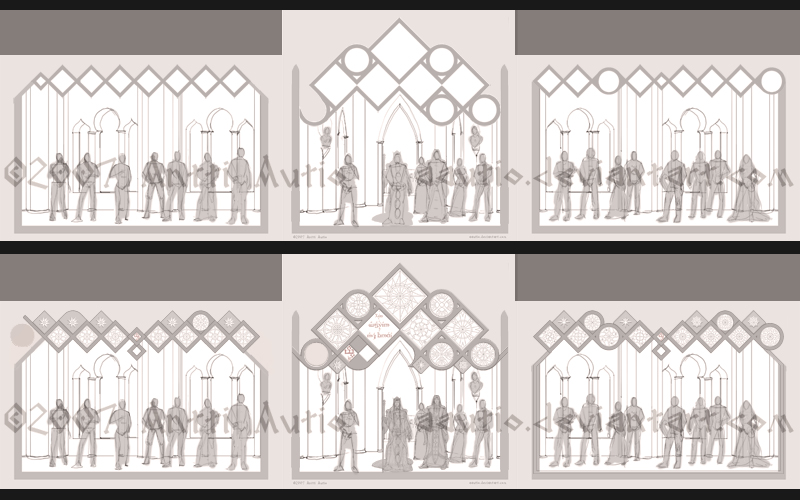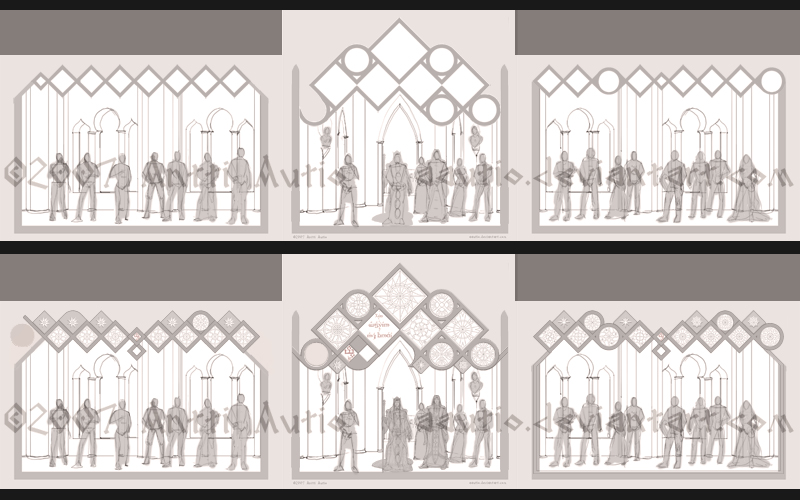 Watch
WORK IN PROGRESS: The Lords of the Ñoldor - the House of Finwë
(triptych)
Layout sketch v.0.7
Project Description:
Ok, I'm going to reveal my prrreciousss.. "eternal WIP project" - something that I don't know if I'll ever manage to complete. But I'm hoping that this fine community might help me in this task by providing feedback and discussing ideas! I'd really appreciate if anyone familiar with Tolkien's books / characters / heraldry / languages would take the time to read the (very long - sorry.. ) description below and help me out.

The sketch might not look like much yet, but believe it or not there's already hundreds of hours of work spanning several years behind it! I've wanted to draw a "Lords of the Noldor" triptych for almost two decades.. ever since I first read the Silmarillion. It's supposed to be a big three-piece "family portrait" of Finwë and the two first generations of his descendants, posing at the great hall of the king's house upon Túna, sometime during the heyday of the Age of Trees, when everything still seemed beautiful and peaceful in paradise...
I made some sketches for a large watercolour version already some 15 years ago, but I never got very far with that one. About two years ago, when I started drawing more again, I remembered the idea and made
this sketch
as an initial study for some of the characters.
A bit later I ran across =
elegaer
's elven heraldry designs and was completely blown away.. I decided that if I'm ever going to do this triptych, I
must
include the heraldry in it! I made a lot of heraldry designs and some layout sketches already back then, but I've been constantly too busy to get started on this big an undertaking.
Even though I have very little time to spare for anything save work nowadays I figured "I'll never finish it if I never get started!" So, I thought I might actually start working on it on the side, one small piece (=one character) at a time, if I just made up my mind about the general layout, background architecture, character placing, poses and heights, etc. So I dug up my layout sketch from two years ago and revised it, and this is what I came up with.
---
Panel Layout:
The basic concept is simply three A3 size (actually 2x 7200x4800px and 1x 6000x6000px digital) panels, featuring Finwë and his five children in the middle panel and the second generation of his descendants in the wing panels; the seven sons of Fëanor in the left-hand side and the eight children of Fingolfin and Finarfin on the right-hand side. The diamond (male) and circle (female) shapes at the top are frames for the heraldic emblems of these individuals.
It's still very rough and I'm going to work on the frame design later, but for now I'm still looking for a good way to place all the elements. Inside the frame I constructed a simple interior perspective sketch for the background and character heights for placing the people in it.
The characters in the drawing are organised in order of age (the eldest are closer to Finwë, who is in middle). They are from left to right:
Left panel:
Amrod, Amras, Caranthir, Curufin, Celegorm, Maglor, Maedhros;
Middle panel:
(Míriel statue), Fëanor, Finwë, Findis, Fingolfin, Lalwen, (Indis statue), Finarfin;
Right panel:
Fingon, Turgon, Aredhel, Argon, Finrod, Angrod, Aegnor, Galadriel.
*
So the middle panel would also feature the heraldry of Finwë's two wives as well as two statues depicting them. I'm still contemplating whether I should do the same in the two other panels by including images of Nerdanel, Anairë and Eärwen, the wives of Fëanor, Fingolfin and Finarfin (or at least their heraldic devices). Probably not, since they are not
descendants
of Finwë.. and there's more people on the right-hand panel already and I fear it would seem even more imbalanced if I added these three. Including the third generation would wreck the balance of the picture completely, so no Celebrimbor, Idril, Orodreth, Maeglin or Celebrían here either.**
A note on heights.. I know many people seem to think Tolkien's elves should be incredibly tall, but I'm not that sure - they were called "Elves," not "Giants," after all! Even though Tolkien gave some quite astonishing figures in some of his later texts, I've decided that 6' (183 cm) is a sufficient average height for Ñoldo men and about 5'8"(173 cm) for the women. That would make them very tall (especially in a fictional prehistoric era) but not ridiculously so (183/173 cm is still taller than the tallest human height average today, mind you). The Vanyar could be slightly taller on average. Based on the measurements above, I list below the heights I've decided to use as a basis for sketching this project. Finwë and his descendants were all very tall, way above average height. (the average height of those in this sketch is 200/190 cm!).
6'11" (211 cm) – Turgon
("The tallest of the Children of Eru save Thingol alone." - a notion in UT)
6'10" (208 cm) – Maedhros
("The Tall" -whether this meant only among the Fëanorians is debatable)
6'9" (206 cm) – Aegnor, Fingolfin>
( "The strongest of the brothers." Also, Vanyarin descent)
6'8" (203 cm) – Argon
( "The tallest of the brothers" - from Shibboleth ..although this contradicts with Turgon above.)
6'7" (201 cm) – Fingon, Finrod, Angrod, Celegorm
6'6" (198 cm) – Finarfin, Caranthir
6'5" (196 cm) – Finwë, Maglor, Amrod, Amras
6'4" (193 cm) – Fëanor, Curufin, Galadriel
(Her height is given in a text regarding Númenorean measurements.)
6'3" (190 cm) – Findis
6'2" (188 cm) – Aredhel
6'1" (186 cm) – Lalwen

*) I decided against my original idea of drawing the characters according to the published Silmarillion only. Instead the family tree, names and character descriptions are an amalgamation of several HoME sources, of which I've chosen the ones I consider the most logical, internally consistent and interesting. Thus those of you who are only familiar with The Silmarillion but not the History of Middle-Earth series (ummm.. are there any Silmarillion fans who aren't?) might notice some differences. If I'll ever finish this I might actually do a second version according to the published Silmarillion, but I wouldn't count on it..

**) The two last ones were not even born in Aman (as was most likely the case with Celebrimbor also, although his history is filled with contradictory stories..) and the idea of this picture was that such a gathering could have actually taken place.. at least theoretically. Ardhel, Galadriel (and possibly Lalwen) married and had children only after they went in exile so they couldn't be present in Aman. Even Idril was only a child during the flight of the Ñoldor.

---

Suggestions and ideas very welcome!

The nature of this project at this stage is very fragmented. I keep developing the ideas for the main panel layout, frame and decoration while working on the individual character and heraldry designs separately, one at a time. Once (if ever..) they're all finished I will combine them in Photoshop and start working on the shading, highlighting and colouring of the entire panel.
I will keep updating this entry as the layout evolves. I will also keep adding links to the individual character and heraldry design WIPs below as soon as I have more of them done.
This where I think you people could help me out. (anyone actually bothered to read this far? Wow..

) I'm going to keep this WIP sketch here in my main gallery, because I'm hoping for comments, feedback, ideas, suggestions, critique, etc. that might help me to make it better. I've been planning it for years so I'm willing to take as much time as it needs. Listen to people's advice and try to make it as good as possible. Especially ideas for colour schemes, decoration details and the panel frames (knotwork) would be very welcome. Thanks a lot !


LoN WIP Status:
0%
|
|||||-----------------------------------
|
100%
--
13%
completed!

Basic layout - concept done, (7th) sketch done, character sizes set, developing...
Heraldry designs - 1st versions done, developing...
Border design - 4th sketch done, sketching...
Character pencil lineart - 7/22 done, sketching/drawing...
Lineart cleanup - not started
Shading/highlighting - not started
Background design - concept done, (3rd) sketch done, developing...
Digital composition - not started
Colour scheme design - not started
Painting - not started...


UPDATE I: changes in v.0.7:


New layout sketch added. (Decided to keep the previous one up too so that changes can be compared). Slight changes in border design, added heraldry sketches to frames, added house emblems and the heraldry for Nerdanel, Anairë and Eärwen in the wing panels (but decided not to do "sculpture versions" of them). I think that might work, since the balance is not affected too much (and I feel it's important to see their devices as the designs of their children are partially based on them). Nerdanel's design is annoyingly off-centre, though.. but I don't see how that can be helped. And there's still one design less in the Fëanorian panel and I'm thinking adding something - perhaps Tolkien's Silmarili design? - at the beginning to even it out.

---
Links for the other parts of this project:
WIP:Lords of Noldor: Character Portraits
WIP:Lords of Noldor: Finwë
WIP:Lords of Noldor: Míriel and Indis
WIP:Lords of Noldor: Fëanor
WIP:Lords of Noldor: Findis
WIP:Lords of Noldor: Fingolfin
WIP:Lords of Noldor: Lalwen
WIP:Lords of Noldor: Finarfin