Deviation Actions
Daily Deviation
January 11, 2011
Lastwaerk - font by ~
aajohan
is a super slick font with all the bells and whistles! Not only is it a completely free resource, but the massive attention to detail in this font gives it an outstanding,
usable
quality.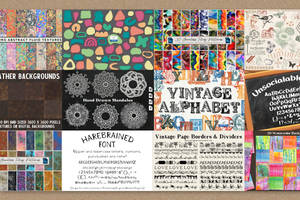 HG Designs Subscriber Area
Lots of high resolution goodies for graphic design including textures, photoshop brushes, seamless patterns and more.
---

Description
Here we go

My second font: Lastwaerk. I've been working on this for over 8 months - I almost can't believe the number of hours I've spent on making this font. But I think (hope) it was worth it.
As you can see from the preview, Lastwaerk is a clean, legible sans serif font in 5 weights ranging from thin to black, each with an oblique type - they all take up the exact same amount of space. It has a total of 378 characters and symbols, all included in the preview.
Lastwaerk is completely free! Both for personal/non-commercial use, AND commercial use - and you don't have to give me credit when using it, but you are of course very welcome to do so if you want

Feel free to comment about anything you want! (critique too of course)
If you download it and like it, please fav it

(but only if you like it!)
And that's it! I really hope you like it

Check out my other font comfortaa:
[link]
EDIT: Huge thanks to

for featuring Lastwaerk as DD! And thanks for all the favorites and nice comments!