I am a simple Kansan that enjoys drawing for fun and for my friends. I specialize in cute things because I enjoy cute things. I'm pretty sure there isn't anything out there that I can't cutie-fy somehow. ;3

So...yeah! Welcome to my gallery of crap! :D

Oh, I made a Ko-fi account too. Check it out!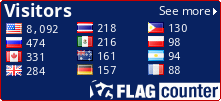 Oh, don't forget to check out my amaze-za-zing friends' dAs as well! They have awesome things that you may enjoy! <3