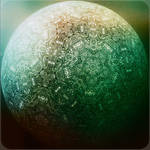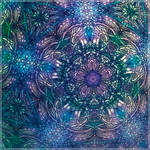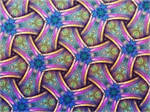 I was shocked at how many pageviews my last journal got. It was just a few lines of throwaway frustration on the continuing pangs of low pageviews after 8 years, and adjusting to jury systems in dA groups. Yet it got 4x the views of my best work this month. How strange, what people will look at. I'd rather just drop negativity and just continue forward. There is nothing I can do that I'm not doing to get more pageviews. Except be an exhibitionist a-hole, who needs another one of those. So that remains what it is. My views are increasing slowly, so more of that.
In other news, my iOrnament work keeps getting more ornate. Yet I'm beginning to feel the limits of what I can do on my current ipad. The resolution just isn't there. I revived this dA account just to post my iOrnament stuff, months of work since the app came out last June. I really do draw in iOrnament 5-6 days per week, a few hours at a time. Since June. There's a huge progression visible. I don't post most of my work. Even though I have posted close to 300 items (according to the dA stat thing) since April, it's the tip of the iceberg compared to what has transferred from the pad into my image library. There are thousands of iOrnaments in there, and each pattern has between 5-10 different snapshots at different angles. Plus, KaleidaCam. Sometimes you find a pattern that is just golden when imported into KaleidaCam. I found one last night. I got at least 20 really interesting versions out of it, a few of which I'll post, but there are way too many to hold anyone's interest but mine.
I do a lot of other kinds of art. I maintain many sketchbooks. I really enjoy kind of mindless art, so a lot of my sketches are abstract, using ballpoint pens and markers. Had to give myself permission to take doodling seriously, with best techniques. I even have a sketchbook in which I trained myself to draw with 2-3 pens at once, which is a huge crosshatch timesaver. It's tricky, though. And there are some exciting techniques you can only do holding 2-3 pens at once, that I need to find applications for. I don't have currently any good way to scan my sketchbook art, and current phone snaps look terrible. There's not a lot of representational art in there, and I want to do much more of that. Plus I want to get into 3D modelling. Especially if I can wrap my doodles around it. So being pulled into other directions than just iOrnament.
I feel good about the groups I have joined. I have dropped the ones I had problems with. I have even joined one or two that I'm not sure I could get work accepted into, mostly because of resolution issues. It's good to have ambition, and something to strive towards.
So that's the current state of the art.