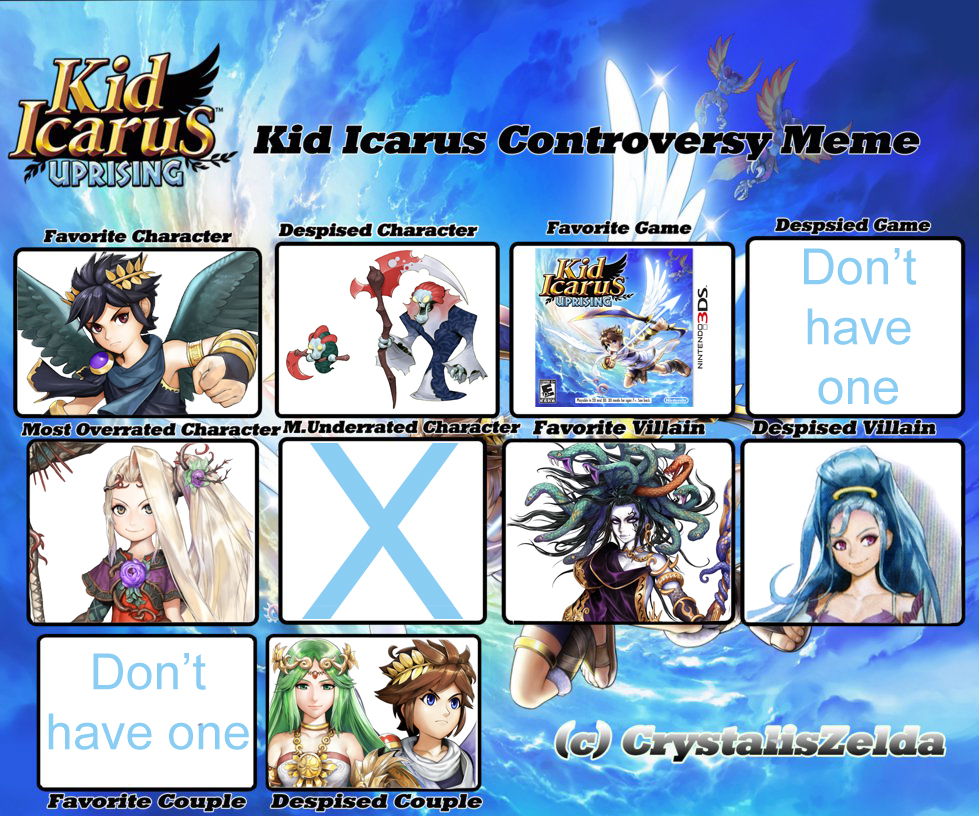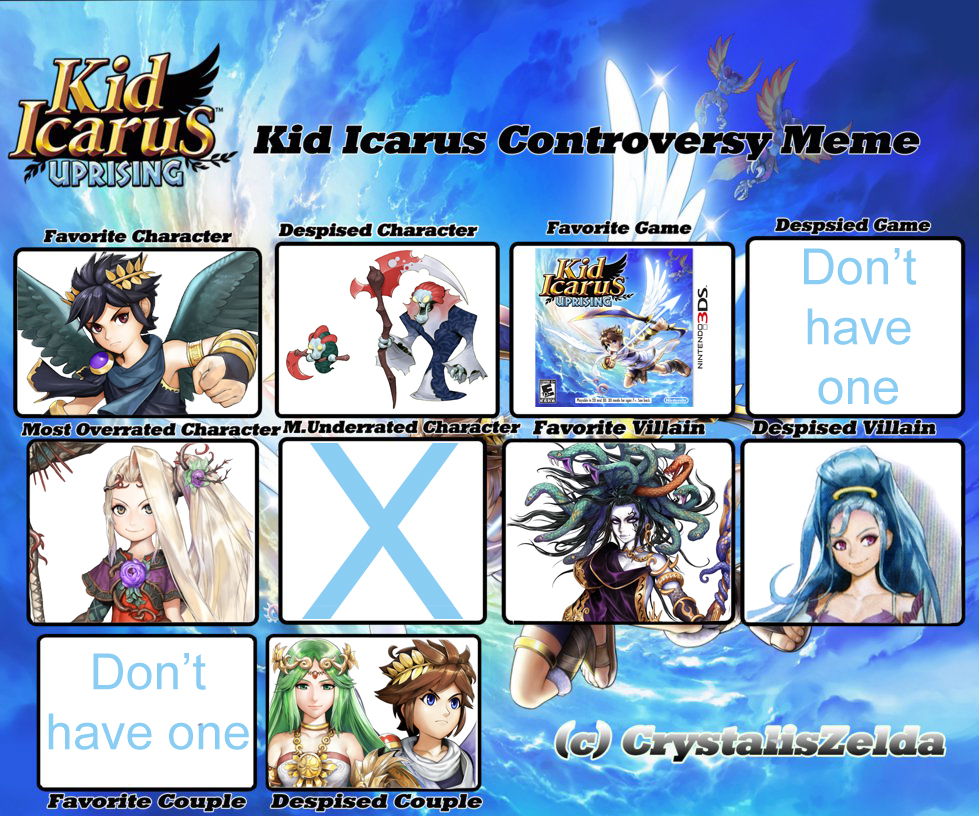 Watch
Favorite Character:
Dark Pit
I really love him. He's a very well developed dark clone that isn't the stereotypical "I'm gonna destroy (insert original)!" he eventually helps Pit. Plus, his theme is awesome
and he's hot
.
13-year-old me would explain this better
Despised Character:
Reaper & Reapette
They're so annoying! They take forever to kill too,
especially in the original NES game,
in my opinion
Favorite Game:
Kid Icarus: Uprising
Gonna go with KI:U since this was my first Kid Icarus game. This game actually made me develop new friendships, both online and in real life
Despised Game:
Don't have one
Most Overrated Character:
Viridi
Don't get the wrong idea, I like Viridi, but I've seen her shipped with like everyone. Especially Pit and Dark Pit, neither of those ships are good
Most Underrated Character:
I don't think anyone is underrated, however, I do think that
Kid Icarus: Of Myths and Monsters
is underrated, especially since it may be non-canon due to the fact that it never got released in Japan, for some reason
Favorite Villain:
Medusa
She's pretty cool. The original villain and using the last bit of her life to help Pit, that's awesome. I have yet to battle her in the original NES version, but it seems intense
Despised Villain:
Amazon Pandora
Don't like that extremely revealing outfit and seemed flirtatious.
Favorite Couple:
Don't have one. I don't ship anyone
except for crack ships
Despised Couple:
Palutena X Pit
I can't stand this ship. I always thought that the relation between Palutena and Pit was like mother-son, not girlfriend-boyfriend. Palutena seems too old for Pit as well
Kid Icarus Controversy Meme
by
CrystalisZelda
Kid Icarus characters (c) Nintendo

Favorite Character: I CANNOT CHOOSE BETWEEN THE TWO ANGELS! THEY'RE TOO AWESOME!

Despised Character: Ornes (Freaking hate them! They scare the shit outta me!)

Favorite Game: Kid Icarus Uprising

Despised Game: Pokemon Ranger: Shadows Of Almia (So much Rage quitting! Sonic games too but i like them better)

Overrated Character: Dark Pit (I DO NOT HATE HIM!)

Underrated Character: Palutena

Fave Villain: Hades

Despised Villain: Thanatos

Despised Couple: PitXDark Pit
Reply

Favorite Character: Hades, hands down.

Despised Character: The god damn Eggplant Wizards...

Favourite Game: Well, since I haven't played the original, and since I enjoyed KIU, I would say KIU for now.

Despised Game: None.

Most Overrated Character: Meh, don't know really.

Most Underrated Character: Either Magnus, Arlon or the Chariot Master.

Favourite Villain: Hades once again. It's amazing how he can be such a tricky jokester yet a ruthless tyrant at the same time.

Despised Villain: None, really.

Favourite Couple: Oh, I have more than one. Pit x Phosphora, Dark Pit x Pandora (don't ask why), and Hades x Medusa (again, don't ask why, lol).

Despised Couple: Pit x Dark Pit. Not that I'm a homophobic or anything, I just don't imagine the two rivals being in love with each other when they have a tense relationship.
Reply

Yay Dark Pit! also I also think Viridi herself would admit that she too would find the shippings too much
Reply

I don't feel like posting this but here's my opinion.

Favorite Character-Hades, cus I love his personalty.

Despised character-Viridi, cus she is Sooooo annoying and and won't shut up. And personally, I think she's a spoiled brat.

Favorite game-I don't know/

Despised game-Don't have one

Most Overrated character- Don't know.

Most Underrated character-Dark pit, I kind of feel bad for him since people keep calling him pittoo since it was all Palutena's fualt in the first place.

Favorite Villain-Hades again!

Favorite couple-Maybe Pit x Phosphora but then again, thinking of Pit x oc tough.

Despised Couple-Viridi x pit. No offence but I absolutely HATE that pairing! I can't stand it! And I think Pit is a little old for her.

Reply

Wow this is random but here's my opinion on this //slides away in shame from never talking to you before

Favorite character: Viridi, I think she is a bit overrated, but I love her a lot- I find lots of her lines funny and I just like her in general.

Despised Character: Palutena. She was nice at first but she just became annoying and rude later on IMO..//shrug shrug

Favorite game: KIU of course~

Despised Game: N/A xD

Overrated Character: You're gonna hate me for this but Dark Pit. I personally didn't like him much, he was a bit too arrogant for me, but I admit, I really loved when he helped Pit (Scorched Feathers is one of my favorite chapters.)

Underrated Character: Magnus! I loved him but he never gets much attention since he only appears in like 3 chapters d:

Favorite villain: Hades, I love his personality so so so much xD I found him hilarious as well.

Despised villain: Phosphora. She was so obnoxious to me omfg x.x

Favorite couple: Pit and Viridi. I found that moment in the Aurum Hive cute..

Despised couple: I don't really have one -w- Though maybe Pit x any villain that ain't Viridi-
Reply

Wow we have like very different opinions
I respect them though
Reply

I see I'm not the only one who found Viridi overrated. I never found her as funny as her fans did, and I didn't feel she redeemed herself after killing two armies of humans. Not to mention that the arc where she aids Pit was, in my opinion, the worst part of the game.
I also hate Pittena. Their relationship really seems more like mother-son than boyfriend-girlfriend and it just seems creepy that Pit would be shipped with his mother figure.
Reply

Viridi was considered funny? I didn't see that. I'm wondering, why is that the game's worst part, in your opinion? The only chapter I ever replay from that arc is 21 though, the other chapters weren't replay-worthy.
That's exactly why I hate Pittena.
Reply

Favorite Char: Definitely Dark Pit, at first I thought he was going to be one of those boring "Dark and Edgy" type of characters..but he ended up being exactly what I love in a character. And he's hot.

Despised Char: Palutena, KI fans hate me for this..but I can't help it...I found her rude, annoying, arrogant, useless and all around just a pain to be around. When will the old Palutena come back, the true Goddess of Light..not this spoiled little teenage girl.

Favorite Game: Original Kid Icarus, grew up with this title..story was a lot more interesting, the in-touch with Greek Mythology, characters were a lot more interesting rather than just anime rip offs.

Despise Game: Uprising, the only good thing I saw out of Uprising was Dark Pit. The poorly written plot chuck full of stupid fanservice, shitty stabs at comedy, contradictions at every turn, annoying characters and the sheer and utter desecration of both Pit and Palutena..especially Pit..It made me all sorts of butthurt I can tell you that.

Most Overrated Char: Palutena, I can't go anywhere now without seeing her being plastered in places she shouldn't be. Her over popularity is what landed her in Smash to begin with.

Most Underrated Char: Magnus, since this is an Uprising meme I won't count the previous installments to the franchise..or else I would agree that Myths and Monsters needs more love. But Magnus doesn't get the love he deserves..like Dark Pit he was one of the only chars I actually liked due to not being a ridiculous, obnoxious, arrogant bastard.

Favorite Villain: Medusa, man she's awesome..truly a God of destruction who doesn't care about anything around her but the death and humiliation of Pit, Palutena and all of Skyworld itself. We need more truly destructive villains such as her..To bad she was pushed aside for some overly eccentric jerk. I kinda wanted to see her sever Pit's wings...Running close by was the Chaos Kin, again another being that cares nothing about anyone other than to show pure, evil intentions...but he almost killed my waifu. So..........no..just no.

Despised Villain: Amazon Pandora, this was again a hard one since I fucking despise Viridi, Phosphora and Hades as well..but fuck this stupid slutty bitch. I was glad that out of all people to finally rid her of her pathetic and filthy existence was none other than Dark Pit.

Favorite Couple: Pit/Dark Pit, plz no one hate me for this...plz...I know people give shit and hacks about this pairing, but I fell for it. At first I didn't care about it and preferred them as brotherly bonded. But then it started to grow on me due to their bond and the fact they're relationship can go so many directions, plus they aren't truly related. I however do also still support them as brothers or friendly rivals...not close minded to that.

Despised Couple: Anything that's not Pit/Dark Pit, again I know people get all bootyhurt at this and mad at me, believe me when I say I've gotten a lot of flack on my opinions about this. But it's just how I feel, at first my feelings for KI pairings were similar to my feelings on LoZ pairings...I hated them all....but one stood out to me above the rest.

Just my unnecessary opinions after all.
Reply

Agreed about Dark Pit and he's very hot

You have a good point about Palutena. She did get an unnecessary personality change.

The original was great and I haven't even passed it yet

Palutena did became fan service material, thus making her overrated

I didn't realize Magnus is underrated. He does get the least attention

Agreed about Medusa. She's better than Hades, in my opinion. waifu Dark Pit?

My thoughts exactly on Amazon Pandora

We all have our own ships, no one should be receiving hate for having a different ship. Pit and Dark Pit are my brotp though

Not everyone has the same opinions, yours aren't unnecessary
Reply

Reply

Reply

Reply

I picture them being just flower-related
Reply