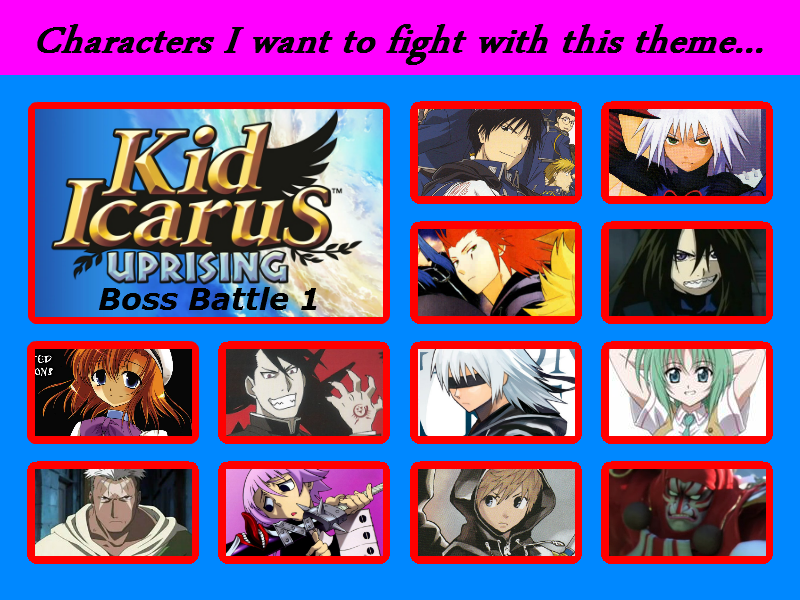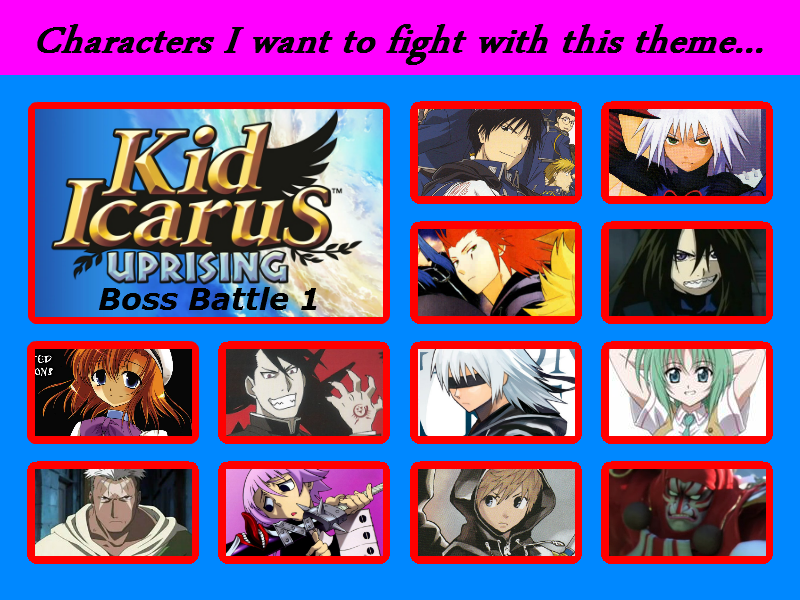 WARNING!!!
The Kid Icarus franchise is licensed by Nintendo. Final Fantasy, Kingdom Hearts, Fullmetal Alchemist, When They Cry: Higurashi and Soul Eater are licensed by Square-Enix while the mangas are published by Yen Press. The secondary licenses for these franchises are Disney (Kingdom Hearts), Aniplex, Bones Inc. (Fullmetal Alchemist & Soul Eater) Studio Deen, 07th Expansion (Higurashi), and Funimation Entertainment (Fullmetal Alchemist, Higurashi and Soul Eater).
PS: There will be spoilers.
Just to let you all know, the music has nothing to do with the used characters or Disney & Square-Enix.
When I first heard Kid Icarus: Uprising's Boss Battle theme, only two words came to mind...RIVAL BATTLE. So this is a list of bad-ass rivals who would be exciting to face in common grounded battles.
For this list, I placed a few of the most dangerous anti-heroes and rivals of Fullmetal Kingdom to have this theme.
Boss Theme:
www.youtube.com/watch?v=VwPLsI…
1. Roy Mustang ~ 1st and only match, when Edward and Mustang clash during a mock battle.
2. Riku Replica ~ Last battle, when Sora realizes Namine wasn't really from his childhood and faces a powerhouse version of the Replica.
3. Axel/Lea ~ 2nd fight, when Axel was revealed to be a double agent, and was targeted by Sora, who was threatened by Marluxia.
4. Wrath ~ 3rd battle, when Wrath absorbs Trisha's remains to stop Edward from defeating her.
5. Rena Ryugu ~ 1st and only battle, when Sora disarms Rena's bomb and she lashes out at him in an insane rage.
6. Greed/Ling Yao ~ 1st match, when Greed possesses Ling Yao and attacks Edward to test out his new body's limits.
7. Riku ~ 2nd dual, when Riku wanted to have a fight to learn more about the friend Sora was forced to kill.
8. Mion Sonozaki ~ 3rd fight, when Mion reveals her skills as a Keyblade Master and tests Edward and Sora's resolve as potential Warriors of Light.
9. Scar ~ 2nd match, when Edward was discovered in Lior, and sought Nina's killer as well as the safety of the citizens.
10. Crona ~ 3rd battle, when Crona protected Crimson against Edward, except with more control over Ragnarok's abilities.
11. Roxas/Ventus ~ 1st and only fight, when Roxas teleports Sora to a Station of Awakening and the two face off for the superior existence.
12. Gilgamesh ~ 1st dual, when Gilgamesh arrives in Amestris through the Gate and mistakes Sora for Bartz and attacks.
Want to make your own version of this meme? Here:
Boss Theme Meme