Since this summer seems to want to be as hot as last year one (I seriously hope not so), better find some ways to cool it. And why not some stories that give you chills? c:
So, zombie apocalypse.
The background story is the usual one: a virus is taking back people from the dead all over the world. In Spain, a young lawyer barricades himself (with his cat) in his house, not trusting the safe places provided by the government. Unfortunately, this is only a temporary solution, and sooner or later he'll have to go outside, to find a better place and possible survivors. And, maybe, a cure for the infection too...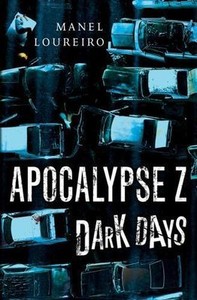 To me, this trilogy is one of my few favourite story with zombies. I discovered it last summer, and it had been a pleasant way to pass some time.
Manel Loureiro is probably a not well-known writer, but his series, Apocalypse Z, is worth a look: we all know about zombie apocalypse, so the fact that he manages to give you reasons to hold your breath, while reading his stories, deserve at least a mention of his work.
So, if you're interested or just curious, give a try to his works.
-----------------------
It's June and that means it's time for Draw Everything June, arrived at its third edition! And, like last years, I want to do it

Unfortunately there are many other things I'd like to do or I'm already doing, so I might have very few time for it (or for anything, in general). But I've no intention to make a choose, so I'll just continue to do everything, simply giving few priorities to those more important things.
Are any of you guys going to join the event this year? If yes, I wish you good luck for the challenge! (:

Draw Everything June III, 2018 Edition JULY UPDATEUPDATE: JULY 16, 2018
Just an update that I am about 55 notes behind on DEJ entries and it's going to be a few days before I can catch up. Everyone hang tight! You will get a reply from me when you're qualified. ♥
UPDATE: JULY 1, 2018
You all are doing wonderfully! I am about 800 messages behind and I have 21 notes so if you haven't seen me collect your art, or haven't received a reply to your entry, just hang out for a few more days while I play catch up.

You will get a reply to your note when you have been saved as a qualifier.
Everyone has until July 15th to submit their qualifing entries via note as outline below.
I AM SCHEDULING STOCK TO SUBMIT DURING THESE TWO WEEKS. These poses will NOT be part of the challenge. I will indicate on the submissions that they are not part of DEJ3. The only poses that are part of the challenge are at the bottom of this journal. The bonus meme pose is optional, you can replace a challenge pos
-----------------------
'Maximum videndi impedimentum est expectatio, quae pendet ex crastino, perdit hodiernum' (Seneca)