Our fifth edition of reviewing things that have happened in the previous month and what we have planned for you all this month! We will be announcing the update to our Gallery and Gallery submissions, and, as always, we will be showcasing the most active and constructive commenters of our projects, and announcing the fifth commenter to receive our comment award!
February Highlights

Regarding our
Gallery
, you can now submit into:
Give & Get 1 Comment, 4-5 Lines
Give & Get 2 Comments, 4-5 Lines
Comments in this folder include just the minimum as stated here.

Give & Get 1 Comment, 5+ Lines
Give & Get 2 Comments, 5+ Lines
Comments in this folder include more than the minimum as stated here.
Please refer to our guide,
How to Submit to our Gallery?
, for more information on utilizing these folders.

We launched our weekly 100

competition, where we will award one awesome member 100

every two weeks! The deadline is this Saturday 5th March, so
get your nominations in for this round
!


We also launched our
Comment Coach
system where our team of admins will act as a mentor to you and your commenting! If you are interested in improving your commenting to help others, consider contacting a comment coach for suggestions, advice and more!

Check out our latest articles!
Double-Edged Feature #7
,
More Exposure 8
,
Comment Workshop #3 - Resources
,
Getting to Know YOU! #10
. If you have suggestions for people to be featured, workshop ideas or questions to ask to our members,
send us a note
!

We managed to hit 8,000 watchers at the end of February! Many thanks to everyone for joining, spreading the word about
ProjectComment
and more!
---
Project Comment Award
Congratulations
affectionateTea
for being the third recipient of 2016 to receive our fifth
ProjectComment
Award, Golden Words! Tea has been a long-time participant of our
Weekly Commenting
, since the very birth of the project! Tea provides amazing support to artists through her comments and is always a joy to interact with.
affectionateTea has always been so lovely and eager to participate in activities here. She is more than able to help others and jumps at the opportunity. It is very great to have her here! ~ IncognitoArtist
It is with great honour that we present our fifth Golden Words award to affectionateTea!
A huge thank you to the talented
UszatyArbuz
for creating this award for
ProjectComment
!

---
Admin Pick - Comment of the Month
IncognitoArtist
chooses March's Comment of the Month! Congratulations
craftsbyblue
! You are very friendly with your comments, yet still helpful. In the way you speak to the artist, the artist is able to feel that you truly want to help them. This is key when receiving a constructive comment, making your comments more successful and effective. Your
awesome comment
and all of your other comments deserve recognition!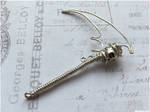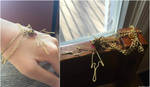 ---
Projects and Active & Constructive Commenters

Comment Tag
CameronKobe
's
Comment Tag
encourages you to give a comment and get a comment in a fun and awesome way! Consider signing up and becoming a player!


The most frequent tagword thus far is
power
.
Congratulations to
sciencevsart
for being the most active and constructive commenter in the past month! A selection of
sciencevsart
's great works are featured below!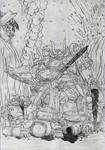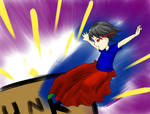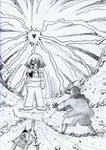 Chat Events
As always, if anyone is available to host a chat event, we are always open for more people hosting! If you are interested, just let us know
by sending us a note
. Check out our
poll
regarding our chat events!

Congratulations to
PhineasJamesVinci
for being the most active and constructive commenter in the past month!

Benjamins Valentine's DayA boy runs through endless halls and past infinite lockers. He sprints around corners, dodges students, and weaves around groups. He runs and runs, till he reaches a locker. In a flash he slips a piece of paper into the locker and runs away. Running. Running. Crying. Will he ever stop running? Did she even care about him? Why would she, he was weak and small. Running. He couldn't tell her the truth. Running. He couldn't admit his feelings to her. Crying.
-------------------
Benjamin woke up in a hurry. He could not believe that he had another nightmare. About high school. In college. He tried to calm down, breathing in and out to calm down his racing heart. After a few moments he sighed and looked through his old phone for updates on his classes. It was only 7am, but he didn't care. He just wanted to finish his day.
He got up, and walked over to the small closet in his dorm room. The sunlight only just waking up within his room as he changed into his usual soli

The Man and The TreeOnce upon a time, as all of these stories go. There once was a kind and caring man, who loved the birds and the trees, and branches swinging in the breeze. He would often travel through the woods by his town, relaxing after a long day of fixing and building, adding homes and raising hopes. To him, the forest was his retreat, and the animals and plants in it were almost like family to him.
One day, he was walking in the forest. When he came across a wide clearing, with a single tree in its center. Out of all of the trees, it looked like it was the only one that could support a house, the rest looked too weak for anything else. Upon the ground, crying aloud, lay a small family of birds. Their nest was ruined, and they cried. The man took pity, and hurried back to make the birds a home. When he returned, he began to make a birdhouse, on a long pole, as the sky started to turn dark and stormy. Luckily, he had finished just in time, as the first drops of rain fell on the birds small wings.

300 MiceIt started off just like any other day at my job at the pet store. The sun shined down on the cleared windows, and the animals were making their usual meows, barks, and chirps. I had just finished feeding the last of the 300 mice inside of the large cage, right next to the front entrance, when Mr. Kupheart came in. "Good job Dan!" he smiled. "I know the store will be in good hands while I'm on my vacation." Mr. Kupheart had recently booked a 10 day holiday with his wife for vacation, it would be their 1 year anniversary. "Thank you sir!" I smiled back. "And I won't let you down while you're away!" "Good man!" and with that, he grabbed his hat and his suitcase. "See you in 10 days! Good luck Dan!" and he left the door, and within the minuet he was already down the road.
Sadly, I can literally say that it wasn't even five whole minutes before something bad had happened, as my friend arrived a

More Exposure
We have just posted our
eight edition
of More Exposure, where we showcase the works that deserve
more exposure
! If you have some free time, spread the comment love. If not, feel free to submit your own pieces to the
folder here
.
The project is coming along nicely and, as a heads up, new issues will be released the third week of every month! We encourage you to visit and comment on the pieces featured there!
Congratulations to
SpunkyBrushes
for being More Exposure's most active constructive commenter!
:thumb593960090: :thumb592934183: :thumb593319121:

Weekly Commenting Project
If you would like to go the extra step, consider signing up for our
Weekly Commenting Project
. As a thank you from us for your efforts, we submit your pieces into our Gallery for constructive comments.
Congratulations to
KokoKiero
for being March's most active constructive commenter!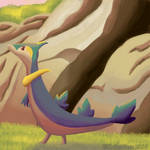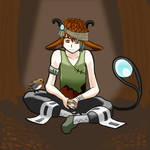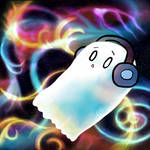 ---
March - What to Expect?

Our collaboration with
GiveALlamaGetALlama
concerning a giveaway, and
dAhub
concerning an art creation contest, are both things to look out for! Lots of great prizes to be won there.


Our Super Group status will run out at the end of this month, but no worries there! We will continue to function as we always have.

---
A Tip and Final Word!

If you usually discuss technical aspects of an artwork, consider touching upon the more abstract aspects, for example, feelings, thoughts, memories and more! Or, consider touching upon the more conceptual aspects of a piece in terms of what an artist wishes to convey through the concept, what the artwork may mean, etc. If you do this already, have you considered applying analysis or research? Perhaps you could evaluate a piece of work through a different perspective! The ways to approach commenting are manifold indeed.
We would like to thank everyone who has given a constructive comment in the past month. It takes time, effort and more, but every
constructive
comment you make helps a member of DeviantArt, a fellow artist who may or may not be in a similar position to you. We hope that the artist will pass on the kindness and give a constructive comment to another member. Without
your
comment, we may not be able to hope at all.
If you have any questions, suggestions, thoughts, opinions, etc. about anything related to ProjectComment, contact us and let us know! Send us a note and we will respond!

Thank you to our admins for this Newsletter:
astarayel
,
Astrikos
,
CameronKobe
,
ChaosFissure
,
DTKinetic
,
IncognitoArtist
,
Kaotic-Cass
,
cloud-the-art-zombie
,
Xubchas
,
QBeagle
,
Mythiril
Thank you for reading.