Welcome to
#3D-Toons
, the first
deviantArt
group (that I could find - 'cos I MADE IT!) that's devoted to those cute li'l twisted visions of unreality, the Toons!
What are toons, you may ask? Well, the way I look at it, they are cartoony representations of people, places and things -
caricatures
, as opposed to simply exaggerations of certain physical aspects (giving an otherwise-normal young lady enormous boobs, for instance, doesn't make her a
toon
, at least not
here

). Toons are all over
dA
, and I thought it would be great to have a place where they can get together, toon around, and make themselves much easier to find for those of us who are intoonerested. The key thing to remember here is that all submissions here
must
be digital 3D images - not cartoons, paintings or sculptures. That still leaves an awful lot of room. I'll be compiling a collection of favorites, to give an idea of my personal vision and expectations for the group; please feel free to suggest more!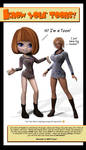 For now, the group has only a few divisions to the gallery. I, myself, create toon images using Poser and characters such as Cookie, which are created by people much more talented than I and sold and supported for a mere pittance on several Poser and DAZ|Studio-related sites, so I've created a gallery for
Poser/DAZ
users to post their creatoonity. Then there are those who create their toons one point, poly and subdivision at a time, using programs like 3D Studio, Maya, Modo, Lightwave, ZBrush and others. For them, we have the gallery
Original Toons
, because, well, that's what they've done.
Many folks also like to make 3D models of characters that already exist - for them, the
Phan Arte
gallery is the perfect place - and that can be for either home-brewed models
or
Poser/DAZ images based on familiar characters (hey, if you can make Bugs Bunny in or for Poser, go for it!

).
And, of course, some of our toons are on the adult side, so there's a whole 'nuther gallery of
Toons for Grownups
! All the art in there has to conform to the standard
deviantArt
rules, of course - it's just that sometimes, people can't '
unsee
' something that they didn't expect to find while tiptoeing through the tulips

.
Of course, we may add more galleries, change some of the existing ones around, and do anything else that makes this a better place, as we get used to the community that, hopefully, forms around our widdle Toon Village.
Welcome to
#3D-Toons
! Thanks for stopping by!
- Ptrope