We thought you may be curious to know the guys who manged to design and build the 1m+ scale size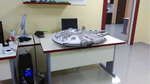 Millennium Falcon replica from Star Wars movies. We sat for an interview with them an found out that almost 800 hours of work were put into design only while other several months were needed to print and assemble the entire model.
Find out the biggest challenges they faced, what softwares they used, and how they did to come up with such an accurate and high detailed model.
Read the interview here:
www.gambody.com/blog/interview…