Thanks so much for faving my Pumping Station terrain photo!
I just wanted to let you know that I posted a video describing where we got the various bits of junk we used to create the station and our process of putting it together, in case you were interested in checking it out.
youtu.be/_mrJ1V5XPbw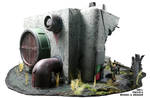 Thanks again for the fave, and hope you have an awesome day!