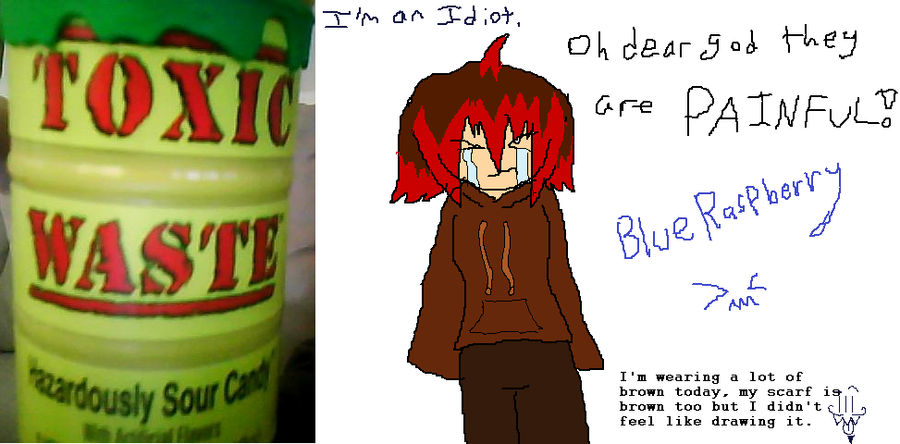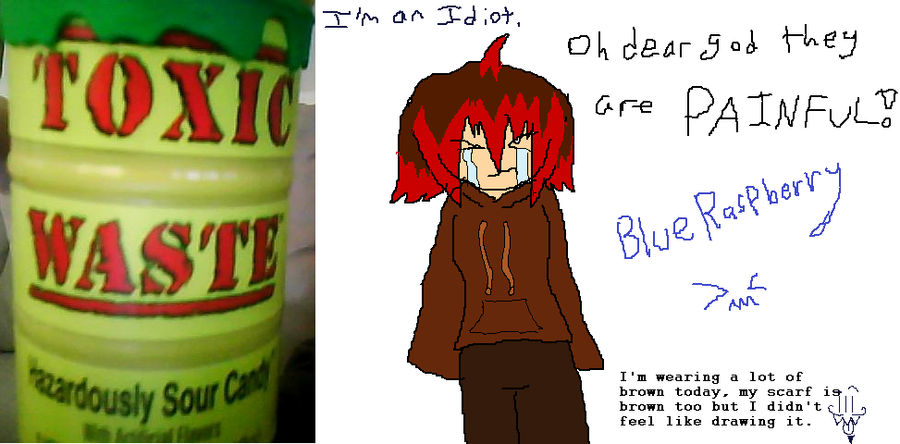 Watch
I started eating one the second I started drawing this, I'm JUST finishing it now, SO PAINFUL. I have no idea what possessed me to try eating these things before lunch, My tongue now hates me. If you've ever tried one of these things. you know how my mouth feels right now, they are horrible, BUT I CAN'T STOP EATING THEM!!! Blue Raspberry is my favorite flavour so far, the funniest thing is that there's actually a warning Label on these things; CAUTION! Consuming more than one within a brief time may cause irritation to mouth. Sensitive individuals should not consume this product. Hehehe, I'm not sensitive apparently, and according to the meter on the side I'm a "Full toxie head" HA! Take that Society!

remember your brothers face he was like that emoticon
Reply

Reply

I heard its fuckin sour as hell...saw it once but didn't have enough money to buy it!! T.T Now I gotta try it!
Reply

It is, I think I just enjoy my own suffering, I just had a Watermelon and holy freaking god it hurts! I'd hate to choke on one, they Burn the back of your tongue and my eyes are watering DX
Reply

Thankyou!!

That reminds me. One time i was at the airport in Albuquerque, NM. A little stand was selling candy and one of the candies was a gummy taco. It said "!HOT!". I thought it was just a decoration since it was a gummy 'taco'. Bought one and ate it. One of the biggest mistakes of my life.
Reply

oh wow i fail at spelling....
Reply

Well it DID mention that it was hazardley sour...

Reply

Yeah, I was like "hmm, their probably just exaggerating, it can't be so bad *eats one* hmm, this isn't that- OH FFFF- ARGG, IT BUUUURNS!!!!
Your username is amazing by the way

Reply