Hi there, and thanks for viewing my profile page!

Yeah, I use emoticons quite a bit, especially the ones here on deviantART... XD
I usually do fanfics and fanart, but I also like using digital dolls and bases.
I absolutely LOVE Batman Beyond and Watership Down, though I base more of my work on the former than on the latter. Of course Warriors is another thing I like, but it's more of an off and on thing. Shadow the Hedgehog is my favorite Sonic character. It used to be Sonic, but then I thought he was annoying (and I found that my moods became more like Shadow's when I was in public school). I also love animals, primarily rats and other small animals.
I like a bit of everything music-wise, but I especially enjoy hard rock and heavy metal.
FanFiction profile:
www.fanfiction.net/~waterships…
dA ID pic is of my OC Tairra as drawn by Gragaza.
Avatar is an icon I commissioned from my friend DJMIXX20 of my fox character that I kept after no one adopted him.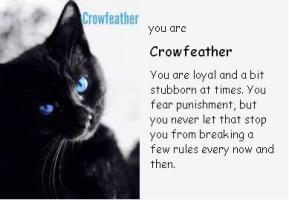 What Warrior Cat Are You?
Hosted By theOtaku.com:
Anime
[URL="
theotaku.com/quizzes/view/3874…
"][IMG]
www.theotaku.com/guru_results/…
Favourite Visual Artist
Don Bluth
Favourite Movies
Watership Down, Treasure Planet, Batman Beyond: Return of the Joker, Batman: Under the Red Hood, How to Train Your Dragon, The Secret of NIMH, The Lion King, Robin Hood: Men In Tights
Favourite TV Shows
Batman Beyond, The Big Bang Theory, Batman the Animated Series, M*A*S*H, Castle, TMNT 2003 and 2012, Clifford the Big Red Dog, Redwall, Cyberchase, Family Ties
Favourite Bands / Musical Artists
Disturbed, Megadeth, Nightwish, Scorpions, Metallica, Halford, Judas Priest, Iron Maiden, Rush, Within Temptation, Dio, Anthrax, Stone Sour, Queensrÿche, Rush, Krokus, 3 Doors Down, Volbeat, Godsmack, The Pretty Reckless
Favourite Books
Redwall series, Watership Down, Felidae, Batman Beyond: 10,000 Clowns, Where the Red Fern Grows, Batman Beyond: Hush Beyond, Maus I and II, Mustaine: A Heavy Metal Memoir, Warriors series, Captain Underpants books, The True Confessions of Charlotte Doyle
Favourite Writers
Brian Jacques, Richard Adams, Akif Pirincci, Erin Hunter, Dav Pilkey, Wilson Rawls, Erin Hunter
Favourite Games
Shadow the Hedgehog, Spyro: Year of the Dragon, Star Wars: Jedi Knight: Jedi Academy, Lego Indiana Jones, Over the Hedge, Rock Band, Rock Band 2, Barbie Fashion Show (that one's something of a guilty pleasure of mine), Legend of Spyro: A New Beginning
Favourite Gaming Platform
PS2, Gameboy Advance and PC
Tools of the Trade
Colored pencils, Photoshop Elements, paint.net, MS paint, colored pencils, pens, brush markers.
Other Interests
Rats, writing, making AMVs, writing, video games, writing, reading, did I already say writing?