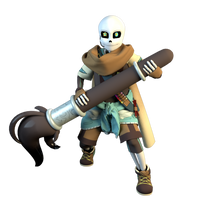 Trying to post a status from my phone I have no idea how this will turn out XD (BAD I had to repost this from the computer for the image to show up! èwé)

Anywayyyy been trying to do a quick idle animation of my now rigged and skinned Ink model... Emphasis on try because this quick stuff had me pulling my hair out for two days already!
Ink is the most uncooperative little piece of paint ever!
You shall not win this battle I will animate you darn it!