Heya everyone! I'm joining this cool project

is doing =O

UnderBeach Community Project (Updated deadlline!) Welcome to UnderBeach Community Project!
I've decided to make a small project inspired by

Nao-Hoshizora

. (Link down below)


I always wanted to make such group event where you can join and draw your own characters from Undertale Fandom. The task is simple: Our creations decided to have small party on the beach! There's limited amount of special places which you can book if they're not booked already, I'm going to update the project to show current free special places. However, you don't have to do that. I can just simply put your character around the place. Please, let me know which option you choose.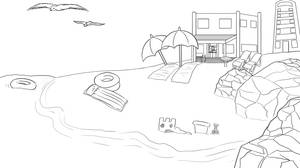 =====================================================================

THE NEW DEADLINE: 3RD SEPTEMBER (3.09)
I've moved the end of the project to let some of you guys finish it in time. Mo
I wanted to be part of it since i really like their comic! You should read it!!
Also it's allowing me to do something secret

I guess you'll know once it's posted ^^