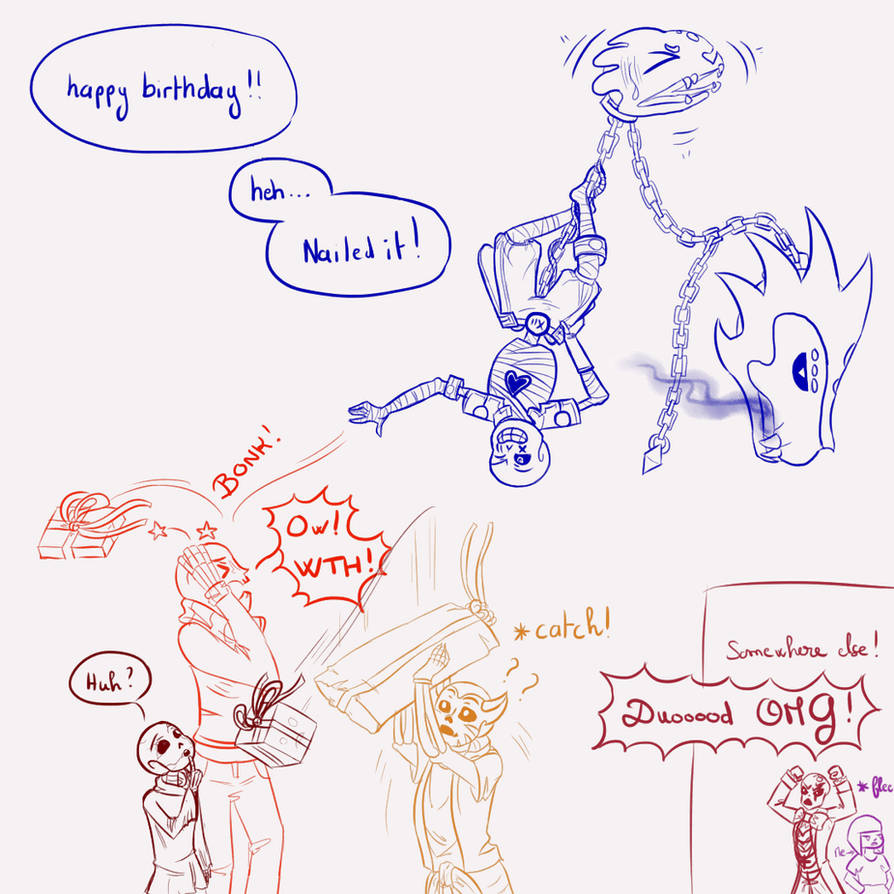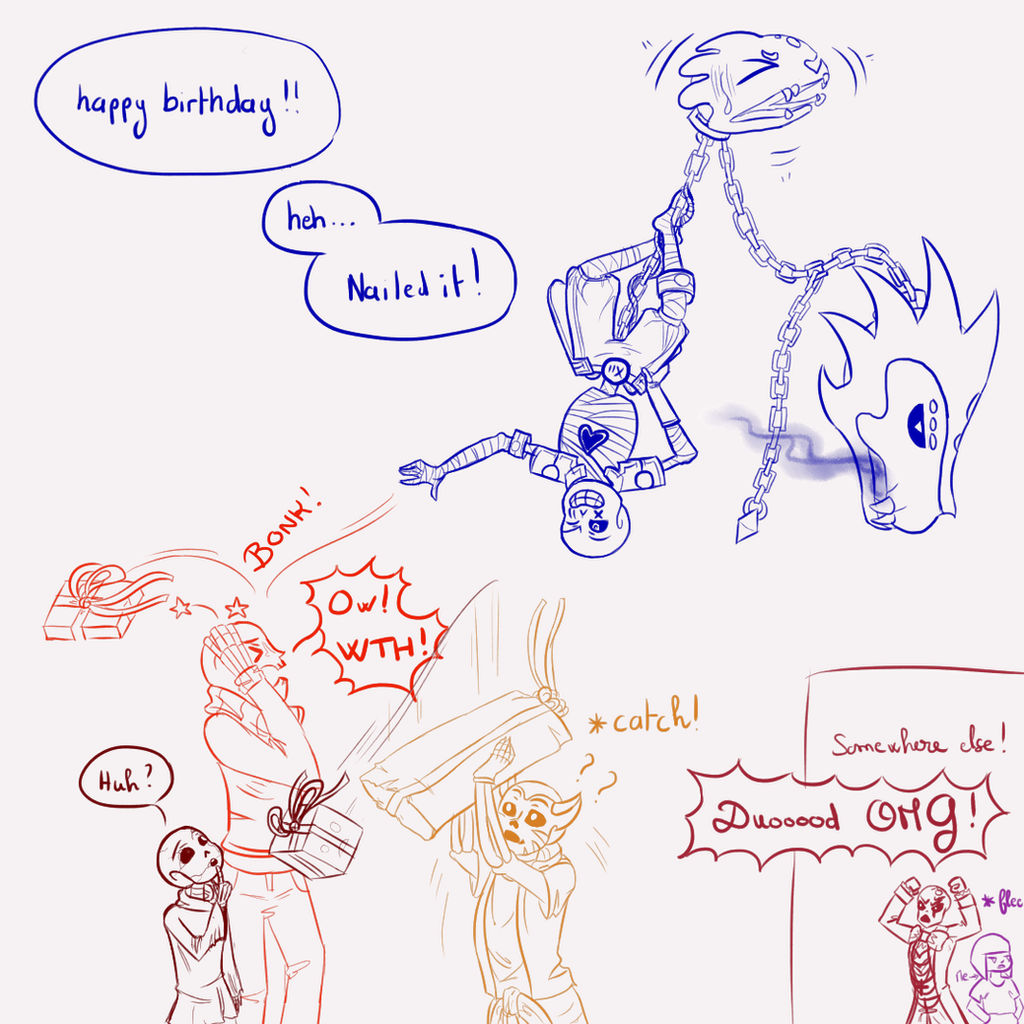 Watch
A very happy birthday to:
Artistic--License
,
SashyBash
and
putt125
!!
I wish I had time to do something more detailed, but phew I am soooo busy!!
From right to left:
This cute dark red baby is Dusty for

An adorable skelly that is a pleasure to RP with! Ari is a great artist go Watch her! This present is about to die nuuuuh! It's a plushie though so it should survive the fall... Hopefully?
The toll Red skelly is probably one of my favorite skeleton OC ever: Ace! He belongs to

! It's definitely thanks to this great artist that I myself wanted to jump on comic making and OC creation for undertale fandom! Please go read more about Ace, this goofball never miss to make me smile, cry or laugh! Go read the comics putt made they are excellent! Also, I'm so sorry Ace, I promise Zero will offer you cookies to make up for Dude's terrible manners! (Don't open that present in front of him though, he doesn't need to know what kind of books is your favorite!)
Last but not least the yellowish skeleton is Sashy,

Oc! Sashy's a really interesting one, and his story was fun to learn! Please go ask her to know more about their baby. And yes this is a dakimura!!
This blue good for nothing lazy piece of crap is Dude! XD
Oh I did a 3D model for ace a long time Ago you can't find it here, with Duodecim model:
Hope you still like it guys!!


ASLDKFJLJ PLS LOL- YOU'RE SUCH A SWEETHEART~
Thank you so much!!! Sorry for being so late! ;v;
Ace will appreciate the gift, even though he's being pelted by it~
Reply

Reply

This is beautiful! Everyone gets presents!
Reply

Reply

roflmao it's raining gifts!
Reply

Zero: OMG, please don't encourage that idiot!
Dude: Eyyyyy ~ Well Toll didn't like that though!
Toll: GRUFF!
Reply

Thank you Lenne, this is absolutely lovely~

Dusty: *hugs the present tight like a koala*
Reply

Zero: If that present has fell in Dusty I would have kicked the fwoop out of Dude's sorry pelvis!! èwé
Reply

Oh hey! Dude! Been a while, but don' torment poor smol

Also, nailing Skelos with presents isn' nice.
Reply

Dude: Didn't do it on purpose... I think that's because Toll sulked to much. Thought I'd be going faster heh! I need smoll improvement to my flying huehue
Reply

*snort* don't make me laugh, it's still not nice XD but why was Toll was sulking
Reply

Dude: The big guy doesn't like me half-assing the job... Which is weird because I don't even have an ass! But oh weeeell!!
Toll: GRUFF!!
Reply

*snorts* I think smoll and toll deserve a treat after all their hard work.
Reply

Heyy dakimura -u- hehhe looks great!
Reply