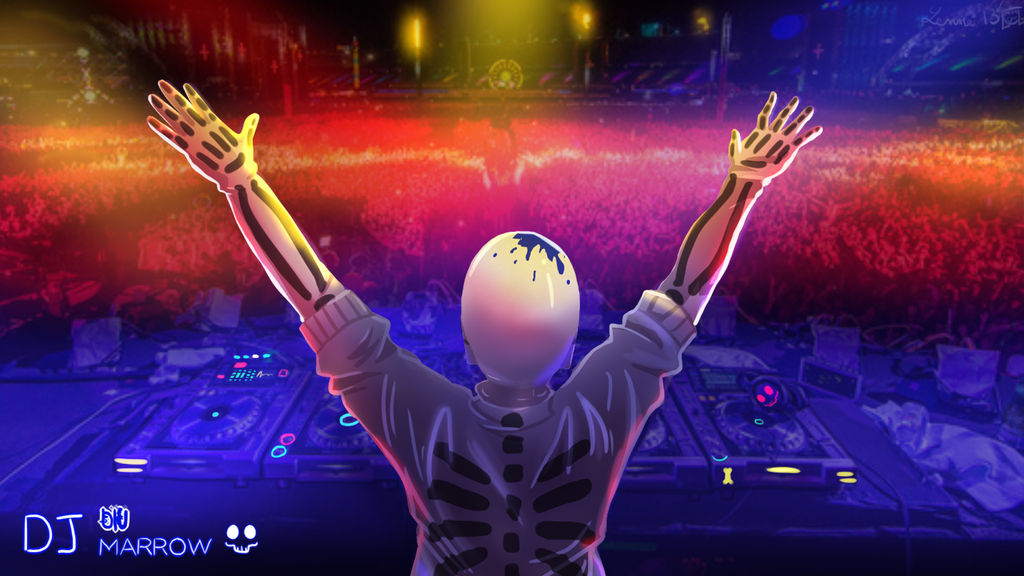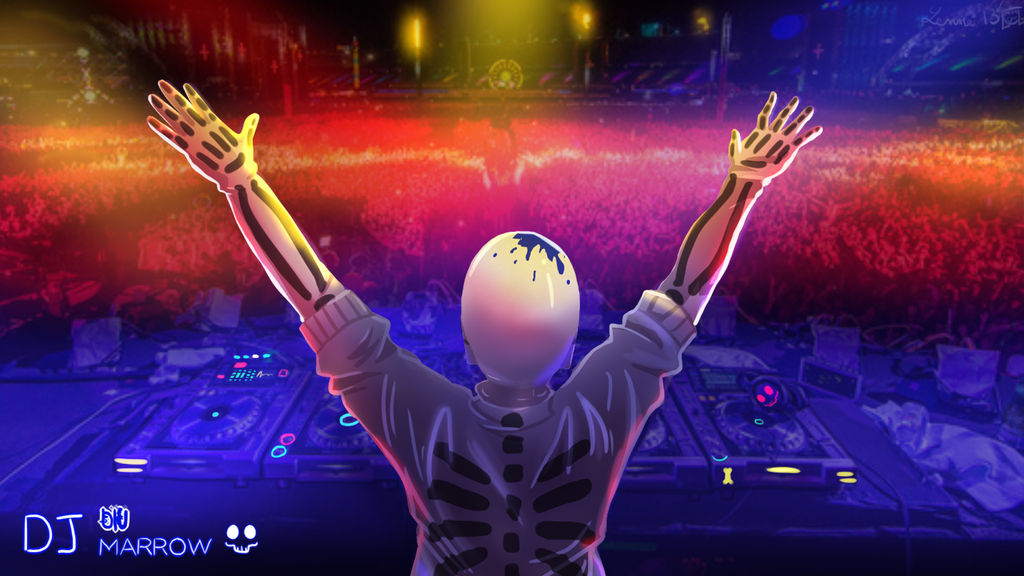 Watch
It's midnight in France, so that means it's the good day Yay! We're the 31th of May, so Happy Birthday JOYEUX ANNIVERSAIRE to

Joyeux anniversaire!!!
This bby is their skeleton OC Oz! Also known to be the famous DJ blu Marrow! (I hope I got all that right!)
I wanted to draw them like that since I saw them the first time! I love the concept. A skeleton in a skeleton disguise? Genius!
Go make them all Dance Oz!
I loved to draw him especially and adding all the lights and stuff. So much fun!
Go learn more about the cool dude here:
Such a hottie!
The design belongs to
The-NoiseMaker
of course. They have wonderful drawing, I'd tell you guys to go commish them but I snatched the last slot I think XD
I tried something different with the painting, and used some photoreference and a lot of filters for the background. I think it looks pretty good! Learned a lot of stuff messing around with this picture!
Once again! Happy birthday!
Hope you'll like it!
(And yes it's wallpaper sized, if anyone is interested!)

love the colors here! it's attractive to the eyes!

Reply

he looks awesome :3 u did great!
Reply

OH MY GOOOOOOOODDDDDDDD
LENNE
LENNE
OH MY GOD IM FREAKING THE HELL OUT RIGHT IM JUST SO JKHSDFHJKFEHHAFHJKFHJK LIKE OMG/????? THIS IS SO FRIGGIN COOL AND I DIE AND I CANT EXPLAIN MY FULL FEELINGS OUT IN TEXT

I AM

FLABBERGHASTED

AND AMAZED AND GOD DAMMIT THIS IS SO
FRIGGIN
COOL
AAAAAAAAAAAAAAAAAAAA
Reply

Reply

DSGFDHFJGKHL ITS JUST SO COOL
LIKE THE WHOLE THING IS JUST *PEW* IN YOUR FACE AND I LOVE IT
THERES SO MUCH ENERGY IN IT AND I DIE LENNE I DIE
IMMA SAVE THIS AND KEEP IT FOREVER
Reply

OMMMGGG THIS IS SO COOL YOU DID SUCH A GOOD JOB WITH THE BLENDING AND MERGING!
She's going to absolutely love this~!
Reply