Just so you know, I'll be confined in a hospital for a couple of days for awhile. It is kinda sudden, but my doctor said it was urgent and I need to be hospitalized as soon as possible.
But I hope this doesn't worry you too much since it's not like my illness suddenly got worse or something. I'm just going to be hospitalized so that my doctor can conduct some needed mediacl tests so that she'lll be able to check on how the chemo-meds had helped with my condition and it will determine my future treatments in the following weeks. You see, I've been undergoing treatment for every 15 days since August last year and supposedly the estimated time my chemo-session will end will be around March this year. Hopefully this medical workout will show some nice results and that I'll fully recover from this silly cancer strain of mine in the following months or sooner.
After all the sooner I get better, the sooner I can truly hang around here once more.

They adviced me to stay out of any activity here or elsewhere in general since the doctors said that I should avoid getting stressed out and just get some rest. Sadly enough, I was never really a person to stay put so I had been secretly lurking about here and there. I couldn't reply to any of my messages here yet since if I reply, I might get caught if they see me doing too much activty here when I shoudn't be.

I have permission to write this though at least. I'm just letting you know in case you might need me for something urgent and I don't reply. I always read new messages even though I may not reply to all of them instantly. But I do really appreciate every comment I received and I will reply to all of them as soon as I'm able to. If ever you also add any of my deviations to your favorites, thank you so much as well.

By the way, I have new deviations that I'll post here when I come back. Some old/new drawings and scenery photos. They're quite a load, so you can expect a lot of them will be posted on the same day since I rarely have a lot of free time to stay here for longer hours.
With that being said, I'm still hoping that my medical examination will be alright. Since if that's the case then maybe I could go back to being active around here this February. I want to do some group activities on my main group again you see. I feel terrible for leaving the group kinda dead. If you're a member of that said group, I'm really sorry for the inactivity... But at best, all I can do for it now is just help accept some submissions for the group. Hopefully, it will change next month though. I already have some ideas for it and I'm hoping to pull them through.

For now though, I have to go and get ready. I'll be around in a couple of days. Hmm... by that, more or less, I'll be back in three days. Hope to see you around then~

---
PS: By the way, I just want to feature this drawing: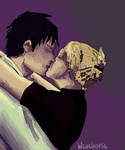 I saw this drawing in my inbox just before we head out to the hospital. I'm probably at the hospital by the time you see this and since I really don't have much time earlier to say much but, Thank you so much for sharing this drawing,
Werehorse89
. I Really, really love it since thanks to you I have this drawing on my mind when I left for the hospital instead of wondering how painful some of the medical tests would be.

...I'll probably still have RoyAi feels when the actual medical tests starts so I doubt I'll feel any pain though ha ha~ Since I'm most likely occupied with thoughts and ideas on what to write for some of my stories to even notice the test are beginning.

Anyhow, thanks again,
Werehorse89
for not just the drawing but also for your comments. I'll properly reply to all of them and all my other messages on my inbox after I get some rest when I get back.

To anyone in general, Thanks for reading this journal again and see you all later~