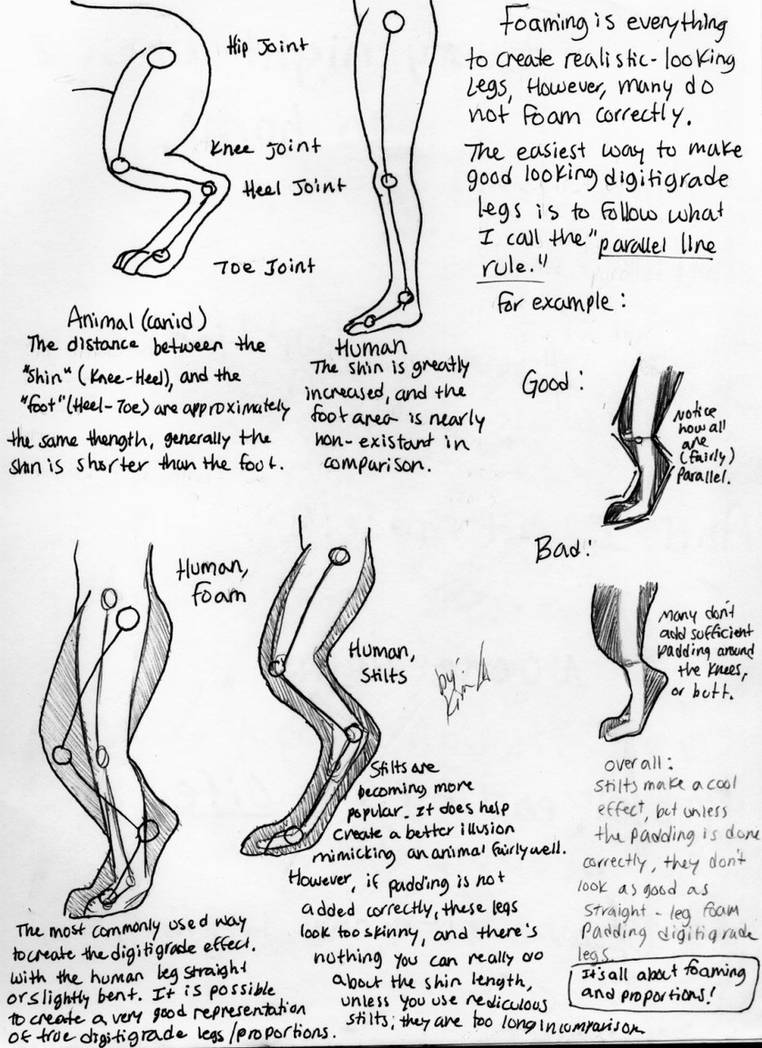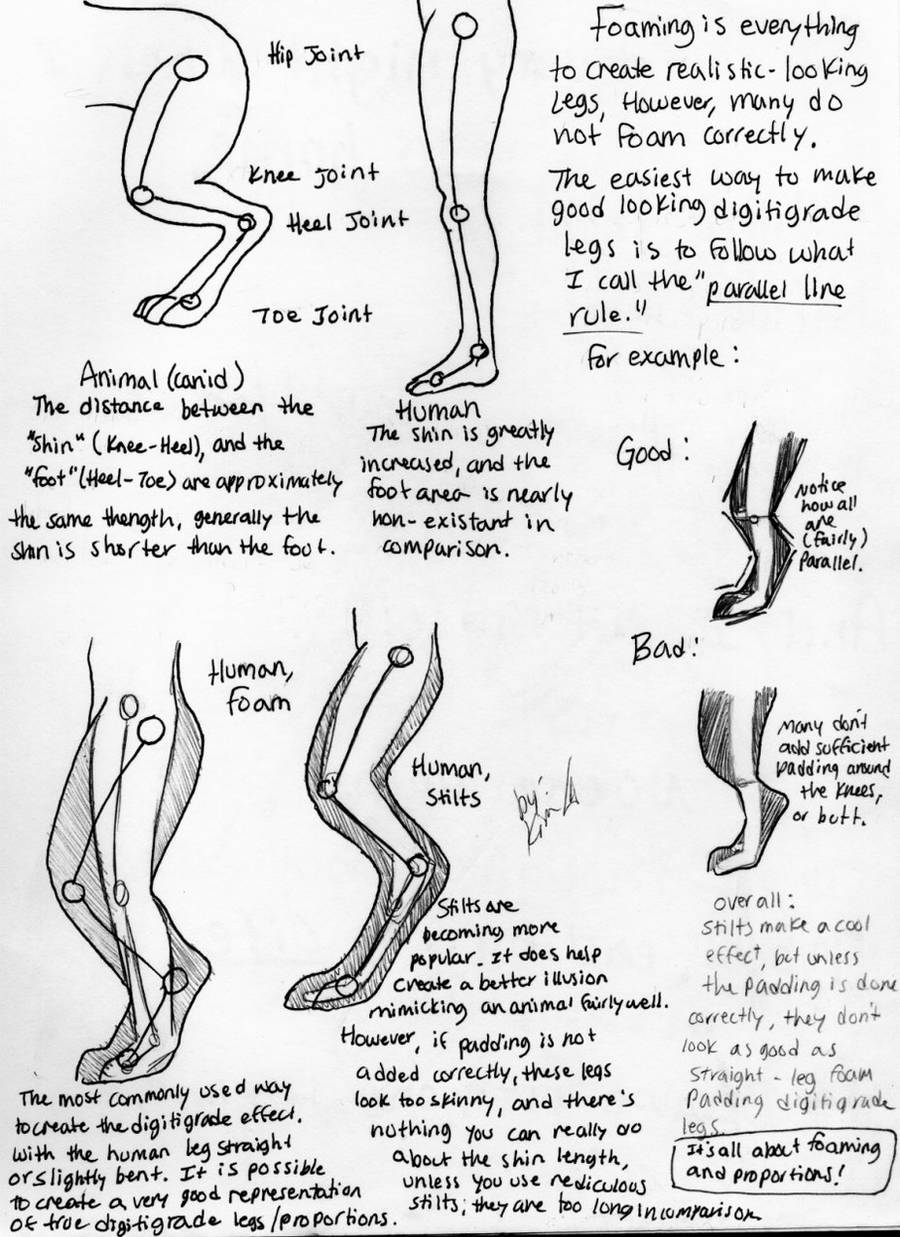 Watch
FURAFFINITY FILE:
[link]
CONTINUATION OF LEG FOAMING (without stilts):
DA:
FA:
[link]
I mean not to offend anyone when I say that most of the fursuit digigrade legs I have seen are not very realistic/well done.
I know I'm not one to talk, being as I'm not really a fursuit maker, but I am an artist that works with design heavily, and I enjoy designing things to look as realistic as possible around the human body.
Here we have a study I did on proportions and design of:
1. A true animal (canid) leg
2. A Human leg.
3. Fursuit digilegs using foam/padding
4. Fursuit digilegs using stilts
And to finnish, I have a tip for the actual foaming process (which is unfortunately, where I find most mess up).
First off, animal legs, apart from some muscle deviation, follow the bones, so in other words what I like to call the "Parallel Line Rule". If you see right, under "Good", it shows what the padding should basically look like on a human leg trying to look digitigrade.
Obviously, the problem in human legs is that our shin bone is too long in comparison to our thigh and foot.
Padded legs just create the illusion, around the actual human leg, of a bent knee and standing on your toes. This is the most well-known version of a fursuit digileg. The length and bend of each section of the illusioned leg all depend on your actual leg's bends and width. I find that most people to not add enough to create the gentle slopes of what a real animal leg looks like. Most I find, leave out the shin bone almost all together, which is a big mistake. More padding needs to be added to the butt so it's parallel with the front of the thigh that's coming out to create the knee joint. The butt padding should come down right to the back of your knee, for as to allow propper movement. The slope of the shin piece can be adjusted depending on mainly where your knee is and how long it needs to be in order to look atleast somewhat in proportion with the heel to toe piece (foot).
Stilts are becoming widely popular, mainly because of their effect, I even find stilts very interesting. And here, you can add length to the foot (the stilt) so that the proportion difference caused by your shin is not so great. However, there is nothing you can do about the length of your thigh in comparison to them, also, most aren't padded enough. Not to say you need to go crazy with the foam.. but if you're making a werewolf, werewolves are rippling with muscle, and if you look at a real animal's leg, the thigh is pretty much huge (wide) in comparison to the shin and foot.
Under padding in both cases can make either seem under-done and rather crappy in terms of realism. If it doesn't look natural, it doesn't look good, I don't care how toony your character is supposed to be, you aren't walking around with an outline. Realism must come into play somewhere.
Making fursuit digilegs is all about manipulating whatever medium you use around your leg to create the best illusion.
In conclusion:
Padding is everything!
Underpadding in both cases can make either look bad.
Stilts create an interesting effect, and are fun, but because you're using your actual leg joints for the digileg, there really isn't anyway for you to manipulate the joints in the illusioned digileg, therefore it can come out unproportionate and very skimpy looking.
I personally preffer the digitigrade legs that utilize the foam padding, just because it creates a better overall effect, I believe, and it is alot easier to manipulate the illusioned joints. However, it does require more padding covering your legs, therefor making it more hot, and expensive to make.
(However, stilts will always look better under-padded than straight-leg digilegs that are under-padded).