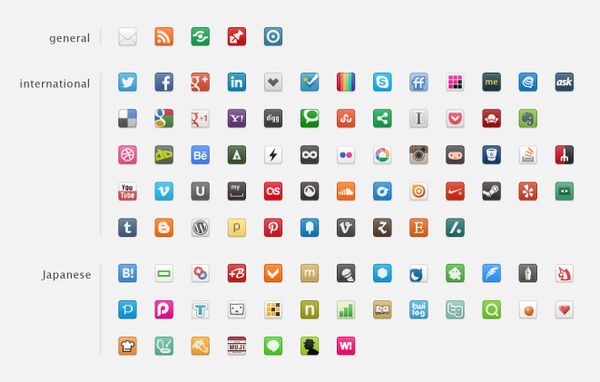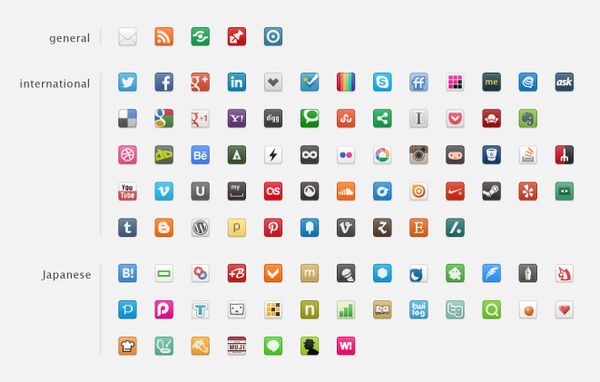 Watch
98 pieces of 20px social icons in png format.
It contains also
2x
version

download
:
mini_social_icons.zip
This set contains following icons.
mail, feed, Open Share Icon, Geotag, OPML, Twitter, facebook, google+, linked.in, foursquae, Dopplr, Skype, friendfeed, flavors, about.me, formspring, del.icio.us, google, google +1, Yahoo!, digg, Technorati, StumbleUpon, shareThis, Instapaper, Pocket, Readability, Evernote, dribbble, deviantART, Bēhance, Forrst, cargo, 500px, flickr, Picasa, Instagram, github, bitbucket, stackoverflow, jsdo.it, YouTube, vimeo, Ustream, myspace, last.fm, GrooveShark, soundcloud, rdio, issuu, Nike+, STEAM, Yelp, Speaker Deck, Tumblr, Blogger, WordPress, posterous, Pinterest, fancy, via.me, Zootool, Etsy, slash dot, Hatena Bookmark, NEVER matome, Yahoo! JAPAN Bookmark, Buzzurl, choix, mixi, THE INTERVIEWS, GREE, mobage, Ameba, livedoor Blog, Hatena Blog, fc2 Blog, pixiv, piapro, TINAMI, niconico, novelist.jp, dNoVeLs, Dokusho Meter, Booklog, twilog, togetter, Qiita, sourceforge.jp, JAYPEG, cookpad,
cosme
, tabelog, MUJI, LINE, shashin-bu, WONDER!
--
2013-05-03
- update 4 icons
- remove 2 icons
2013-02-19
- added more 3 icons
- update cookpad icon to new logo
- update the key color of twitter icon
2012-11-19
- added 3 icons
- added 1 althernative icon
- enhanced button details
2012-10-20
- added more 5 icons
- changed bitbucket icon to the new one
2012-09-15
- added more 6 icons
2012-07-02
- added more 3 icons
2012-06-07
- added more 2 icons
- changed twitter icon to the new one
2012-05-09
- added more 8 icons
2012-03-25
- added more 18 icons

Reply

The download link isn't working.
Reply

Ops, I didn't notice that.
I've fixed the link right now.
Thanks for your inform.
Reply

Thank you! These have all the icons I need after a long time searching


Reply

very well done!! great work

Reply

would i be able to use a few of these on a website for personal use only? i'd be happy to provide a link to your dA or website if you want
Reply

Reply