EDIT:
I'm taking a break from commissions for now. If I told you I'll make something for you, feel free to contact me and I'll try to wrap up. But I am not accepting any new commissions at this time. I don't know if I'll open them up again.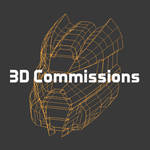 Yes, it's here, after many, many requests, I think I'm ready to give this a try. Do you want your own 3D Printed Custom Mask designed by me? Have you ever wanted to hold something you've been drawing on paper for months to complete your self-MOC? Trust me, there is nothing like that feeling, and now, I can make it a reality for you.


Why Now?
Well, as I mentioned in a previous note, I'm currently looking for a summer job to prepare for college in the fall. Frankly, I haven't had much luck yet and my bank account won't last much longer. Plus, school is over for now and I'm finishing up what projects and commissions I had going. So I've got some spare time and a need for cash, so let's do this.
What can I order?
While I am primarily a mask forger, I'm willing to branch out into weapons and custom parts this time around. Kanohi, staff heads, chestplates, they're all fair game. With my last few designs, I've also got a good handling on G2 and other connections for masks as well. I would like to keep it Bionicle/Lego related, but let me know if you have another idea and we can work something out.
But... how much is it going to cost?
Custom Kanohi Design:
$50
Custom Part:
~$30
(depending on complexity)
Other:
Please discuss
Insufficient Reference Images:
+$10
Model for Yourself:
+$5
Why so expensive?!
Commission prices are a bit of a topic in the artist community. It's hard to find that balance where people will buy it and yet the artist actually makes it worth their time. These 3D masks are the culmination of over three years of practice, countless hours of work, and a good helping of design work. Each design I make has taken at least five hours of modeling, not to mention the costs of prototyping to ensure they fit. Each design also comes with a guarantee that if it doesn't fit, I will fix the model and send it to you for free.
How can I contact you?
You can send a message/comment my way on any of my various sites.
Deviantart
Flickr
Shapeways
BZPower
Tumblr
(Only use Tumblr if you can't contact me any other way. I may not see it for a while)
What should I say?
When you message me, be sure to leave me with your name and preferred method of contact (otherwise I'll just reply to your message).
Let me know what kind of part you would like designed and what you would like it to fit over/into.
REFERENCE IMAGES FROM AT LEAST TWO SIDES!!

(While I can design a mask from description alone, it will cost you extra. "Kinda like this picture" or "This design" will not count as reference images. The more angles you can get me, the better I can represent your design.)
We can then go on to discuss the finer details such as pricing and any other information I need before modeling. I will stay in close contact with you to ensure the model progresses as you desire.
What are the rules?
I'm primarily a Lego/Bionicle artist, and so that's mostly what I expect here. However, if you want me to try something new, I'm open to it. However, I will not be doing anything with nudity, sexual themes, vulgarity, etc.
Keep in mind that I have other things to do in my life, and as much as I would love to model all day, these commissions can take time. Sorry. If I start feeling swamped, I'll close commissions down again.
I reserve the right to adjust pricing based on the amount of time required. Basically, if you think your Bionicle scale model of the Stargate is worth $20, we need to talk. This is just here in order to protect me from dumping ridiculous amounts of time in for little payment, and I will not adjust pricing without consulting you first.
After the commission is complete, I'll show you a final render and provide payment information. Paypal is preferred.
Once payment has been received, the model will be uploaded to my Shapeways store for you and others to purchase. Please let me know if this will be a problem, and we can work something out.
Some commissioners have asked for the printable model for their own use. Should you ask for this, be advised there is a $5 fee per model which roughly covers the cost of two prints for me.
Should I reach out to the commissioner and receive no reply for 30 days, the commission will be cancelled.

Hi I got a mask request and I've drew a Kanohi Avohkii Nuva and I hope your back up and running again. I'm planning make my own Toa of Light OC please.