Dreamer | 16 | Writer | Bookworm | Artist | Weirdo | Latter-Day Saint | Otaku
Hello~
My name is Arly, you can call me LJ or AJ if you like. I'm a huge fan of Samurai Jack, Sonic, Undertale, Steven Universe, Percy Jackson, Kane Chronicles, Magnus Chase, Randy Cunningham 9th Grade Ninja, and most of all... Anime! I love being weird and crazy all the time, because it makes me happy. I like listening music, sleeping, watching anime/movies/etc., writing, or doing something art related to make me feel relax or kill my boredom. I have this weird addiction eating lemon-flavored mint, hard candies and improving my skills. Believe me, it's a pain.

XD




1st account~

ABANDONED!
Family in DA~
Cousin-






















:thumb166844869: :thumb567080382:


:thumb689026355: :thumb688028512:










:thumb589034182: :thumb632562793: :thumb598967013:


:thumb672503600:



:thumb340010024:



:thumb340010024:

:thumb587208572: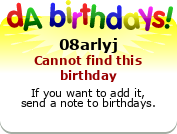 Favourite Visual Artist
Viria, RenzyPretzy, dCTb, kiacii-official, Rensaven, R-no71, MondoArt, Aizy-Boy40, Rayouten, kuupan, larienne, NaomiKomi, LulgiL, DrawingWiffWaffles, Elentori
Favourite Movies
Hawksaw Ridge, Mamma Mia, HTTYD, ROTG, Kubo and the Two Strings, Percy Jackson, Harry Potter, The Karate Kid 2012, Rush Hour, Transformers (Part one to three), Miss Peregrine's Home for Peculiar Children
Favourite TV Shows
One Pìece, Dragon Ball series, Fullmetal Alchemist, Steven Universe, Star Vs the Forces of Evil, Haikyuu!, Samurai Jack, Hajime no Ippo, Spongebob Squarepants, Invader Zim, Sonic Boom
Favourite Bands / Musical Artists
EFY, LDS music, My Chemical Romance, Phil Collins, Skillet, Paramore, Imagine Dragons, Pentatonix, Lindsey Stirling, BLINK 182, One Ok Rock, Nightcore, Westlife, Micheal Learns To Rock, Backstreet Boys, Air Supply, Anime Music
Favourite Books
Artemis Fowl, Percy Jackson, Kane Chronicles, Beauty Pop, Hajime no Ippo, Harry Potter, Magnus Chase, Heroes of Olympus,
Favourite Writers
Rick Riordan, J.K Rowling, Eion Colfer
Favourite Games
Mobile Legends, Undertale, Sonic Dash, Sonic Colors, Temple Run, Legend of Zelda: The Minish Cap
Favourite Gaming Platform
PC, Android, Gameboy, and Wii
Tools of the Trade
Pencils, pens, markers, chalk, watercolors, Artboard or Photoshop
Other Interests
Literature, sleeping/napping, cooking, photography, learning Tagalog and English, playing guitar, singing, edit music/photos, dancing, playing games, watching anime/manga/etc., creating ideas, imagining, dreaming, reading books, learning about the gospel.