Hello! I am Carlitos Martinez (but you can call me Carlos of you what). You can tell I'm that not good artist, but I'm a student.

Favorite cartoon characters:
Transformers: Optimus Prime, Megatron, Rodimus Prime, Bubblebee, Ironhide and Saber/Star Saber/Victory Saber
G.I. Joe: Duke, Snake-Eyes, Roadblock, Cobra Commander, and Storm Shadow
Super Mario: Mario, Luigi, Toad and Toadette
Sonic the Hedgehog: Sonic, Tails, and Cosmo
The Amazing World of Gumball: Gumball, Darwin, Penny, Carrie, Teri, Tobias, and Rachel

Favourite love couples: Mario/Peach Luigi/Daisy, Toad/Toadette, Sonic/Amy, Tails/Cosmo, Tails/Cosmo, Flint/Lady Jaye, Snake-Eyes/Scarlett, Destro/Baroness, Gumball/Penny, Gumball/Carrie, Teri/Carrie, Darwin/Carrie, Finn/Bubblegum, Finn/Marceline, Finn/Flame Princess
Favourite genre of music: Any kind of music
MP3 player of choice: iPhone 7 plus

Stamps:

:thumb302618824:
:thumb535163857:
:thumb180496324:
:thumb159835164:

:thumb159835164:




:thumb323632941:
:thumb83057702:
:thumb284478487::thumb258036489:
:thumb211670201:
:thumb245581213:
:thumb307530171:

:thumb258500346:




My backup account:


My Ask account:


Founder of the groups:









Co-founder of the group:




Contributor of the groups:




My best friend/brother






My adopt characters: Mimi: She always to clean up filthy misses in high speed.

Light and Night: Twins who do what they want.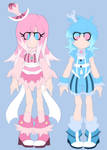 Gloompa Loompa, a fat goth.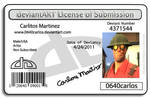 My real life friends:




My 3DS friend code: 3282-4120-6774 and 3DS name: 0640carlos


My YouTube: www.youtube.com/user/0640carlo…
My Facebook: www.facebook.com/0640carlos
My Tumblr: 0640carlos.tumblr.com/
My Twitter: twitter.com/#!/0640carlos
My Steam: steamcommunity.com/id/0640carl…
My Xbox Tagname (XBONE Only): DarthCarlos06