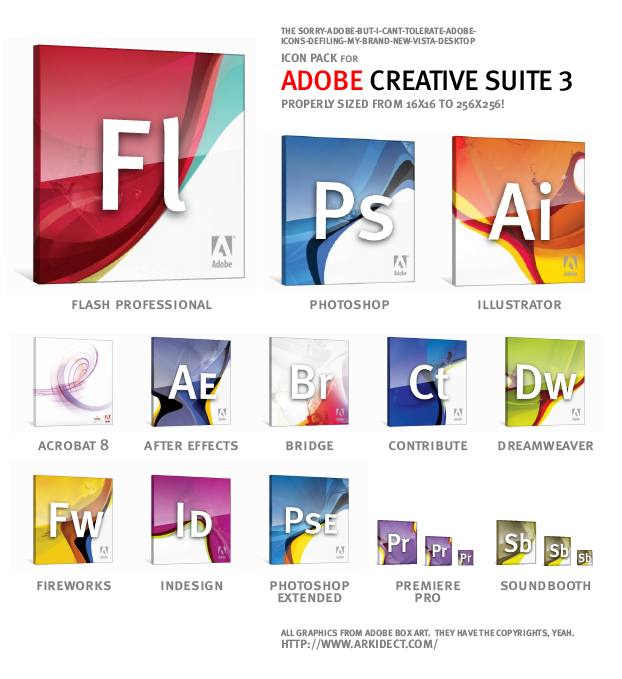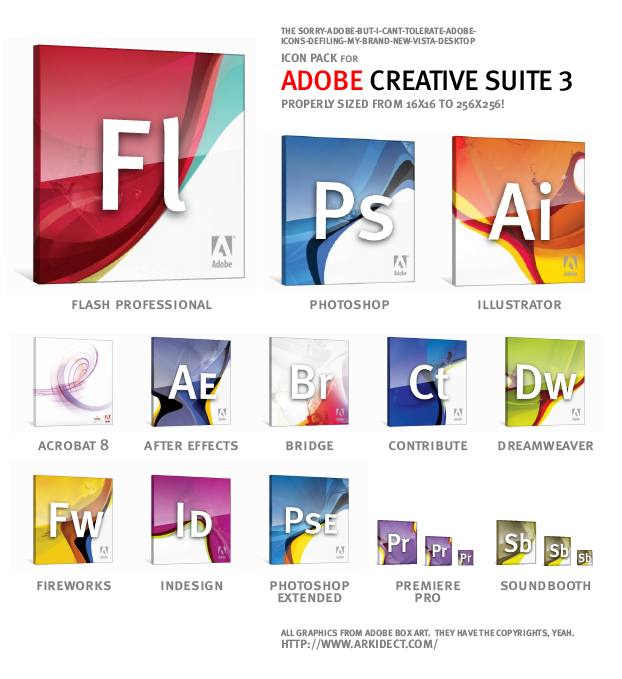 FOR MORE INFORMATION, PLEASE VISIT:
[link]
This is a Adobe Creative Suite 3 Icon Pack for Windows Vista.
I only made it because I got Adobe's software, while enjoying all the great new features, felt that their icons are an invasive branding strategy that makes me feel like a NASCAR driver with a jacket full of sponsors and logo as it slaps the colored squares with alphabets all over my start menu, and at the same time, makes my Windows Vista and Object Dock look like 2000's by introducing its 2-dimensional artwork into my 3-dimensional desktop metaphor.
Anyway, I have yet to find a better branding strategy for their 60+ products, so I wouldn't try to make a realistic 'object' icon (yet) to represent the software. I don't think making a set with some abstract symbols I invented myself wouldn't be that useful (yet) either.
Right now, I like their box art so I decided to do a simple mashup of their periodic table icons and the product boxes. It gives a nice dimension, better texture and less legibility. Easy to make, pleasing to look at. It's all good!
It has all sizes for Windows Vista up to 256x256. It works for Windows XP as well.
Includes: Photoshop, Photoshop Extended, Illustrator, InDesign, After Effects, Premiere, Soundbooth, Dreamweaver, Flash, Contribute, Fireworks, Bridge and Acrobat 8.
All box arts are creations by Adobe so they can take this down if they like. I'm just contributing as a hobbyist here just in case somebody feels the same about their icons... anyway, thanks for looking!